"To receive guests is to take charge of their happiness during the entire time they are under your roof."
Jean Anthelme Brillat-Savarin
Food.Stories.Travel. combines twenty years of experience designing and guiding active vacations with a passion for connecting people to new places, cultures, and foods.
We believe in...
-Food makers who care about the products they make and the people, animals, and place around them. We support such farmers and artisans in the following ways:
patronizing restaurants that source locally, seasonally, and organically--i.e. that offer "good, clean and fair food" (the motto of Slow Food)
compensating proprietors for their time and energy by paying them for tastings and visits, even when it is not requested
promoting food entrepreneurs who uphold previous cultural traditions through our social media and the recipes and stories on our website
volunteering and/or donating to food-literacy organizations, such as Slow Food, that support food justice and/or environmental stewardship
-Tours that include sightseeing, walking, hiking, and/or cycling for a healthy lifestyle accompanied by a full immersion into Italian culture.
-Tour Leaders who really know their business (10, 15, 20+ years as guides) and are passionate about food tourism.
-Small-group travel for the most enriching and rewarding experience.
We look forward to seeing you soon. Ti aspettiamo! (We are waiting for you!)
Our Story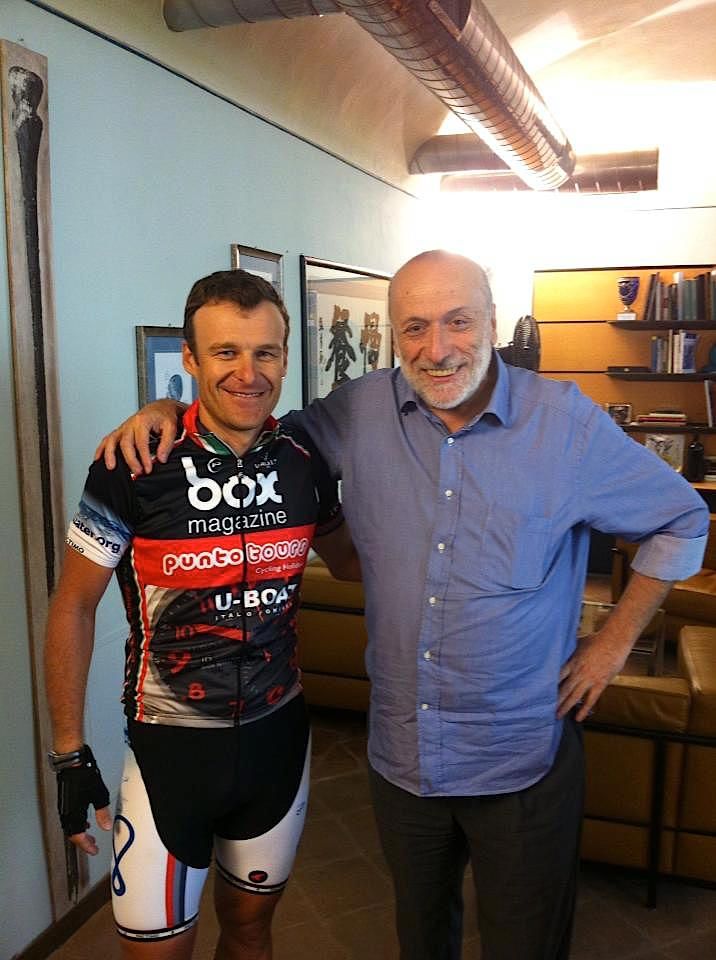 One of my heroes of the third millennium is Carlo Petrini, founder of Slow Food. I got to meet him in August 2013 and felt instantly connected, given our common roots in Piedmont (northwestern Italy), where we were both born.
A dear friend and I were touring the eighteen mainland regions of Italy by bicycle, meeting the people behind traditional Italian foods who are also working to protect nature in the process. Sandro and I went in Pollenzo, near my home town of Turin (Torino for Italians) to visit the University of Gastronomic Sciences of Slow Food.
After ten years following his work, it was amazing to meet Petrini. I said in Piedmontese: Monsu Petrini ca ma scusa per piasì, mi sun an Piemunteis ca sta a Boston! (Apologies to disturb you Mr. Petrini, I'm a Piedmontese who lives in Boston). This definitely caught his attention, and he was very kind to share a few minutes of his precious time, and to strike a pose for this picture!
I still get goosebumps remembering that moment. The Slow Food philosophy is "good, clean and fair food", which is what I support on tour and at home.
Meeting farmers and food makers and hearing their stories has been my passion for 20+ years. Add in experience designing and leading group vacations, "stir," "bake," and you get Food.Stories.Travel., a tour operator connecting people, cultures, food, and stories through travel in Italy and the Mediterranean.
In September 2014, we became a certified B Corporation. B Corporations use the power of business to solve social and environmental problems. We are proud to donate more than 1% of our annual sales revenues to food-literacy and environmental non-profit organizations such as 1% for the Planet and, in 2021, to go carbon neutral.
I hope we may cross our paths of life, not only on the road, by bike or on foot, but also around the table to share a meal, a good glass of wine, and plenty of stories.
Buon appetito e buon viaggio!
Cristiano Bonino, Founder and Tour Leader