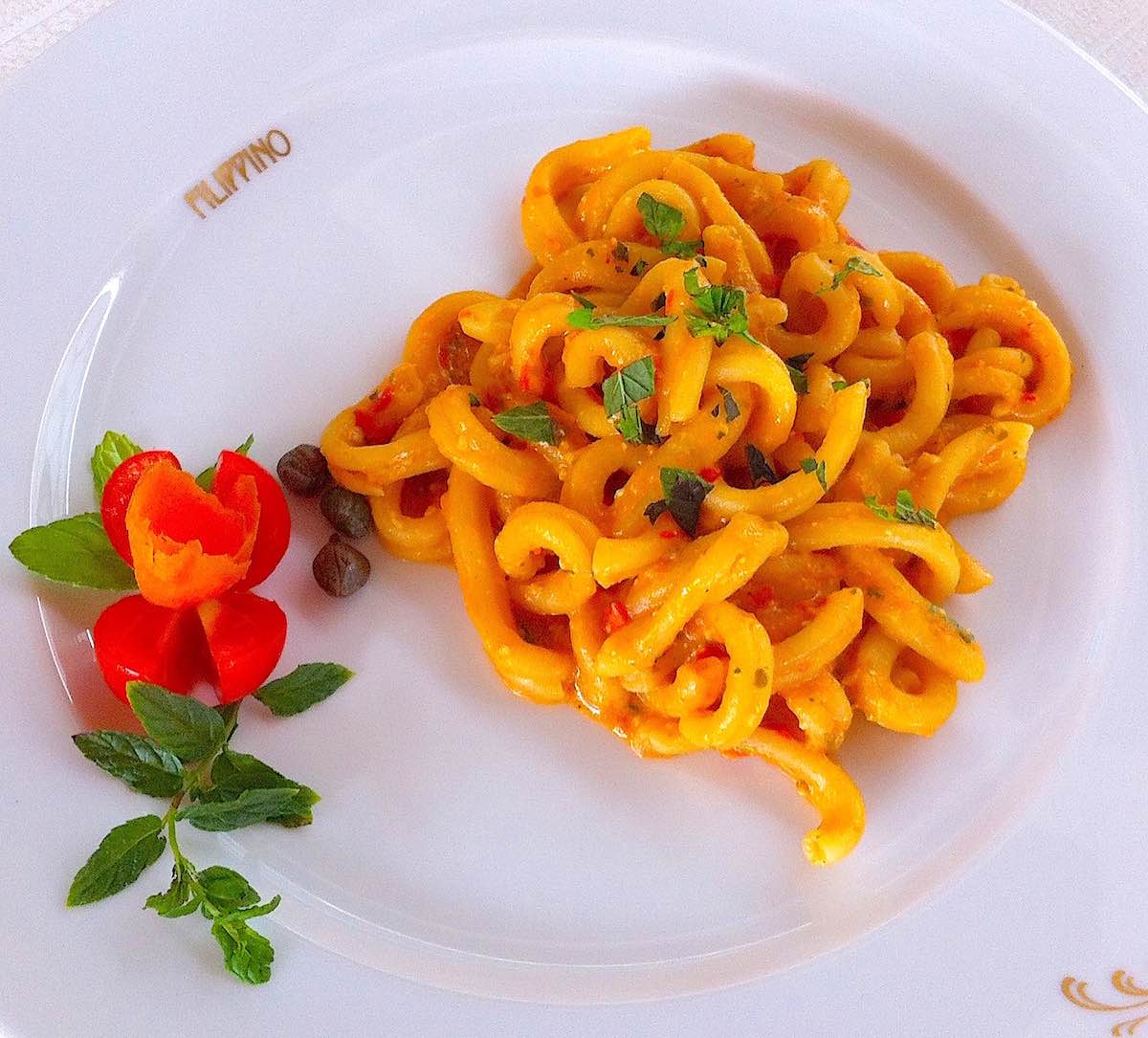 11/27/2018 by Cristiano Bonino 0 Comments
Aeolian Treccine Orchidee Pasta
By Antonio, Owner of Restaurant Filippino in Lipari, Sicily.
 
You might enjoy this recipe on our tours in Sicily or at one of our cooking classes in Massachusetts.
This dish is a tribute to the Aeolian Islands off the northern coast of Sicily, and more specifically, to one of its signature products: capers and caper berries. The former is the unblossomed flower whose petals remain green and are part of the caper; the latter the fruit formed after the flower blossoms dry out. "Orchidee" indicates the orchid, which is the flower of the caper plant, and "treccine" is the shape of the pasta simlar to "braids," or a kind of twisted pasta (see pics below kindly shared by Antonio).
This recipe was kindly shared with us by Antonio Bernardi during one of our dinners on the recent tour in the area. Antonio owns Restaurant Filippino on Lipari, one of the Aeolian Islands. He is the 3rd generation of a local family of restaurateurs who since 1910 have been serving only traditional recipes with passion and professionalism! 
Ingredients for 4 people:
454 grams (1 lb) casareccie (at this restaurant they make their own pasta from scratch, but we love to use the similar ones locally-made by our friends Carol and Giulio at Seven Hills Pasta. They use the method of extruding with bronze dies and slowly drying… for a superior texture and sauce pairing!)
1 gallon water
1.5 tsp salt
1 and 1/2 cups of Aeolian pesto sauce*
Directions:
Put the water in a pot and bring to a boil
Add salt (the water should taste slightly salty. If you don't taste the salt, add more)
Add the pasta
Cook the pasta for one minute less than what is indicated on the package
Taste the pasta before draining it to confirm that it is "al dente."
Sauté the drained pasta with the Aeolian pesto sauce for a minute. Add some of the drained pasta water if the consistency is not smooth enough
*Ingredients for Aeolian pesto sauce: 
400 grams (~1 lb) ripe cherry tomatoes (washed and dried)
4 Tbsp of a mix of rinsed capers and caper berries (they should not taste too salty!)
3 Tbsp of a mix of pine nuts and peeled almonds
2 peeled garlic cloves 
5 fresh mint leaves (washed and dried)
10 fresh basil leaves (washed and dried)
6 Tbsp EVOO
2 Tbsp grated aged caciocavallo Ragusano (we used Parmigiano Reggiano instead) 
salt and chili pepper to taste
Directions:
Squeeze water out of the tomatoes
Put all the ingredients in a blender and blend until you obtain a smooth sauce (traditionally, a mortar and pestle is used to avoid oxidization of the basil and produce a better result. If you don't have one or are in a hurry, just blend the ingredients in a blender/food processor)
Add salt and chili pepper to taste
To store Aeolian pesto sauce in the refrigerator, put it in a jar with a layer of EVOO on top.  You can also freeze it, if you have extra, for the next meal!
Buon appetito!