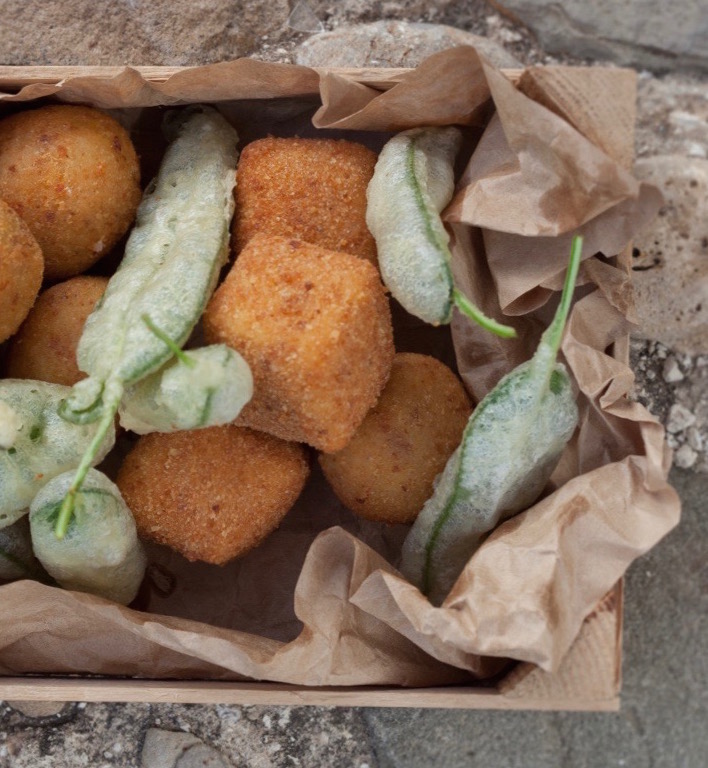 03/02/2018 by Cristiano Bonino 0 Comments
Arancine (Rice Balls)
By Silvia at Azienda Agricola Mandranova near Agrigento in Sicily.
 
You might enjoy this recipe on our tours in Sicily or try it at home!
One funny anecdote about rice balls in Sicily is that you better call them in the proper way depending on which side of the island you are on: they're arancin-A (or arancine, feminine plural) when in Palermo and arancin-O (or arancini, masculine plural) when in Catania!
Ingredients for 6 people for arancine (meat ragout and vegetarian versions):
500 grams (2 and 1/3 cups) of Arborio rice
1 onion finely chopped
1.5 Tbsp EVOO (Siliva uses her own high-quality Mandranova EVOO made with Biancolilla variety) 
Enough EVOO for deep frying
1 glass (1 cup) of white wine 
saffron 1/4 tsp
1liter (1/4 gallon) of vegetable or meat broth
100 grams (1 cup) of grated Parmigiano Reggiano 
50 grams (1/4 cup) of unsalted butter
2 eggs
Salt and pepper to taste
2 cups of breadcrumbs
Ingredients for vegetarian filling: 
Provolone or Mozzarella 150 grams (1/3 lb) coarsely chopped 
Boiled peas 250 grams (1/2 lb)
Ingredients for ragout filling:
500 grams (1.1 lb) meat ragout
150 grams (1/3 lb) coarsely chopped Provolone or Mozzarella 
Directions:
Brown the onion in EVOO and remove from the pan
Lightly toast the rice over low heat with EVOO and salt. Once rice is translucent, add white wine and cook until almost evaporated, stirring continuously
Add the browned onions, the saffron and a small ladle full of broth. Turn up the heat, stir and cook until the liquid has almost evaporated
Continue to add broth until the rice is soft, but still has a little bite to it (also known as "al dente")
Add the Parmigiano Reggiano and butter and leave this mixture to cool in a large bowl or pan
Once cooled, prepare a little ball with the rice, make a big hole to insert the favorite filling, making sure that the rice has a minimum thickness (this is the secret!) and close the hole with more rice
Dip your stuffed ball in beaten eggs and cover with breadcrumbs
Deep fry in EVOO
Ingredients for ragout:
1kg (2.2 lbs) minced pork 
Salt and pepper to your taste
1 tsp fennel seeds
1 small onion
300 gr (2/3 lbs) boiled peas 
2.5 Tbsp EVOO
1 glass (1 cup) of white wine
1 Tbsp tomato sauce
Directions:
Sauté meat and EVOO in a pan over medium heat. Then add the wine, stirring until it evaporates
Add chopped onions and tomato sauce and cook for about 30 minutes over low heat
Add peas at the end and adjust with salt and pepper to your taste
Buon appetito!