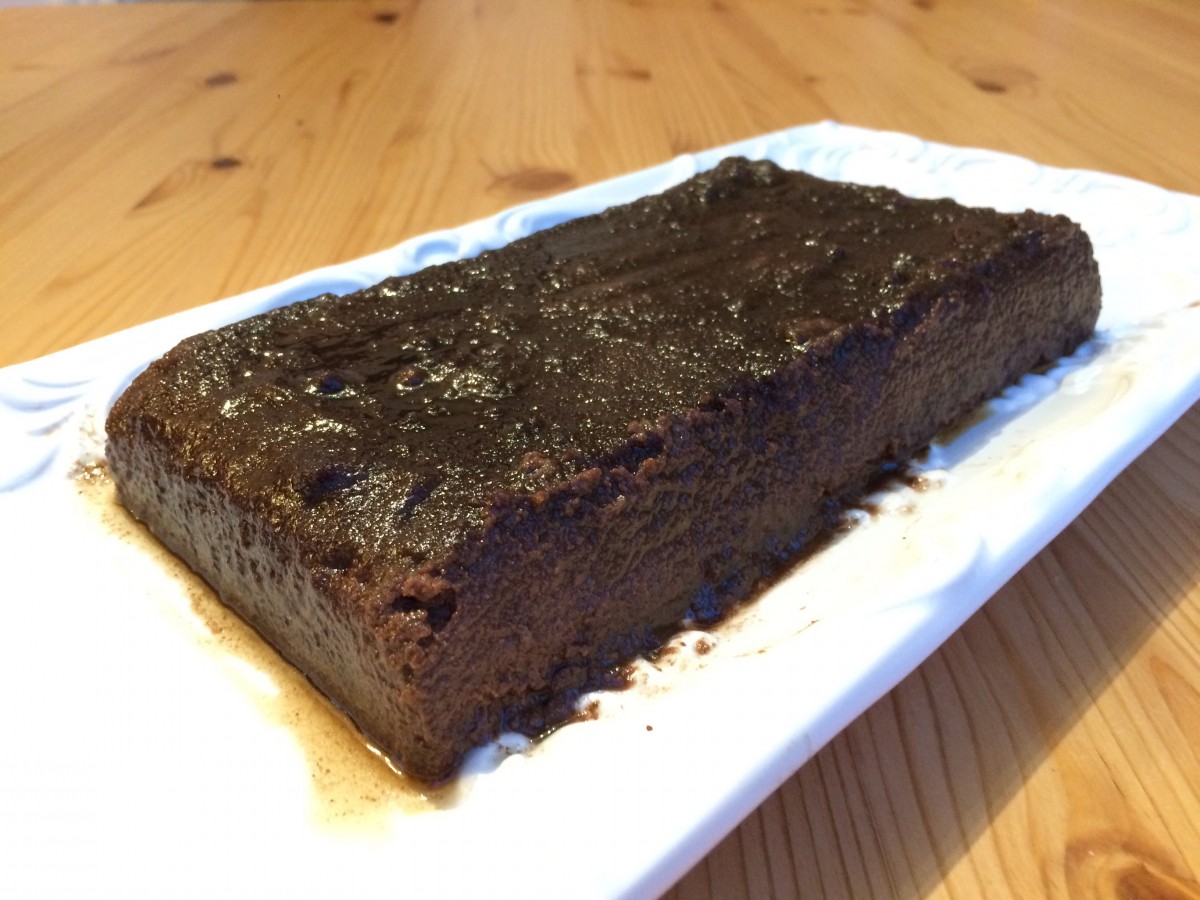 11/23/2016 by Cristiano Bonino 0 Comments
Bunet (Piedmontese Pudding)
By Diana Ferrazzini, a Piedmontese friend.

You might enjoy this recipe on our tours in Piedmont or try at home using just a few ingredients. Diana loves this recipe from Italian baker Giovanni Pina.
Ingredients for 6 people:
2 cup (500 ml) of milk
1 vanilla bean (optional…or at least we did not find it in traditional recipe books)
1 cup (125 gr whole) of finely ground amaretti
1 and 1/3 cup (250 gr) of sugar (I used only 200 gr – 1 cup)
2 whole eggs and 4 egg yolks
3 and 1/2 Tbsp (25 gr) of cocoa powder 
1 Tbsp of water
Directions:
In a small pot, mix 1/2 cup (100 gr) sugar with 2 Tbsp water on very low heat until you obtain a caramel
Pour the caramel in to a tray (such as for a banana bread) and coat all the sides and bottom
Finely grind the amaretti and put in a bowl 
Add eggs, then egg yolks and finally the remaining sugar, mixing everyhing without whipping and avoiding any possible air pockets
Add the cocoa powder and then mix in with milk
Pre-heat the oven to 360F
Pour the mixture into the tray and then place it into a large deep pan filled with water up to the level of one inch from the brim of the tray (this is called double boiler or bain-marie technique)
Place in the oven and cook for 1 hour (keeping an eye out that the water does not start to boil)
To know if it is cooked through, pierce it with a toothpick and if it comes out dry, it is ready
Remove from the oven and allow to cool
Cover the tray with a plate and turn it upside down 
Top off the pudding with the remaining caramel left over in the bottom of the tray
The word "bunet" in Piedmontese dialect means "hat" and probably it refers to the shape of the mould to make the pudding.
Buon appetito!