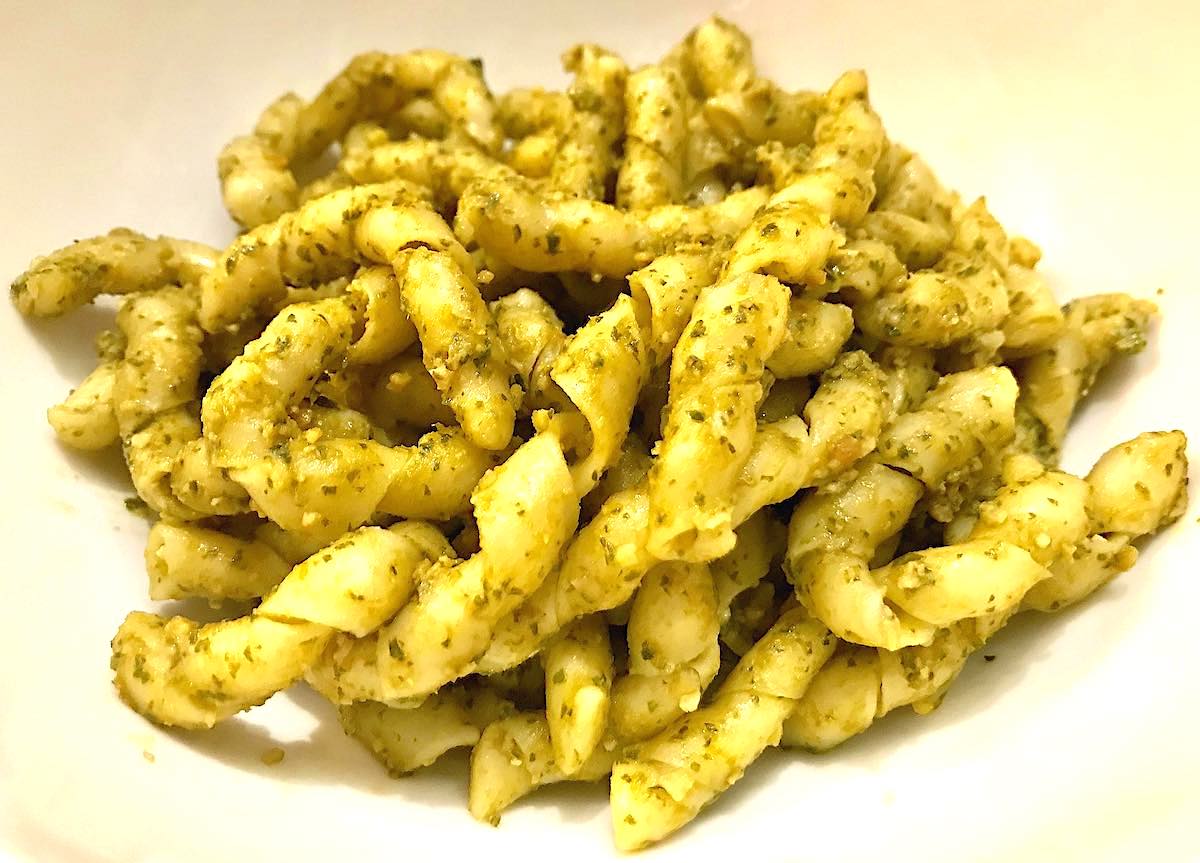 04/02/2018 by Cristiano Bonino 0 Comments
Busiate with Trapanese Pesto
By Francesca, a Trapanese friend from Sicily.

You might enjoy this recipe on our tours in Sicily or at one of our cooking classes in Massachusetts.
This dish is the result of a cultural interaction between the Genoese and Sicilians during the time when sailors used to trade across the Mediterranean and made frequent stops in the port at Trapani. You can surely notice the Sicilian influence here where pesto is combined with tomatoes and almonds are used in place of pinenuts.
Ingredients for 4 people:
454 grams (1 lb) busiate (pasta typical of the Trapani area of western Sicily) or spaghetti or linguine
1 gallon water
1.5 tsp salt
1 and 1/2 cups of Trapanese pesto sauce*
Directions:
Put the water in a pot and bring to a boil
Add salt (the water should taste slightly salty. If you don't taste the salt, add more)
Add the pasta
Cook the pasta for one minute less than what is indicated on the package
Taste the pasta before draining it to confirm that it is "al dente."
Sauté the drained pasta with the Trapanese pesto sauce for a minute. Add EVOO (or some of the drained pasta water) if the consistency is not smooth enough
*Ingredients for pesto sauce: 
250 grams (~1/2 lb) fresh tomatoes 
2 cups water
50 grams (1 cup) fresh basil leaves (washed and dried in a salad spinner)
3 Tbsp grated Parmigiano Reggiano or Grana Padano
50 grams (1/4 cup) unsalted, roasted almonds
3 Tbsp EVOO
1 garlic clove
salt and pepper to taste
Directions:
Make a cross cut on top of each tomato and parboil them in boiling water for 2-3 minutes. Peel them
Put almonds in boiling water and parboil them for 2-3 minutes. This will allow you to easily peel them one by one (or simply buy peeled almonds!)
Put tomatoes, peeled almonds, basil and garlic in a blender and blend until you obtain a smooth sauce (traditionally, a mortar and pestle is used to avoid oxidization of the basil and produce a better result. If you don't have one or are in a hurry, just blend the ingredients in a blender/food processor)
Add EVOO and grated cheese, then add salt and pepper to taste
To store Trapanese pesto sauce in the refrigerator, put it in a jar with a layer of EVOO on top.  You can also freeze it, if you have extra, for the next meal!
Buon appetito!