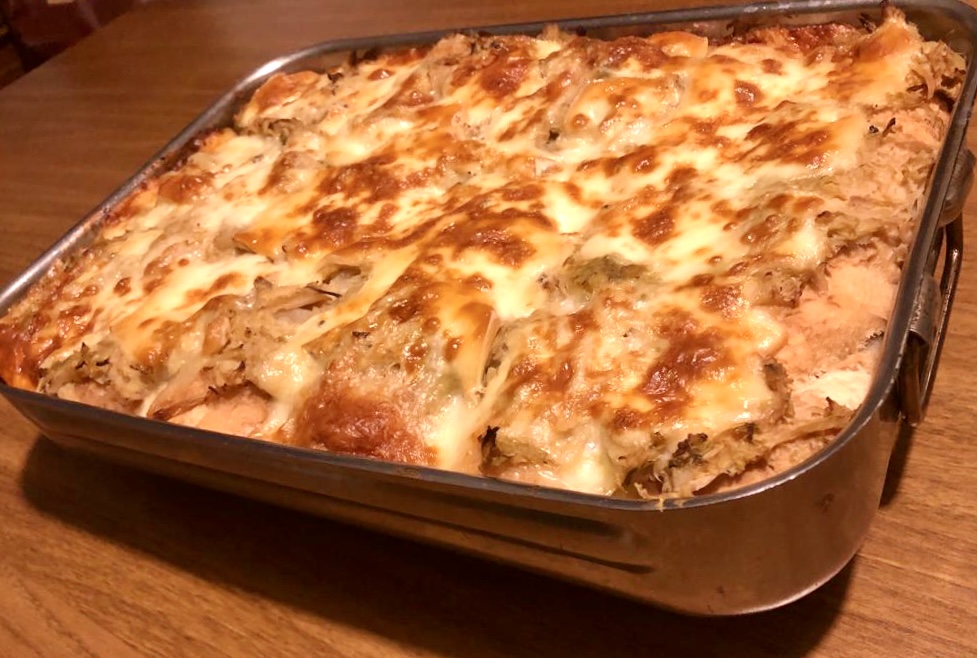 12/14/2015 by Cristiano Bonino 0 Comments
Cabbage Casserole (Zuppa di Cavolo)
By Davide Marchegiano, our Piedmontese tour leader and operations expert.

This recipe is very traditional in north west of Italy, in the village of Montalto Dora near Ivrea where Davide lives. You might enjoy this recipe on our tours in Piedmont!
Ingredients for 8 people:
1.5 lb of savoy cabbage
1/2 gallon of water 
2 Tbsp of boullion
Half an onion
1 cup of Parmigiano Reggiano cheese
1/4 lb of fontina (or similar cheese)
1 loaf of bread, evenly sliced (~half-inch thick)
2 Tbsp of EVOO
Directions:
Bring the water to a boil and stir in the bouillon 
Wash cabbage and remove the leaves one at a time. Slice each leaf in half and remove the thick center rib. (Avoid using the smaller leaves. These may be saved for other recipes) 
Boil the leaves and ribs for 5 minutes. Remove the leaves and set them aside to dry. (Leave the ribs in the broth) 
Chop the onion and cook it in a pan with 1 Tbsp of the EVOO
Remove the boiled ribs, finely chop, and add them to the pan with the onion. Cook for 5 minutes
Toast the bread slices in the oven for a few minutes
Spread 1 Tbsp EVOO into the bottom of a baking pan. Then build one layer of bread slices, then, cabbage leaves, then sprinkle Parmigiano Reggiano across the top *
Add a bit of broth to soak the bread
Repeat, making a second layer of bread and cabbage leaves. This time, adding sliced fontina cheese with 1 cup of cooked ribs on top
Add a bit of broth to soak the second layer of bread
Repeat, making a third layer of bread, cabbage and Parmigiano Reggiano *
Add the broth to soak the third layer of bread
Cook in the oven for 1 hour at 360F
This recipe is locally called "cabbage soup" (zuppa di cavolo in Italian) even if it is not really a soup but more like a casserole. Buon appetito! 
* Based on your preference, you can add one or more layer of cheese instead of grated Parmigiano Reggiano and/or even rub some garlic on toasted bread, just to add more flavor.