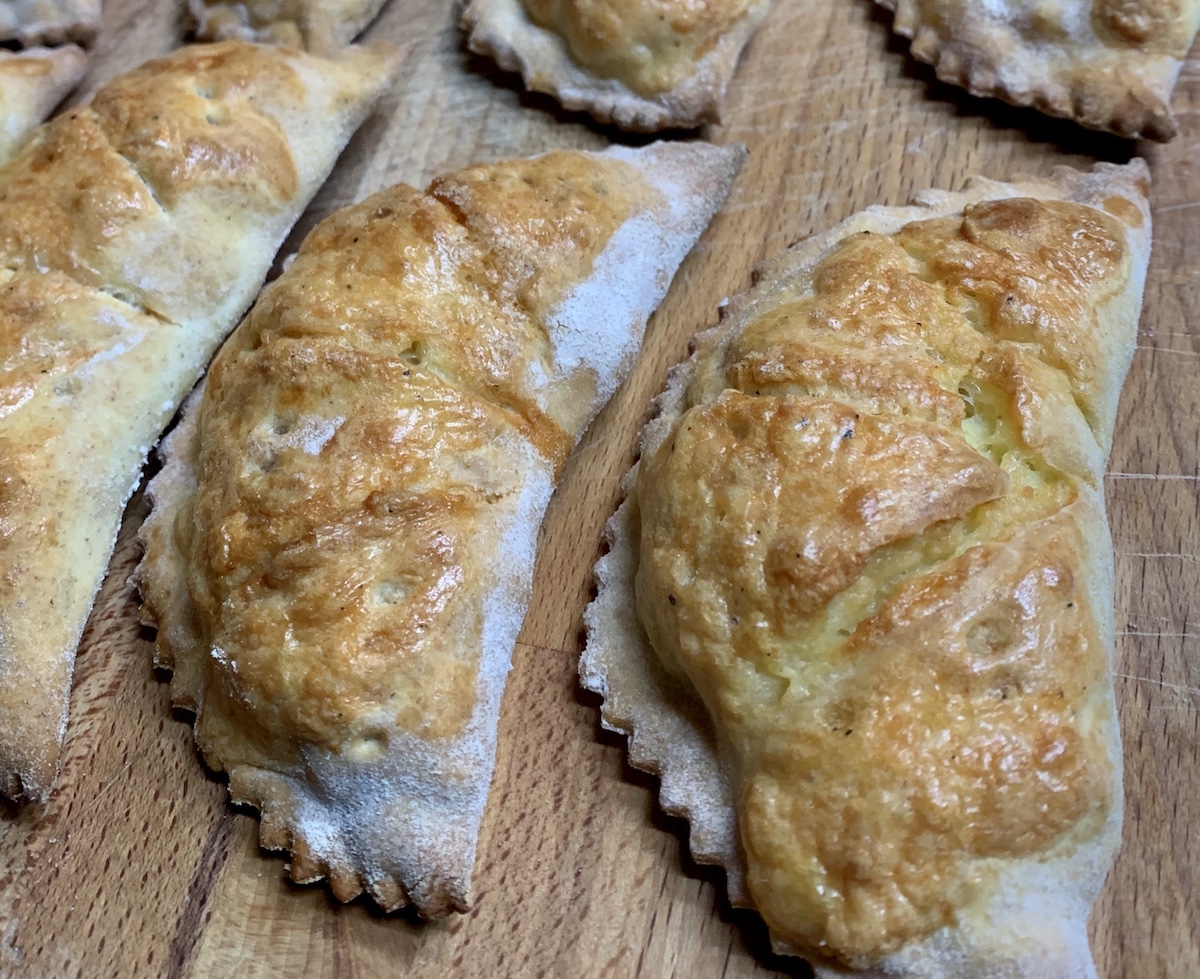 12/30/2022 by foodstoriestravel 0 Comments
Calcioni Abruzzesi (Baked Bread Pockets)
By Suzie Regul, a friend and tour leader remembering her mother-in-law Ines and her delicious recipe.
Differing versions are also found in the neighboring region of Molise. Traditionally, in Castel del Monte in Abruzzo, a local sheep-milk cheese called Canestrato, a Slow Food presidium is used. Pecorino may be substituted.
Special thanks to Suzie's sister Lisa who transcribed this recipe for us. Being an editor for a publishing company, we surely appreciate her precise descriptions!
Ingredients for 4 people for the dough (it makes 12 bread pockets)
250 grams all-purpose flour to start, plus more as needed
2 pinches salt
2 small eggs
1/4 cup EVOO
1/4 cup warm water
Directions:
Mound flour on a wood surface
Create a well in the center of the mound
Add 2 eggs and salt to the well, and whisk them together with a fork
Add EVOO and warm water to the well and continue whisking, gradually bringing in the flour from the edges as you whisk
When the center mixture becomes thick enough so as not to run over the sides, draw in the rest of the flour and begin to knead the dough with your hands until all the dry flour is incorporated
If the dough is still wet, scrape up any wet dough off the board with a pastry scraper and add flour
Knead dough vigorously for 10 minutes, adding a little more flour, as you go, as necessary (the dough should be firm and not sticky)
Cut the dough in half
Add a little more flour to one half, knead a couple more times, and then roll it out very thin (you should end up with a circle about 16" in diameter)
Use an upside-down small bowl (about 4-6" in diameter) to mark circles in the dough
Cut out the circles marked
Put about 2 Tbsp of filling (*see below) on one half of a circle and fold the other half over it. Press down with your thumb to seal firmly. If you have a pastry cutter with a fluted wheel, trim the edge to make an even edge, then use the side of the cutter to press down on the edges again, to further seal it and make a ridged pattern on the edge. If you don't have a pastry cutter, use the tines of a fork
Repeat the process with remaining dough until you have 12 calcioni, reserving a couple of spoonfuls of the filling
Put the calcioni on a baking sheet lined with parchment paper (oven paper)
To your reserved spoonfuls of filling, add some warm water to thin it out so that it becomes pastelike but not runny. Spread some of this thinned filling over the top of each calcione
Position the oven rack to the lowest level (close to the bottom). Turn the oven on to 400F
Stab each calcione deeply 7-8 times with a fork. With a knife, score each calcione with three slits (do not cut all the way through)
Bake calciones in the oven for 20-25 minutes until golden brown and puffy
Rotate the pan once near the end of the cooking time
* Ingredients for the filling:
3 eggs
2 tsp pepper
450 grams grated cheese, equal parts Pecorino and a hard, dry cow's cheese
Directions:
Whisk together 3 eggs and pepper in a bowl
Mix in the cheese with a wooden spoon until it becomes thick and sticky, like Play-Doh or cooked polenta
Set aside
Buon appetito!