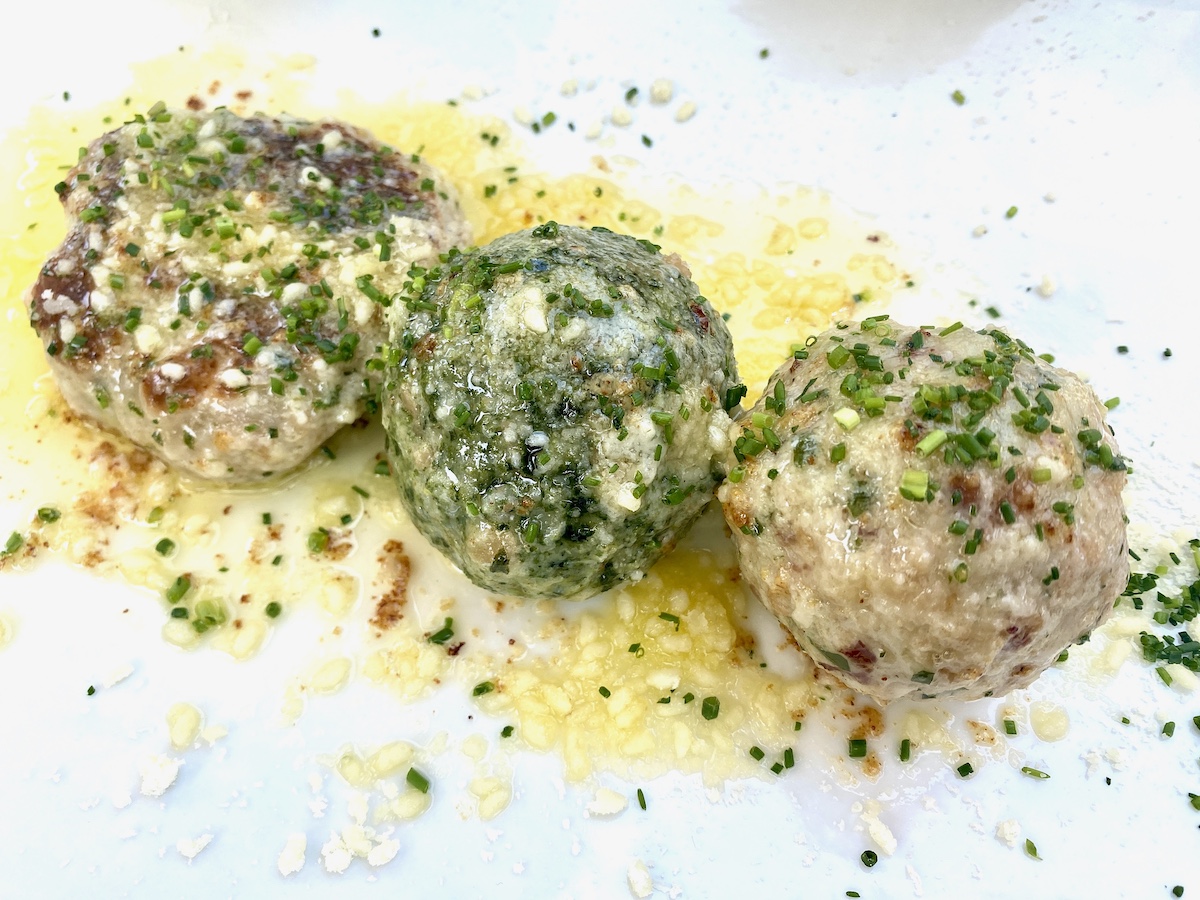 08/28/2023 by foodstoriestravel 0 Comments
Canederli Trentini (Bread dumplings)
From Chef Ottavio at Hotel Ravelli in Mezzana, Val di Sole (Trentino)
Canederli are another wonderful example of cucina povera, historically a means of using stale bread. In Alto Adige/South Tyrol, they are called knödel, and usually include speck instead of the lucanica (pork sausage) that is more typical of Trentino.
Taste them on a tour of Trentino-Alto Adige/South Tyrol or follow the recipe below at home!
Other variations include other ingredients such as chive or beetroots or spinach. Typically they are served with broth but another version features canederli boiled in water and dressed with butter and grated Trentingrana cheese (see picture).
Ingredients for 3-5 people:
250 grams dried bread (or fresh if you don't have any dried)
¼ liter milk
1 onion
2 eggs
2 Tbsp EVOO
1 lucanica (pork sausage) you can use speck or omit it for a vegetarian version
1 handful Grana Trentino—you can use Parmigiano Reggiano or Grana Padano
1 Tbsp chopped parsley
salt and pepper to taste
1 cup breadcrumbs (for breading)
2 liters (1/2 gallon) broth ** usually beef, or use vegetable for a vegetarian version
 
Directions: 
Dice the dried bread
In a bowl, soak the diced bread in milk for at least 2 hours
Finely chop the onion and brown it in EVOO for a few minutes
Beat the eggs and add them to a bowl with the browned onions
To the bowl, add Grana Trentino, chopped parsley, and the lucanica that can be easily peeled and broken into pieces by hand
Mix with your hands, to amalgamate while squeezing ingredients together
Adjust with salt and pepper
The goal is a slightly moist consistency (if too dry, add milk; too wet, add bread)
Wet your hands and roll the dumplings by hand for an approx. diameter of 2" each
This recipe will produce approx. 10 canederli
Roll them in breadcrumbs to seal them better (optional but Chef Ottavio recommends this step)
Heat the broth (**we make our vegetable broth from scratch, simply boiling for at least an hour: 1/2 gallon water with 1 big carrot, 1 big onion, 1 sprig rosemary, 2 garlic cloves, 1 big potato, and 1 celery stalk. Then we strain it to separate out the fibers)
When broth is hot, drop the canederli into the pan
Cook thoroughly for at least 5 minutes
Serve them hot with broth 
Buon appetito!