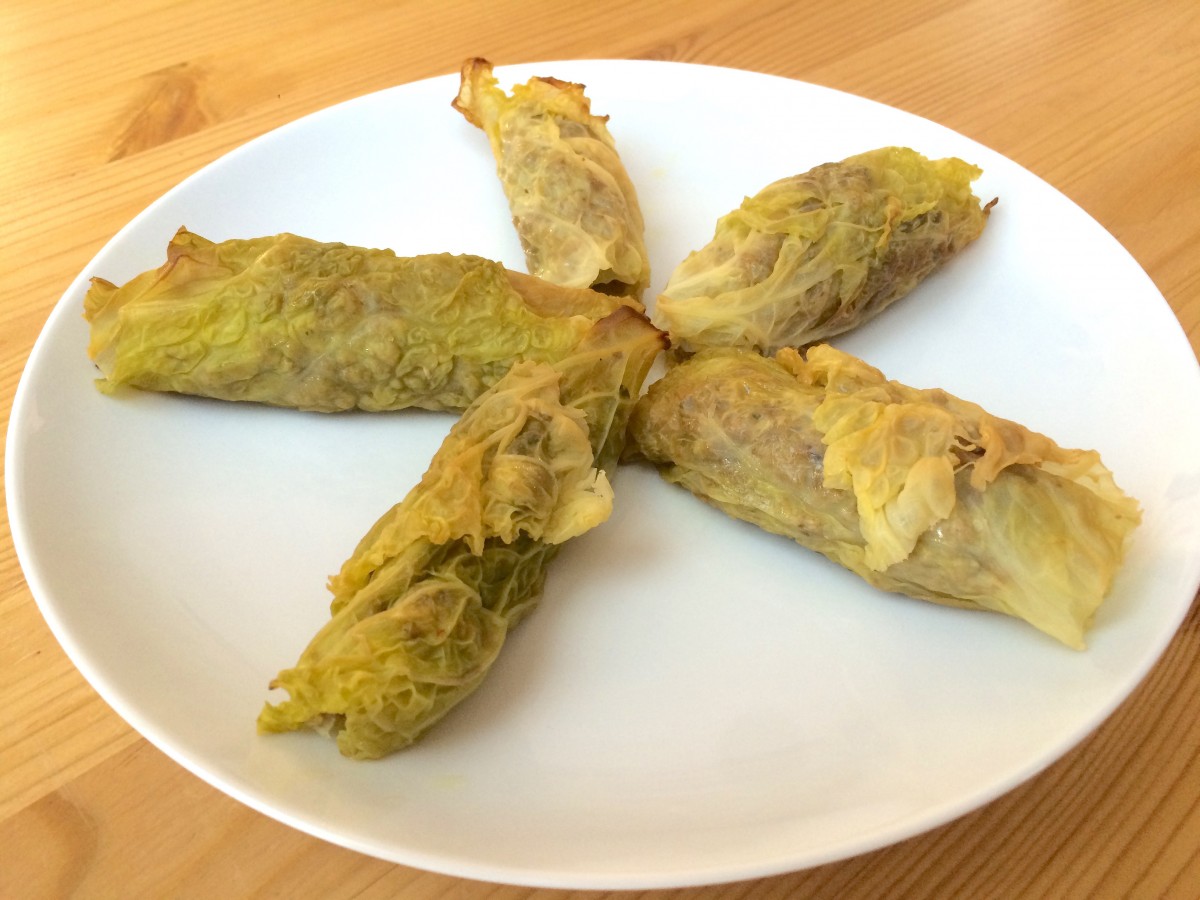 12/14/2015 by Cristiano Bonino 0 Comments
Caponet (Stuffed Cabbage)
By Davide Marchegiano, our Piedmontese Tour Designer and Guide.

This recipe was inspired by Davide's mamma and you might enjoy this dish on our tours in Piedmont!
Ingredients for 6 people:
1.5 lb of savoy cabbage
1/2 gallon of water
2 Tbsp of bouillion 
1/4 lb of ground veal
1/4 lb of ground pork
1 egg
1 garlic clove
3 Tbsp of Parmigiano Reggiano cheese
1/4 cup of breadcrumbs
4 Tbsp of EVOO
1/2 tsp of salt
1/4 tsp of nutmeg
Directions:
Bring water to a boil and stir in the bouillon
Wash cabbage and remove the leaves one at a time. Slice each leaf in half and remove the thick center rib. (Avoid using the smaller leaves. These may be saved for other recipes) 
Boil the leaves and ribs for 5 minutes. Remove the leaves and set them aside to dry. (Leave the ribs in the broth)
Peel and sauté the garlic (finely minced or whole, your choice) in a pan with 2 Tbsp EVOO until light brown
Add the veal and pork to the garlic and cook for 10 minutes
Finely chop the cooked cabbage ribs and sauté in a separatepan with 1 Tbsp EVOO for 5 minutes
Beat the egg
In a bowl, mix the cooked meats, egg, 1/2 cup chopped cabbage ribs, Parmigiano Reggiano, breadcrumbs, nutmeg and salt.
Adjust to your taste
Place 2 Tbsp of the mixture on top of each cabbage leaf, rolling and sealing it by pressing with your fingertips
Spread 1 Tbsp EVOO into the bottom of a baking pan. Then line up the stuffed cabbage leaves to cover the pan
Cook in the oven for 20 minutes at 360F
In some parts of Piedmont this recipe is called "Pes-Coj" which means "cooked fish" in local dialect, because it reminds of a fish-shape cabbage roll.  Buon appetito!