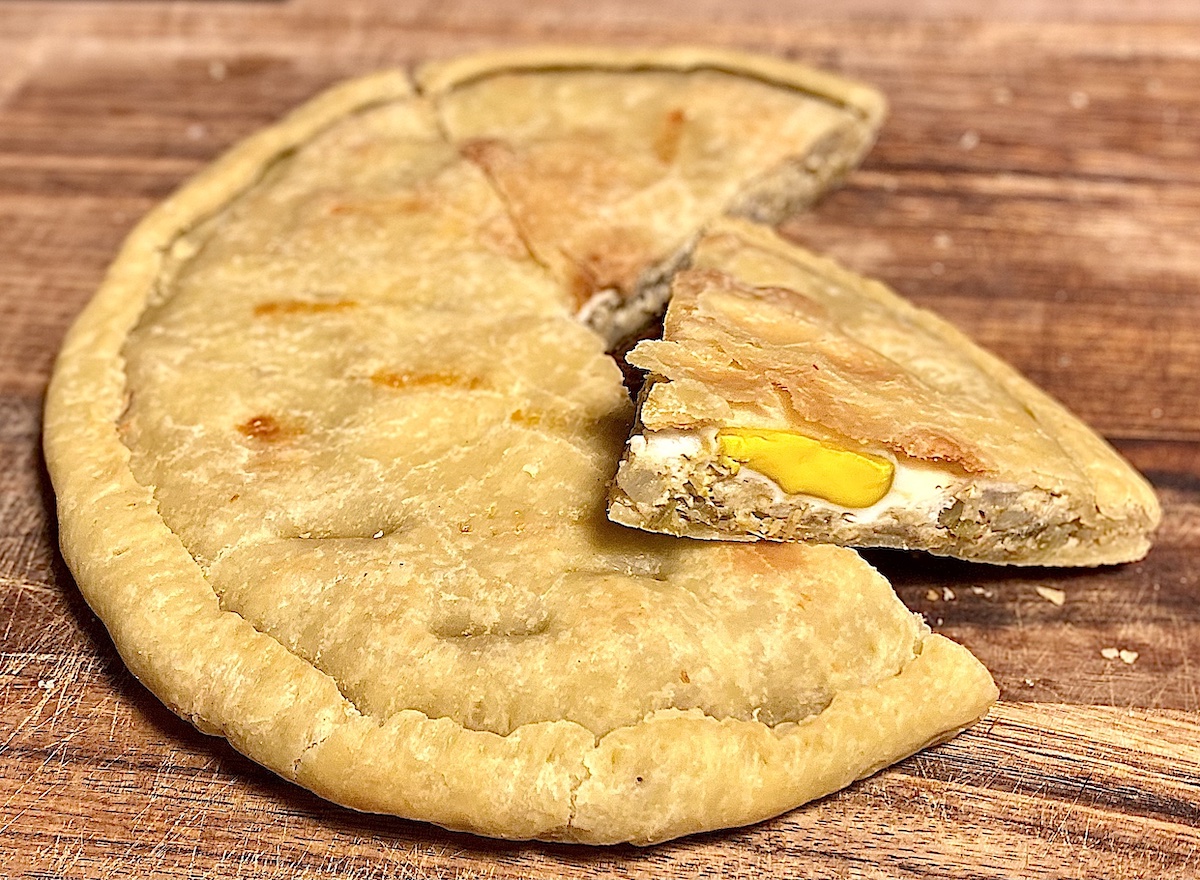 04/06/2022 by foodstoriestravel 0 Comments
Easter Savory Pie (Torta Pasqualina)
Inspired by Carla Simondo, a veggie and fruits producer near Albenga and shop owner in Alassio.
Originally from Liguria, the name derives from Pasqua (Easter in Italian). Traditionally, it calls for 33 sheets of dough, marking the years of the life of Jesus Christ. Nowadays, the trend is to use two sheets of dough only.
As Torta Pasqualina stores well and can be served cold, it is also typical at the picnics of Pasquetta (Easter Monday), which Italians love to celebrate together.
Traditionally, Torta Pasqualina calls for seasonal greens, such as Swiss chard or spinach, and ricotta. Here, we substituted artichokes for a variation.
You can use frozen puff pastry. Or try to make your own crust. We think you will not be disappointed!
Ingredients for the dough:
1 cup all-purpose flour
1/3 cup water
¼ cup EVOO
½ tsp salt
Directions:
Mix the flour and salt in a large bowl
Make a small "mountain" of the flour, and then a "little crater" in the middle
Mix water and EVOO in a separate bowl
Pour this liquid, little by little, onto the "crater", while stirring with a spoon to mix all well
Knead for a minute with your hands to get your dough smooth and consistent
Cover with a dish towel and let the dough ball rest in the fridge for 1 hour (if you don't have much time, you can pop it in a freezer for 20 mins)
Bring out your dough and divide in two, forming two dough balls with your hands
Cut two pieces of parchment paper and put each half- dough ball between them, then using your fingers to begin pressing it out, evenly all over
Continue with a rolling pin to shape one dough ball into a rough circle~tenth of an inch thick (~2mm)
Repeat for the other dough ball, then set both aside
Ingredients for the filling:
2 artichokes
2/3 cup ricotta
1/2 cup Parmigiano
5 eggs
1 clove garlic
3 tbsp EVOO
Parchment paper
Salt and pepper to taste
Directions:
Wash and clean the artichokes, removing all the tough leaves and beard inside, and then chop them
Cook garlic (minced or whole, your choice) in EVOO until light brown
Add the chopped artichokes and cook until well done. If needed, add some water
Adjust with salt and pepper to taste, and allow to cool
In a bowl, mix the ricotta, artichokes, and Parmigiano with 1 egg
Adjust with salt and pepper to taste
Lay a piece of parchment paper into a round-shape pan and place a round-shape sheet of dough on top, and then add the filling
Make four holes with a spoon and break 4 eggs into each one (very traditional for Easter, but this step can also be omitted)
Put the other sheet of dough over the top and seal the edges
Brush with EVOO and make some holes on top
Bake in the own at 400F for about 30 minutes
Remove and place your savory pie on a steel cooling rack
You may prepare this dish in advance and then served cold or reheated it in the oven for 5 minutes 
Buon appetito e Buona Pasqua!