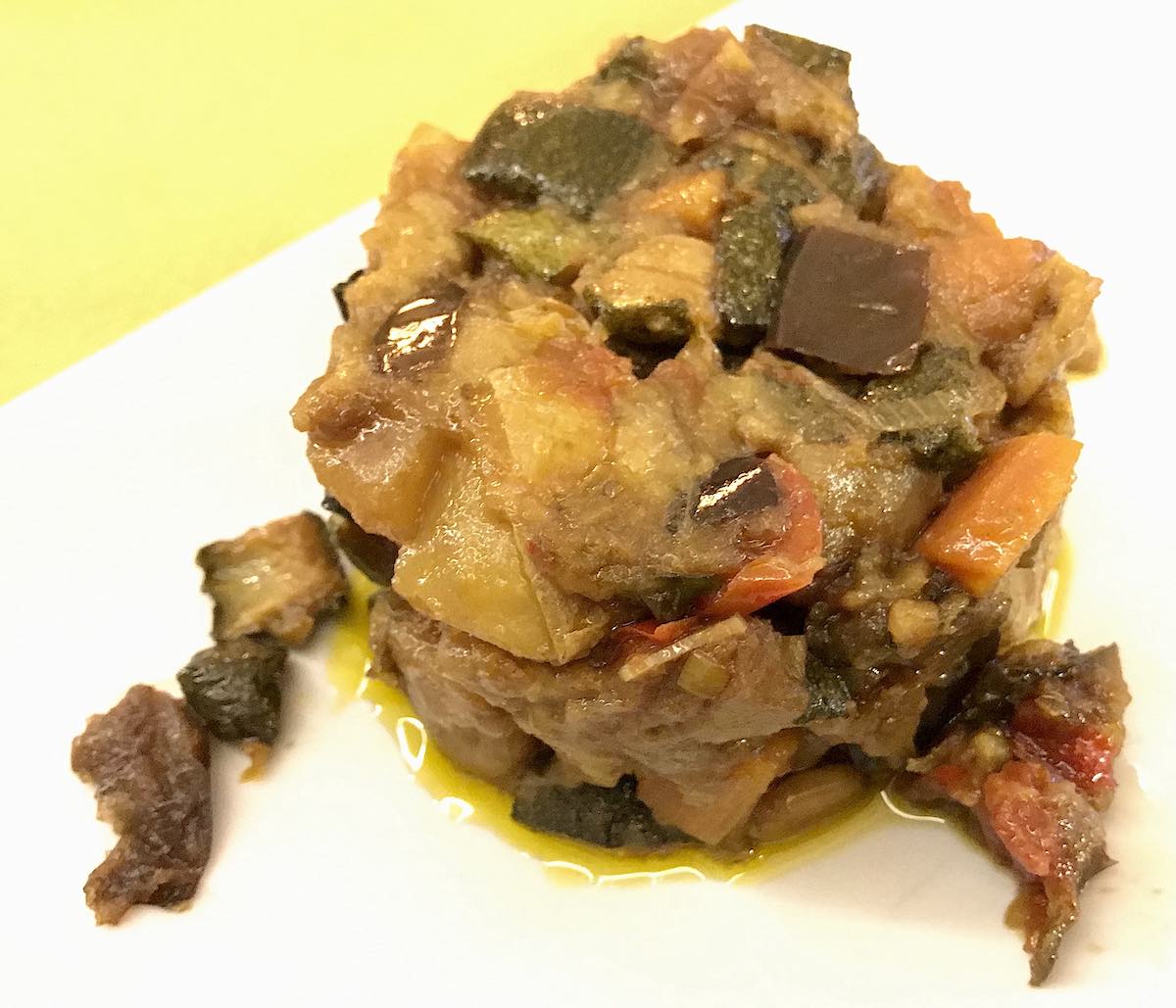 11/10/2015 by Cristiano Bonino 0 Comments
Eggplant Caponata Siracusana
By Carmelo Conigliaro from Agriturismo Case Damma, Siracusa.
 
You might enjoy this recipe on our tours in Sicily! Versions of this dish vary, depending on the locality.
They may or may not include: pinenuts, almonds, sugar, raisins, green peppers, whole tomatoes. The version below is one of them and is simply delicious!
Ingredients for 4 people:
1 cup seed oil for deep frying
1 Tbsp EVOO
1 eggplant
2 bell peppers
1 onion
2 celery stalks
1 garlic clove
2 Tbsp rinsed capers
1/4 cup olives
a few fresh basil leaves
a few fresh mint leaves
1/4 cup tomato sauce
1/4 cup white wine vinegar
1 tsp salt
Directions:
Dice the eggplant into half-inch wide pieces
Then deep fry them. Remove the eggplant and set aside
Using the same pan and oil, next deep fry the sliced bell peppers (cut into approximately inch-wide square pieces)
In another pan with 1 Tbsp EVOO, sauté together: sliced onion; celery (halved lengthwise and cut in inch-long pieces); peeled and quartered (or minced, if preferred) garlic; capers; olives; chopped basil and chopped mint (or whole if preferred)
Next mix all ingredients in a single pan and add tomato sauce, vinegar and salt
Cook until the caponata is no longer runny. Serve cold or warm as you prefer
Buon appetito!