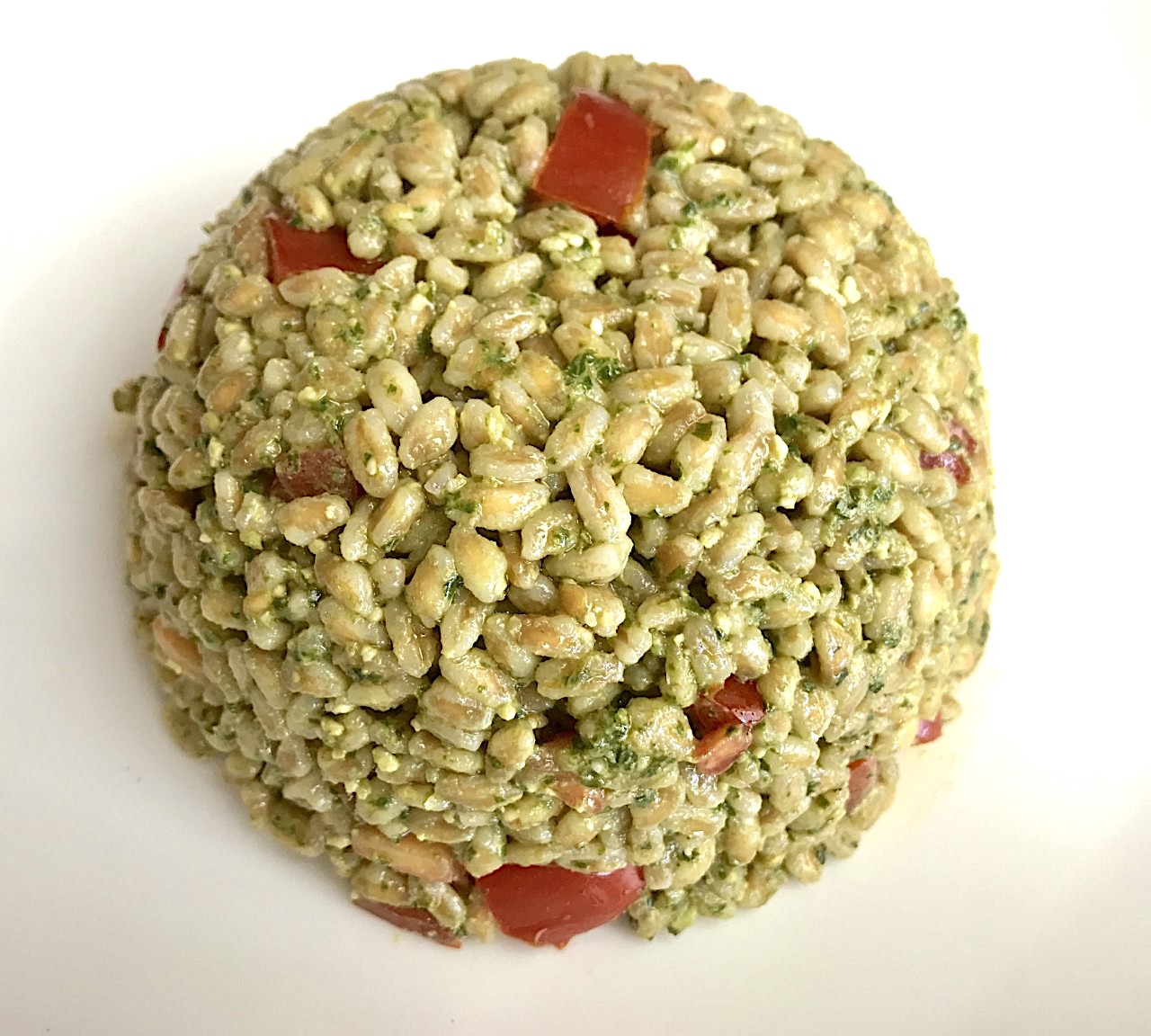 08/24/2019 by foodstoriestravel 0 Comments
Farro Salad
Inspired by Elisa Cucini at Agriturismo il Molinello in Tuscany.
 
You might enjoy this recipe on our tours in Tuscany and in other regions in central Italy where this ancient grain is quite popular and mostly enjoyed in the summer. 
We enjoyed a version of this recipe in the summer at Agriturismo il Molinello and every once in a while we love to make our own version. In the meantime we can't wait to be back to visit them in the beautiful Tuscany!
Ingredients for 4 people:
454 grams (1 lb) of farro (you can also use other ancient grains such as peeled barley, spelt or similar)
1 gallon water
1.5 Tsp salt
454 grams (1 lb) of cherry tomatoes
3/4 cup of pesto sauce*
Directions:
Bring water to a boil and then add salt
Add the farro. (The water should taste slightly salty. If not, add salt)
Taste the grains before draining it to confirm "al dente." Let it cool
Dice cherry tomatoes
Save 1 Tsp of water (at this point it contains starch) and mix it with the pesto sauce to make it smoother
Mix grains with the pesto sauce and the diced tomatoes
If needed, adjust with salt, evoo and/or black pepper based on your taste
This salad will keep for a few days in the refrigerator
*Ingredients for pesto sauce: 
2 cup of fresh basil leaves (washed and dried in a salad spinner)
1/3 cup of Parmigiano Reggiano or Grana Padano
1/3 cup of pine nuts
1/3 cup of EVOO
2 garlic cloves
pinch of salt
Directions:
The traditional recipe requires a mortar and pestle to avoid oxidization of basil and in general a better result
If you don't have one and/or are in a hurry, just blend the ingredients in a food processor
Feel free to adjust amount of ingredients based on your personal taste!
To store pesto sauce in the refrigerator, put in a jar with a layer of EVOO on top.
Buon appetito!