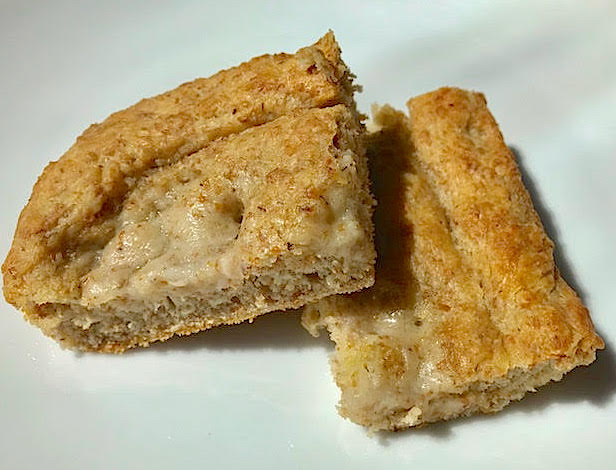 04/07/2018 by Cristiano Bonino 0 Comments
Focaccia Ligure (Italian Riviera Focaccia)
Inspired by Focacceria & Bakery Casalini in Lerici. 
We were inspired to try our own focaccia (usually when we are back to the USA, otherwise in Liguria we let the pros make it!) by a bakery in Lerici, in Eastern Liguria during our annual winter exploration of Italy and the Mediterranean.  
Typical Ligurian focaccia is made with all-purpose flour only and can be plain or topped with onions, olives or tomatoes, or even filled with cheese. In Italy, recipe variations are the rule and so in this case, we love to use whole wheat flour.
You might enjoy this recipe on our tours in Liguria or try at home to feel like you're in Italy while in your kitchen!
Ingredients for 4 people:
250 grams (2 cups) all-purpose flour (we love to use King Arthur Flour from Vermont)
250 grams (2 cups) whole wheat flour (we love to use the one from Mulino Marino, a Piedmontese mill that uses only organic, mostly local grains)
375 ml (1 and 1/2 cup) + 3 Tbsp of warm water
5 Tbsp EVOO (we love to use Olio Taibi 100% from Sicily!)
2 tsp yeast
2 tsp salt
Directions:
Pour the flour into a bowl
Combine 1 and 1/2 cup warm water, 2 Tbsp EVOO, and the yeast
Make a small "mountain" and then a "little crater" in the middle of the flour and pour the water-EVOO-yeast concoction into the center, slowly combining the ingredients with a fork
Then add salt
When the dough is ready (not too dry and not too moist), let it rise for at least 1 hour covered with a kitchen dish towel placed over the bowl at room temperature
Pour 2 Tbsp EVOO onto the center of a tray (we used a 13x9x2 inch pan) and coat the bottom well
Put the dough mound on top and then flip it, so as to oil both top and bottom of the dough mound
Leave the dough in the tray in the oven (unheated) with the oven light on to rise for another hour
Stretch the dough in the tray simply pushing down with your fingers
Poke the dough with your fingertip (making little indentations evenly across the top)
Put the tray back in the oven (unheated) leaving the oven light on for another 30 minutes
Remove the tray and pre-heat the oven to 400 F
Mix 3 Tbsp water and 1 Tbsp EVOO, and sprinkle this across the top of the dough 
Bake at 400 F for 25 minutes
Remove focaccia from the oven and place it on a grill surface to allow the bottom to cool
Slice and serve
Buon appetito!