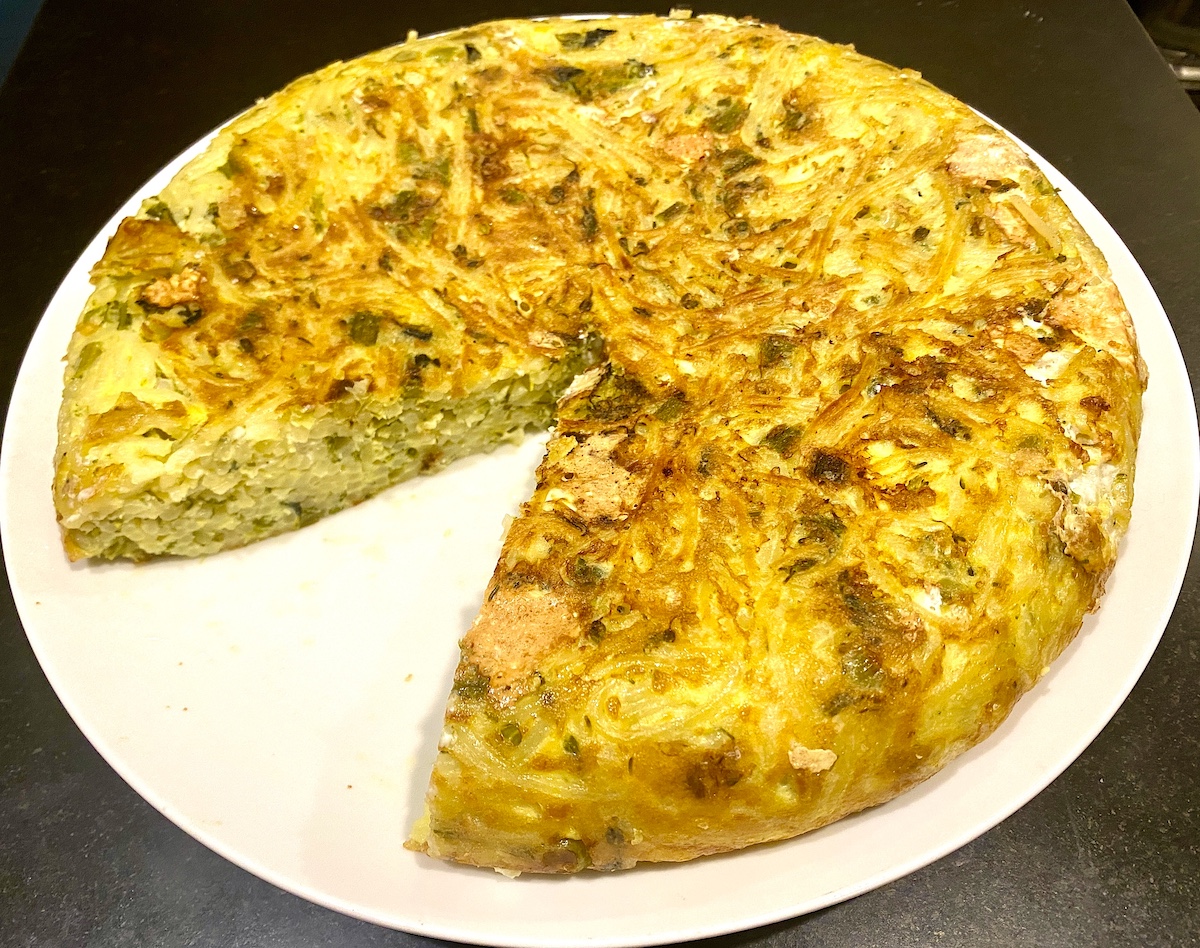 04/08/2023 by foodstoriestravel 0 Comments
Frittata di Pasta Napoletana (Neapolitan Pasta Frittata)
Inspired by our Neapolitan friends Peppe and Stefania, met recently on tour in the amazing city of Napoli.
On one of our tours in Campania, you might savor this dish on a picnic. It is typically prepared in advance.
Another wonderful example of "cucina povera," this recipe features typical leftover ingredients from the fridge, such as spaghetti or cooked veggies.
Ingredients for 4 people:
300 grams (2/3 pound) spaghetti
1 gallon water (for the spaghetti, if not already cooked)
1.5 Tbsp salt (for the spaghetti, if not already cooked)
6 eggs
50 grams (2 ounces) grated parmigiano reggiano
50 grams (2 ounces) grated pecorino
110 grams (1/4 pound) smoked scamorza
150 grams (1/3 pound) smoked pancetta or replace with cooked veggies
3 Tbsp EVOO
salt and pepper to taste
 
Directions:
If you do not have leftover spaghetti and need to cook some

, put a pot of water over high flame and bring to a boil before salting it (water should taste slightly salty)
Cook the pasta "al dente," drain, and roughly cut with scissors or a knife, then set aside to cool
Beat the eggs, then add to them the grated parmigiano and pecorino
Dice the smoked scamorza and add it to the concoction
Add pancetta or cooked veggies, if you prefer a vegetarian version of this dish
Add a pinch of salt and freshly-ground pepper
Finally, add the spaghetti to the mixture
Pour EVOO into a nonstick pan over medium flame
When EVOO is hot, pour in the mixture and cover with a flat lid
Cook over a low flame for about 10 minutes
When you can see that the top is almost cooked, turn the frittata over by using the flat lid and a spatula to slide it back, now on its other side, back into the pan
Cook for an additional 5 minutes over medium flame
Remove and pat the frittata dry
Eat warm or allow to cool and store it in the fridge for your next picnic or light meal
 
Buon appetito!​