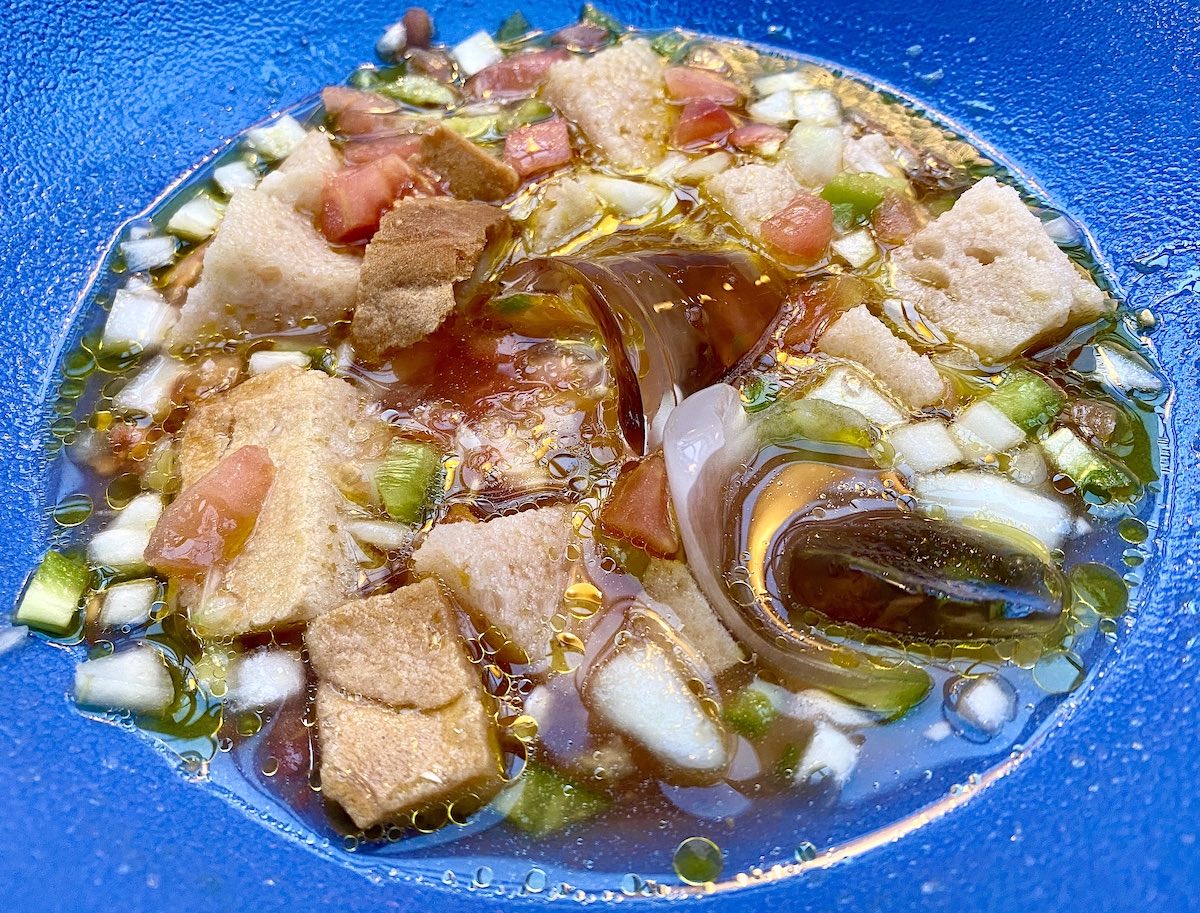 12/02/2020 by foodstoriestravel 0 Comments
Gaspacho Alentejano (Gazpacho Alentejo Style)
Here we offer the Portuguese version of the celebrated Spanish cold soup "gazpacho" from Andalucia region. We enjoyed it during the summer at the restaurant Adega Regional in Elvas, in the Alentejo region.

You might savor this recipe in the summer on our tour in Portugal at the restaurant Adega Regional in Elvas, which specializes in the traditional cuisine of the Alentejo. The main way that this version differs from the Spanish one is that the veggies are not blended but simply diced alongside cubed stale bread and diced water.
In Arabic "gazpacho" means "soaked bread" and this is surely an example of a recipe that maximizes available ingredients and minimizes food waste! In reality, you don't have to use stale bread. Fresh or dried bread is fine.
Ingredients for 4 people:
1/2 cucumber
1/2 red bell pepper
1 tomato
1 small onion
2 garlic cloves
6-8 ice cubes
cold water (enough to cover the ingredients)
3 Tbsp EVOO
3 Tbsp vinegar
1 tsp oregano
3 slices rustic bread 
salt and pepper to taste


Directions:
Chop the onion and mince the garlic
In a small bowl, mix the onion and garlic with EVOO, vinegar, salt, pepper, and oregano
Dice the tomato, cucumber, and bell pepper 
In a larger bowl, mix the diced veggies with the onion-garlic sauce
Add cold water sufficient to cover the ingredients and store in the fridge
To each individual bowl, before serving, add a few ice cubes and chunks of cut up rustic bread
Add salt and pepper to taste
For reference, our picture of this dish, taken at our table at the restaurant in Alentejo, shows proportions of water and bread. Bom apetite!