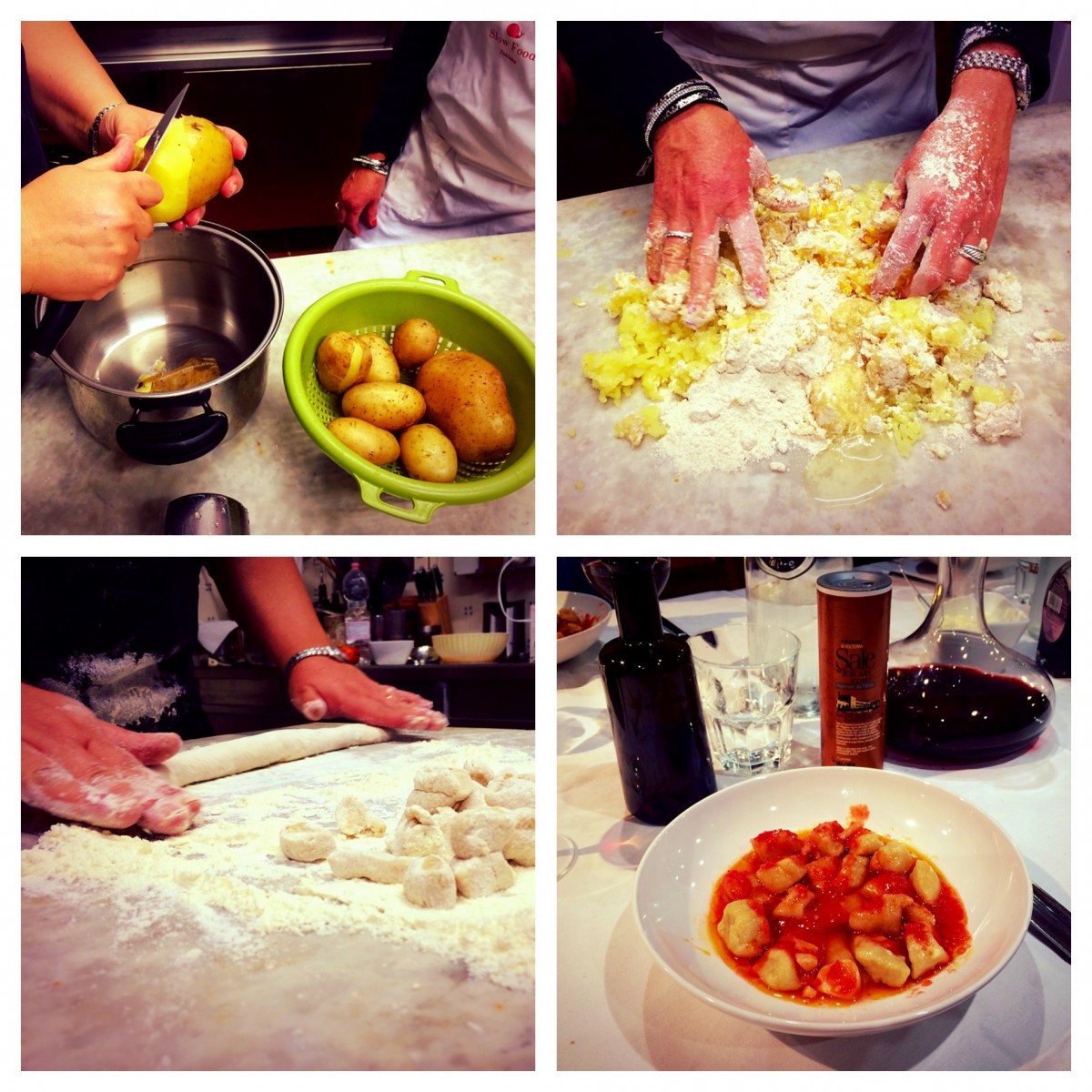 06/13/2016 by Cristiano Bonino 0 Comments
Gnocchi with Tomato Sauce or Arugula Pesto
By Elisa Cucini from Agriturismo il Molinello in Tuscany.
 
You might enjoy this recipe on our tours in Tuscany or other regions, given the popularity of this type of pasta in Italy!
Ingredients for 4 people:
500 gr (~1 pound) of potatoes
150 gr (1 cup and 2 Tbsp) of al purpose flour
1 egg
1 gallon of water
1.5 Tbsp of salt
Directions:
Boil the potatoes. Peeled them and mash them while still hot
Beat the egg
Make a small "mountain" and then a "little crater" in the middle and pour in the beaten egg
Add flour and knead to get your dough. Adjust consistency as necessary–I.E. add one more egg if too dry or more flour if too moist
Roll out pieces of dough with your hands to form a section of ~1-2 feet long and ~1/2 square inch thick
Cut into strips and then into small pieces and roll them out on the back of a fork 
Bring water to a boil, then add salt (the water should taste slightly salty. If not, add salt)
Throw in the gnocchi and drain them as soon as they start to float. Pour in a bowl and mix with the sauce
Ingredients for sauce with tomatoes:
4 fresh tomatoes

1 Tsp of EVOO

1 garlic clove
Directions:
Blend tomatoes in a food processor
Sautée garlic (finely minced or whole, your choice) and EVOO in a pan until it gets lightly brown
Add blended tomatoes and cook until sauce is thick
Adjust with salt
Ingredients for sauce with arugula pesto:
150 gr (1/3 pound) of arugula

75 gr (~3 ounces) of walnuts

30 gr (1 ounce) of pine nuts

20 leaves of basil

80 gr (2/3 cup) of grated pecorino cheese and parmigiano reggiano

a pinch of salt

75 gr (1/3 cup) of EVOO

150 gr (2/3 cup) of hot water 
Directions:
Put all the ingredients in a blender and mix until smooth
If too dry add water or EVOO
Buon appetito!