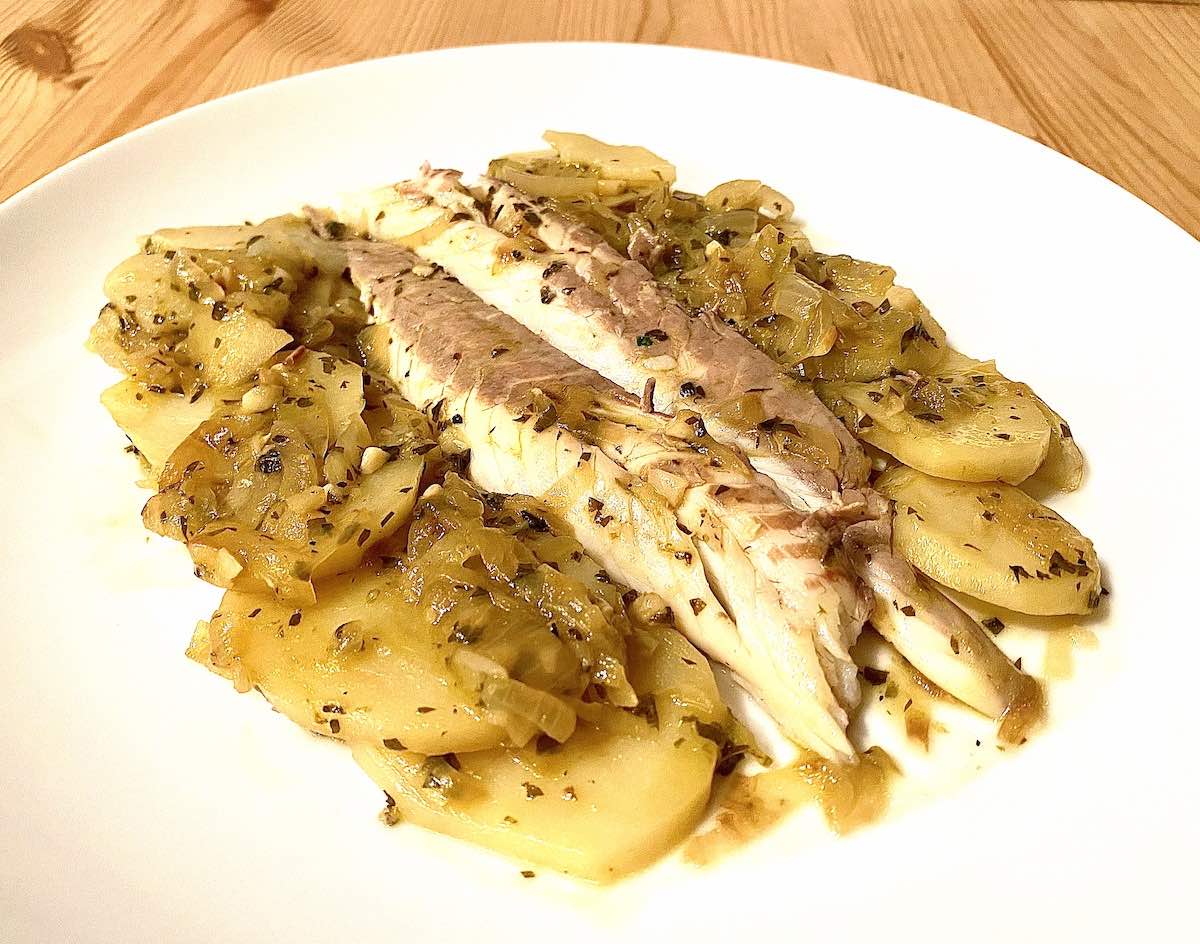 01/05/2021 by foodstoriestravel 0 Comments
Gregada (Croatian Poached Fish)
 Inspired by Zdravko and Marion, gourmets & residents of Hvar Island in Croatia.
 
You might enjoy this dish on our tours of seaside Croatia where it is quite popular. More specifically, the recipe is typical on the Dalmatian Coast. Quoting Zdravko: "Gregada is very much a [island of] Hvar dish. On [the island of] Korčula they have popara, which is similar, but uses tomatoes to make the sauce red and is usually served with macaroni, preferably homemade."
Suggestions from Marion: "It's a very simple dish, and so the instructions are not very precise. It all depends on what you find at the market that day!"
This kind of fish stew with potatoes and onions represents one of the oldest methods of cooking fish in Dalmatia, probably brought by the Greeks over two millennia ago.
Ingredients for 2 people
650 grams (1.5 pounds) fresh and gutted whole fish such as orata (sea bream), branzino (sea bass), grouper, or red snapper (the fish we found fresh for this recipe)
500 grams (1.1 pounds) potatoes
300 grams (2/3 pound) onions
3 garlic cloves
1/2 cup white wine
1/2 cup water
1 bunch parsley
4 Tbsp EVOO
3 bay leaves
salt and pepper to taste
Directions:
Wash and mince the parsley
Chop the onions and mince the garlic cloves
Pour the EVOO into a pan and add the garlic and onions
Sauté for a few minutes over medium heat until slightly golden
Add some of the minced parsley
Add the white wine and cook for a few minutes
Peel, wash, and slice the potatoes into disks
Layer the potato disks into the pan and sprinkle with salt and pepper
Add the whole fish on top
Cook for 2 minutes, sprinkling some salt on top, then flip the fish to cook the other side for 2 more minutes, sprinkling it with some salt as well
Add water and cook for approximately 15 minutes with a lid on, occasionally basting the fish by spooning some of its sauce over it
When the fish is done (stick a fork in the thickest section to check for doneness), remove it from the pan
Keep cooking, uncovered, until the potatos are done and the sauce has thickened
Clean the fish and serve the fillets on a plate dressed with the sauce and sprinkled with some freshly minced parsley (if you are not a "fast fillet-er", we suggest putting the cleaned fillets back into the pan for a few minutes over medium heat so as to reheat them)
Adjust with salt, pepper, and EVOO to your personal taste
More helpful suggestions from Marion that we quote here:
The traditional way is to arrange all the ingredients in a large pot, cover with salted water, bring to the boil and cook until the potatoes are ready
Chef Ivan Buzolić's version: Fry the onion and garlic in oil until soft, then layer the fish and potatoes, add water, parsley, and season with salt and pepper. Bring to a boil and cook gently until the potatoes are cooked. Do not stir or you will break the fish, simply shake the pot occasionally. Ten minutes before it's ready, add the wine
Hvar Lešada is similar (except no oil or wine) and you don't fry the onion to start. Serve the fish and potatoes separately from the broth, with a little olive oil and parsley. It has a slightly fresher flavor than Gregada
Dober Tek! (Bon appetit in Croatian)