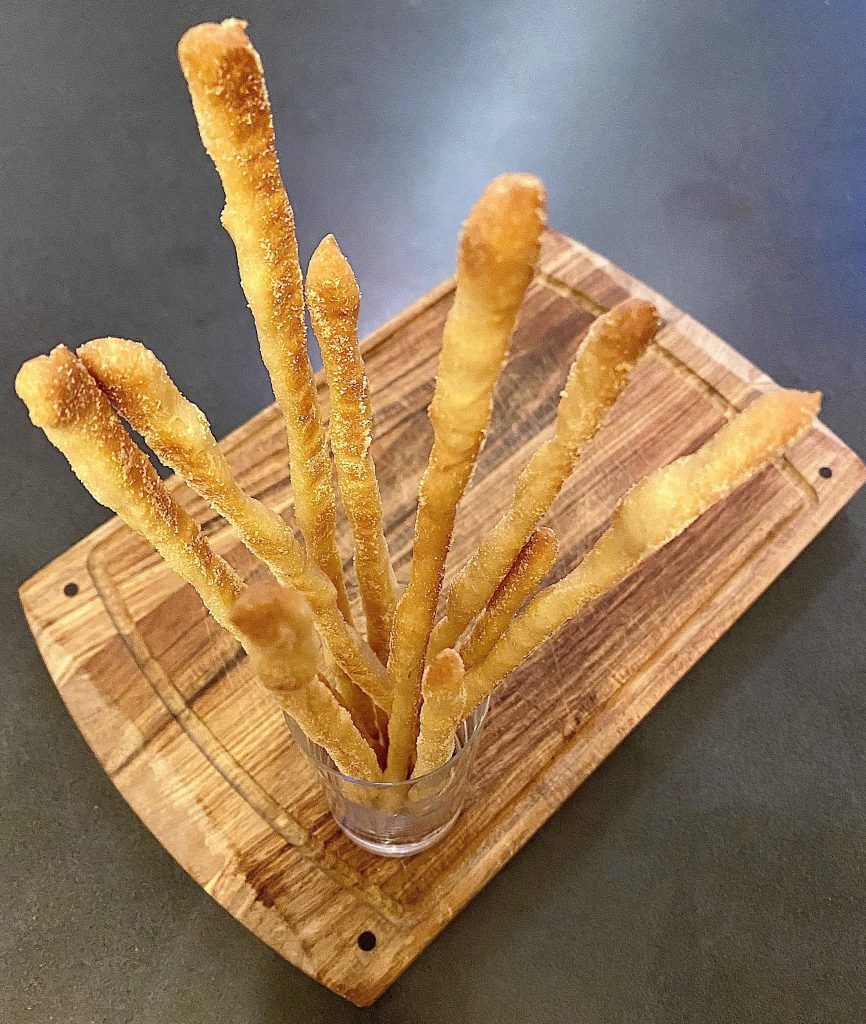 04/05/2020 by foodstoriestravel 0 Comments
Grissini (Breadsticks)
By Roberta Corradin at Restaurant Il Consiglio di Sicilia in Donnalucata.
 
This delicious recipe and its story comes to us from Roberta Corradin, a food writer, originally from Piedmont who co-owns Restaurant Il Consiglio di Sicilia in Donnalucata with her husband, chef Antonio Cicero. We visit them on tour in Sicily end enjoy dinner at Il Consiglio.
The story of grissini (breadsticks) begins with baker Antonio Brunero in seventeenth century Piedmont. Brunero is said to have created the recipe for a type of bread with no soft middle, to be digestible for King Victor Amadeus II of Savoy who was known to have gastrointestinal problems. 
You might enjoy this recipe on our tours in Piedmont or in Sicily at Il Consiglio Restaurant. Or try making them at home to feel like you're in Italy from your kitchen!
Ingredients for 4 people (~24 breadsticks)
250 grams (2 cups) of all-purpose flour 
140 ml (3/4 cup) of lukewarm water** 
1/2 tsp of barley malt (it's fine to substitute sugar, honey, maple syrup or similar)
4 grams (3/4 tsp) of salt 
7 grams (2 tsp) of yeast
25 grams (2 Tbsp) EVOO + 1 Tbsp (for a later stage of the recipe)
1 Tbsp of semolina (durum wheat flour)
**Roberta's version calls for 5 grams of lard and 110 ml of water. We prefer to use water only. It also includes 10 grams of finely-chopped fresh rosemary, added to the water, which makes a nice variation on the original recipe. 
Directions:
Combine half the water with EVOO and salt in a bowl
Combine the other half of the water with barley malt (or similar) and yeast in another bowl
Pour the all-purpose flour into a larger bowl and make a small "mountain" and then a "little crater" in the middle 
Pour the water concoction of the two bowls into the center, slowly combining the ingredients with a fork
Knead the dough until is ready (not too dry and not too moist)
Lay parchment paper on a cookie tray. Dust the paper with a sprinkle of semolina flour
Put the dough mound on top and press it a bit with your hands to flatten it until you reach a ~2 inch thickness
Brush the dough with 1 Tbsp of EVOO and sprinkle with the remaining semolina flour
Leave the dough on the tray in an unheated oven (with the oven light on) for rising, about one hour
Remove the tray and pre-heat the oven to 400F
Slice a strip of dough and with your fingers stretch and roll it into a ~1-foot long "stick" Remember that breadsticks don't need to be perfectly equal in shape and length 
Once all the "sticks" are laid out (you can brush them with EVOO and sprinkle sesame or poppy seeds on top if you like, for a fun and delicious variation on the original recipe) bake at 400F for 20 minutes or until the breadsticks become golden yellow
Remove breadsticks from the oven and let them cool
You can keep breadsticks at room temperature for a few days in a paper bag 
Buon appetito!