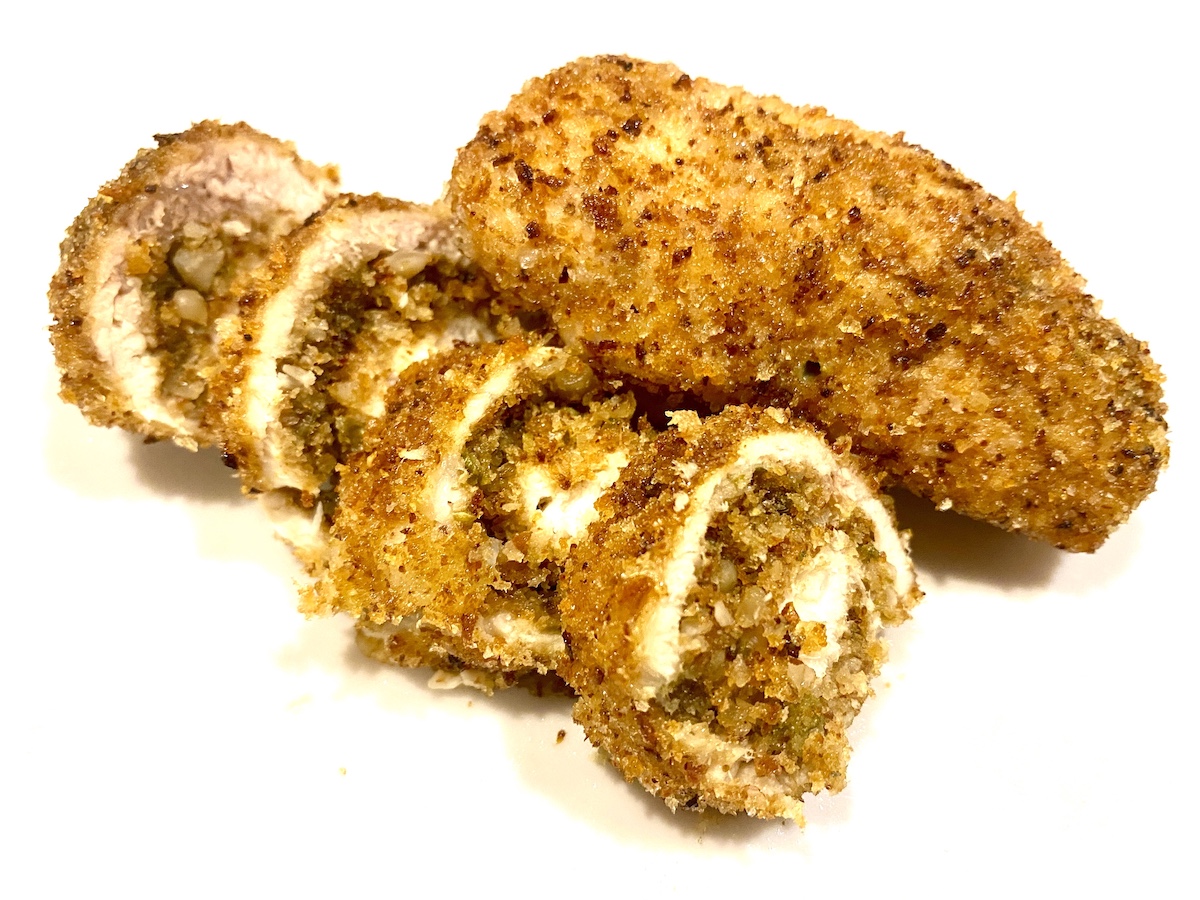 12/28/2022 by foodstoriestravel 0 Comments
Involtini di Pesce Spada (Swordfish Rolls)
Inspired by Pomp and Sustenance: Twenty-five Centuries of Sicilian Food by Mary Taylor Simeti
The wonderful book contains not only recipes but also local history, traditions, and anecdotes. This dish is typical of the province of Messina where they call the "involtini" (rolls) also "braciole" (chops). You can find it on other parts of the island as well, such as in the capital city of Palermo.  
Try making Involtini di Pesce Spada at home or enjoy it on one of our tours in Sicily, where you can find versions that contain other ingredients in the filling, such as raisins and/or green olives.
Ingredients for 2 people
275 grams (0.6 pound) fresh, thick swordfish steak
2 tsp capers jarred in vinegar
1/2 garlic clove
2 tsp pine nuts
2 tsp chopped parsley
1/4 cup EVOO
1/2 cup breadcrumbs
1 Tbsp + 1 tsp grated Caciocavallo or Pecorino cheese (we used Parmigiano Reggiano)
salt and pepper to taste
 Directions
Finely chop the capers, garlic, and pine nuts and place in a bowl
To it, add to it 2 tsp chopped parsley, 2 Tbsp EVOO, 4 Tbsp breadcrumbs, and 1 Tbsp + 1 tsp of grated cheese, then set aside
Cut the swordfish steak into two pieces and remove the skin (if needed)
From each of the two pieces, obtain 3 thin slices, cutting each one lengthwise. You do this by running your knife through the swordfish under the pressure of your palm
Places slices between two sheets of parchment paper and flatten with a rolling pin or meat tenderizer 
Put remaining breadcrumbs on a plate and remaining EVOO into a bowl
Spread 1 Tbsp of filling onto each slice and then roll it 
Dip each roll into the bowl of EVOO, then coat it with breadcrumbs
Seal each roll with a toothpick and place it onto an oven-safe tray
Set your oven to broil at 500F
Place the tray into the oven and broil for ~5 min (ensuring the tray is not too close to the broiler)
Flip the rolls on the other side for another ~5 min, watching for burn
Remove and serve right away
Buon appetito!