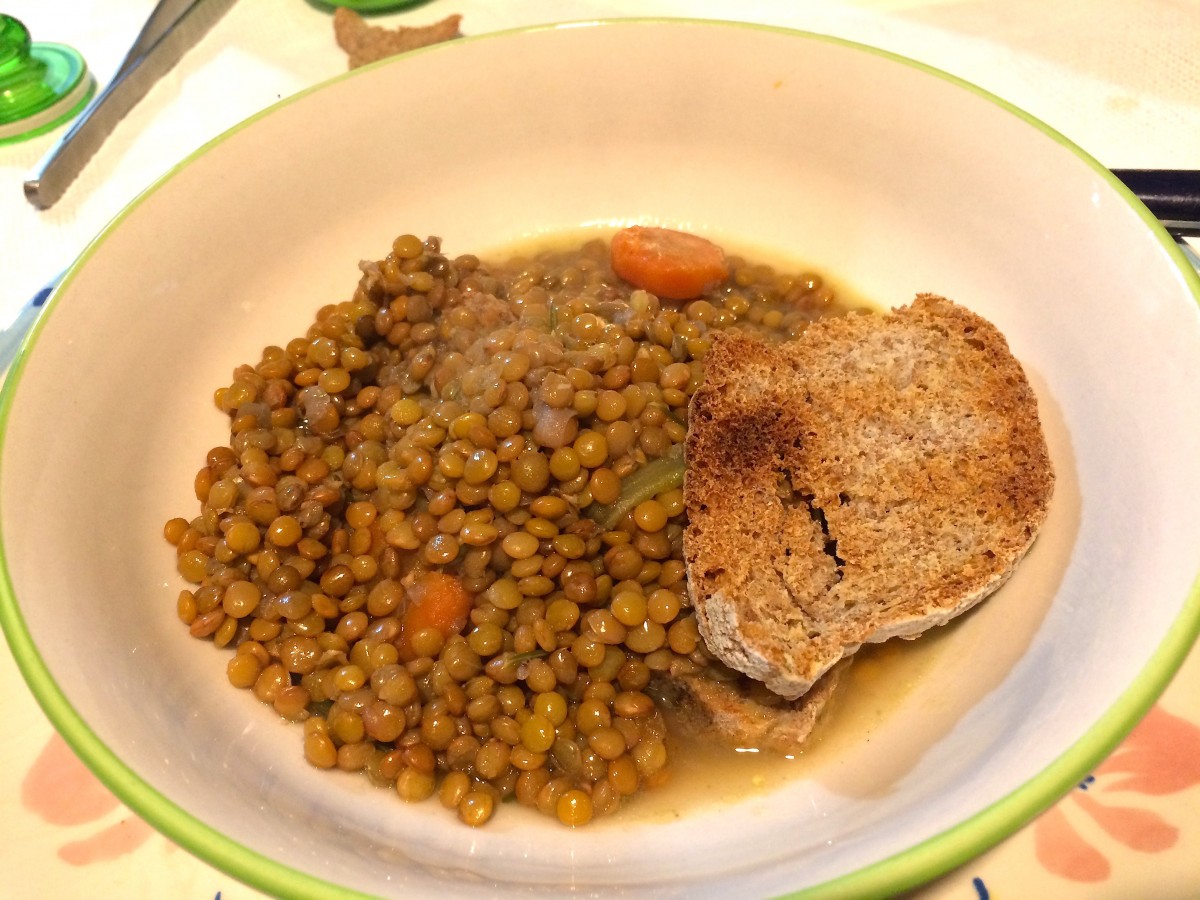 02/16/2017 by Cristiano Bonino 0 Comments
Lentil Soup
By Andrea, a gourmet friend living near Foligno in Umbria.

You might enjoy this recipe on our tours in Umbria (or another region of Italy) where this legume is a staple of the traditional cuisine. Or, try it at home, using just a few ingredients as our friend Andrea did!  
A Piedmontese man who moved to Umbria 15 years ago, Andrea fell in love with Umbria, known for its slow lifestyle!
Ingredients for the vegetable stock:
1 Liter (1/4 gallon) water
1 celery stalk
1 carrot
1 onion
Salt to taste
Directions:
In one large pot, bring all the ingredients to a boil.  Cook for at least 30 minutes over medium heat
Ingredients for lentil soup for 4 people:
400 grams (~ 1 pound) lentils (we used Castelluccio di Norcia, a unique variety that doesn't require soaking)
1 celery stalk
1 carrot
1 garlic clove
1 sprig fresh rosemary
4 Tbsp EVOO
Salt and pepper to taste
1 Liter (1/4 gallon) vegetable stock
4-8 slices of toasted bread
Directions:
In a pan, gently sauté 2 Tbsp EVOO with the garlic and roughly chopped celery and carrots.  Add the rosemary.  Cook for 5 minutes or so until the garlic has browned lightly
Wash the lentils and put them into the same pan with your vegetables (to cook them risotto-style).  Stir gently pan so that the lentils become coated with oil.  Cook for a few minutes
Add one ladle of broth and stir until it cooks down. Continue one ladle at a time until you have added all of the broth to the base.  (Using less broth, you could cook the lentils in this manner but make this into a side dish rather than a soup.)
This variety of lentils cooks in about 30-40 minutes but check occasionally for "doneness"
Lay a slice or two of toasted bread in the bottom of a shallow bowl.  (If using Tuscan bread without salt, add some salt.)  Drizzle EVOO over the bread before you ladle soup on top
Dash with additional salt, pepper and EVOO, if you like, and buon appetito!