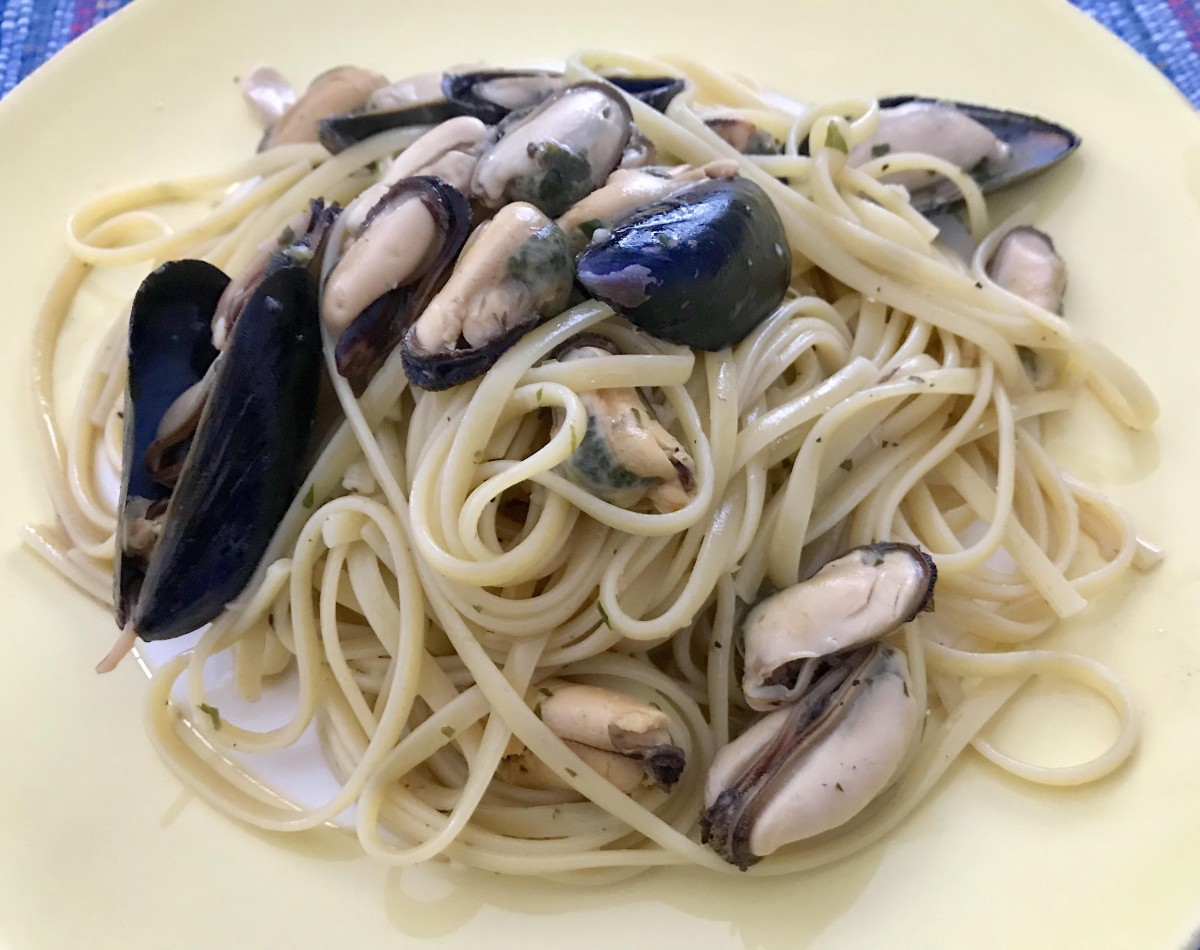 01/25/2016 by Cristiano Bonino 0 Comments
Linguine with Mussels
By Cristiano Bonino.

You might enjoy this recipe in many regions of Italy, above all by the sea. Cristiano Bonino can't remember a specific person who gave him this recipe, which is the result of conversations with different housewives, sommeliers, chefs and food lovers all over Italy!
Ingredients for 4 people:
454 gr (1 lb) of linguine (we recommend a brand that notes "pasta di gragnano" – or the method of extruding with bronze dies and slowly drying… the superior texture and sauce pairing!)
1 gallon water
1.5 Tbsp salt
1 kg (2.2 lb) of mussels
2 Tbsp of finely chopped parsley
3 Tbsp of white wine
1 garlic clove
2 Tbsp of EVOO
1 pinch of black pepper
Directions:
Wash the mussels (if needed, pull the "beard" off each one. Also, remember to discard any that are already open)
Put the mussels in a pot over medium heat and cook for 5 minutes or until they have all opened and released the water trapped inside (this is your mussel broth)
Remove immediately from the stove and drain the mussels keeping the mussel broth (if you like, taste it and dream of the sea!)
Filter the broth using a cheese cloth or simply pour it into a bowl (discarding the sediment)
Peel and sauté the garlic (either finely minced or whole, your choice) in a pot with 2 Tbsp of EVOO, over medium heat until it lightly browns 
Add the wine, broth, parsley and black pepper, cooking down the sauce for 5 minutes 
Add the mussels and cook for just a few minutes more, then set aside (Do not overcook the mussels. If in doubt, just taste one) 
Bring water to a boil and add salt (the water should taste slightly salty. If not, add salt)
Cook the pasta for 1 minute less than is suggested on the package
Taste the pasta before draining it to confirm "al dente."
Sauté the drained pasta, mussels and the broth for a minute to let all the ingredients combine smoothly
Buon appetito!