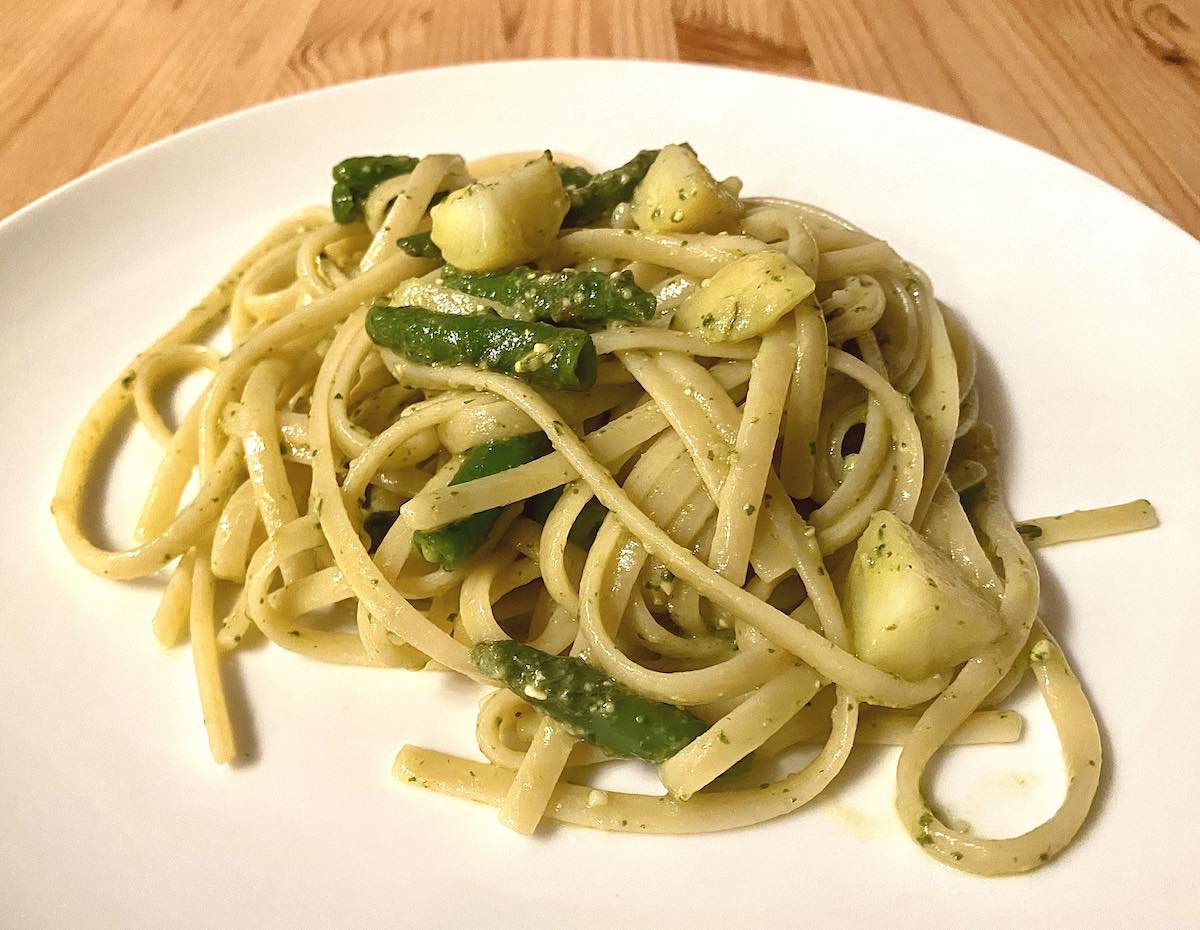 11/10/2015 by Cristiano Bonino 0 Comments
Linguine with Pesto, Potatoes and Green Beans
Inspired by the Ristorante Locanda Bellavista in Cervo, Liguria.
 
You might enjoy this recipe on our tours in Liguria and other regions mostly by the sea. We enjoyed a similar recipe at the ristorante Locanda Bellavista in Cervo, a beautiful town in Liguria, in the Italian riviera with our local friend and tour guide Andrea.
Our colleague and friend Alessandro also loves this recipe, stricly in the traditional form featuring green beans and potatoes for a delicious and healthy result.
Ingredients for 4 people:
2 medium potatoes
1/2 pound of green beans
454 grams (1 lb) linguine (we recommend a brand that notes "pasta di gragnano" – or the method of extruding with bronze dies and slowly drying… the superior texture and sauce pairing!)
1 gallon water
1.5 Tsp salt
3/4 cup of pesto sauce*
Directions:
Clean the green beans and cut off both ends. Then cut them 1-inch long
Peel the potatoes and dice them (half inch size)
Boil the two vegetables in water and salt. When done, drain (saving the water!) and put vegetables on a side
Take the water you have been saving and bring it to a boil.
Add the pasta. (The water should taste slightly salty. If not, add salt)
Cook the pasta for one minute less than is suggested on the package
Taste the pasta before draining it to confirm "al dente."
Save 1 Tsp of water (at this point it contains starch) and mix it with the pesto sauce to make it smoother
Sauté the drained pasta with the pesto sauce and vegetables for a minute.
*Ingredients for pesto sauce: 
2 cup of fresh basil leaves (washed and dried in a salad spinner)
4 Tbsp of Parmigiano Reggiano 
2 Tbsp of Pecorino Sardo
1/3 cup of pine nuts
1/3 cup + 1 Tbsp of EVOO
2 garlic cloves
pinch of salt
Directions:
The traditional recipe requires a mortar and pestle to avoid oxidization of basil and in general a better result
If you don't have one and/or are in a hurry, just blend the ingredients in a food processor
Feel free to adjust amount of ingredients based on your personal taste!
To store pesto sauce in the refrigerator, put in a jar with a layer of EVOO on top.
Buon appetito!