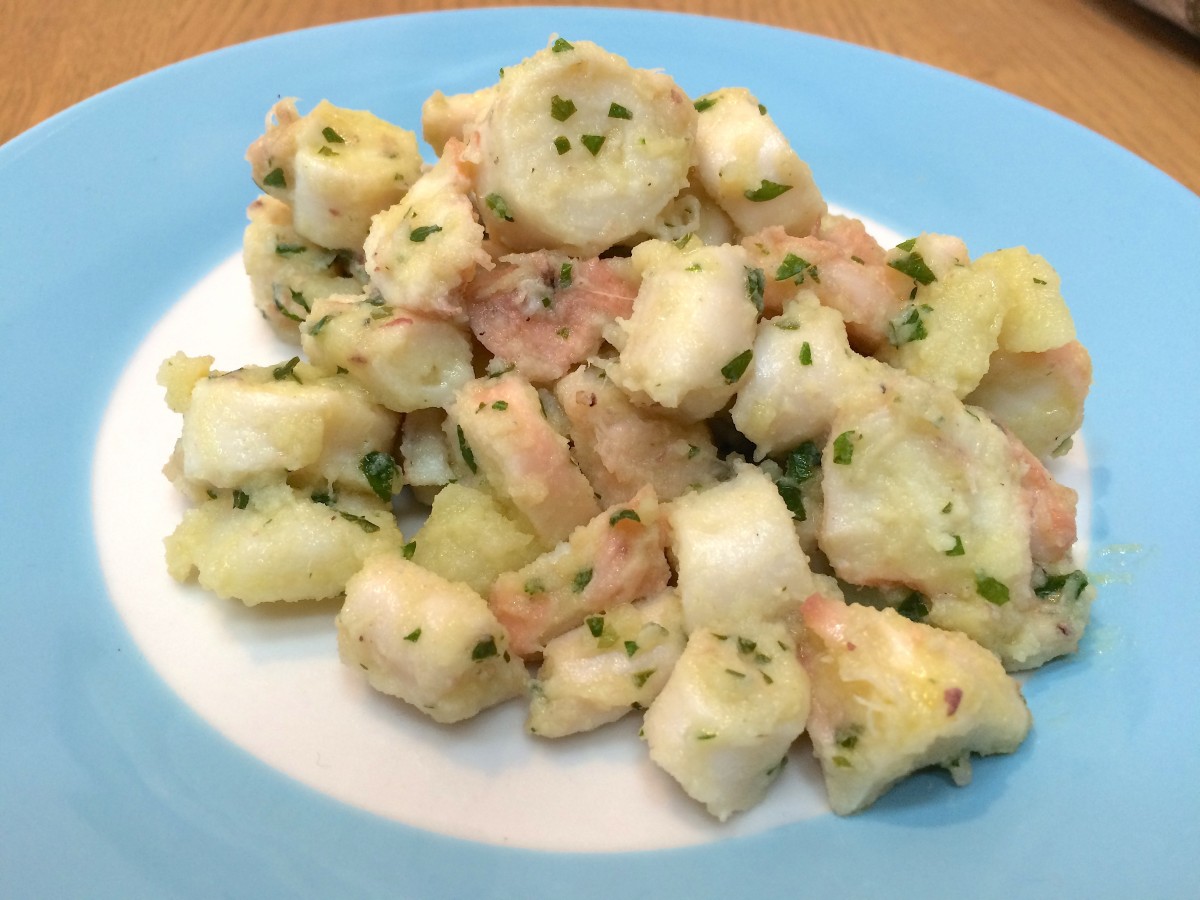 02/05/2016 by Cristiano Bonino 0 Comments
Octopus Salad
By Cristiano Bonino inspired by the village of Tellaro.
 
You may find and enjoy this recipe in many regions of Italy, above all when you are by the sea. Cristiano was inspired by a sign posted in the little piazza of Tellaro, a village near Lerici, not so far from the Cinque Terre, in Liguria.
See the picture below which describes the recipe cooked for a local festival celebrating the octopus. A local legend, made famous by D. H. Lawrence in a letter he penned while spending time in Tellaro, tells of an octopus pulling the bell cord of a local church in order to warn the townspeople of a pirate attack!
Ingredients for 8 people:
2 kg (4.5 pounds) fresh, whole, cleaned octopus (You can use a frozen one instead and, in fact, the local fishermen confirmed that as an alternative to the traditional method of bashing the dead octopus on the rocks to tenderize its meat, you can freeze it for a few days, de-frost it, and then cook it)
1 gallon water (or as much as needed to entirely cover the octopus and potatoes in a pot)
2 potatoes
2 Tbsp finely chopped parsley  
2 garlic cloves
3 Tbsp fresh lemon juice  
3 Tbsp EVOO
1/4 cup olives (optional)
1 pinch black pepper
1 pinch salt
Directions:
Place the octopus in a pot with water and start cooking it on the stove over medium heat. (Total cooking time should be about 1 hour, but simply prick it with a fork where the tentacles are attached to the body in order to check its tenderness)
When the water starts to boil, lower the flame and continue cooking. Then add the potatoes
After 30 minutes, remove the potatoes (check that they are cooked, of course, simply pricking them with a fork)
After about 1 hour, remove the octopus from the stove and let it cool in the water for another hour
Peel the potatoes and cut them into half-inch cubes
Peel the garlic and halve each clove
Prepare a vinaigrette with lemon, EVOO, salt and pepper. Add parsley, garlic and olives (optional) and stir
Peel the octopus removing the suction cups and the skin which is the fatty part (it's up to you to use it, if you prefer)
Cut up the octopus into approximately half-inch pieces and mix these with the sauce in a bowl.  Add the potato cubes
Adjust to taste based on your preferences
Let the salad rest for a few hours and then serve
You can keep this dish in the fridge for a few days. We suggest serving it at room temperature. Buon appetito!