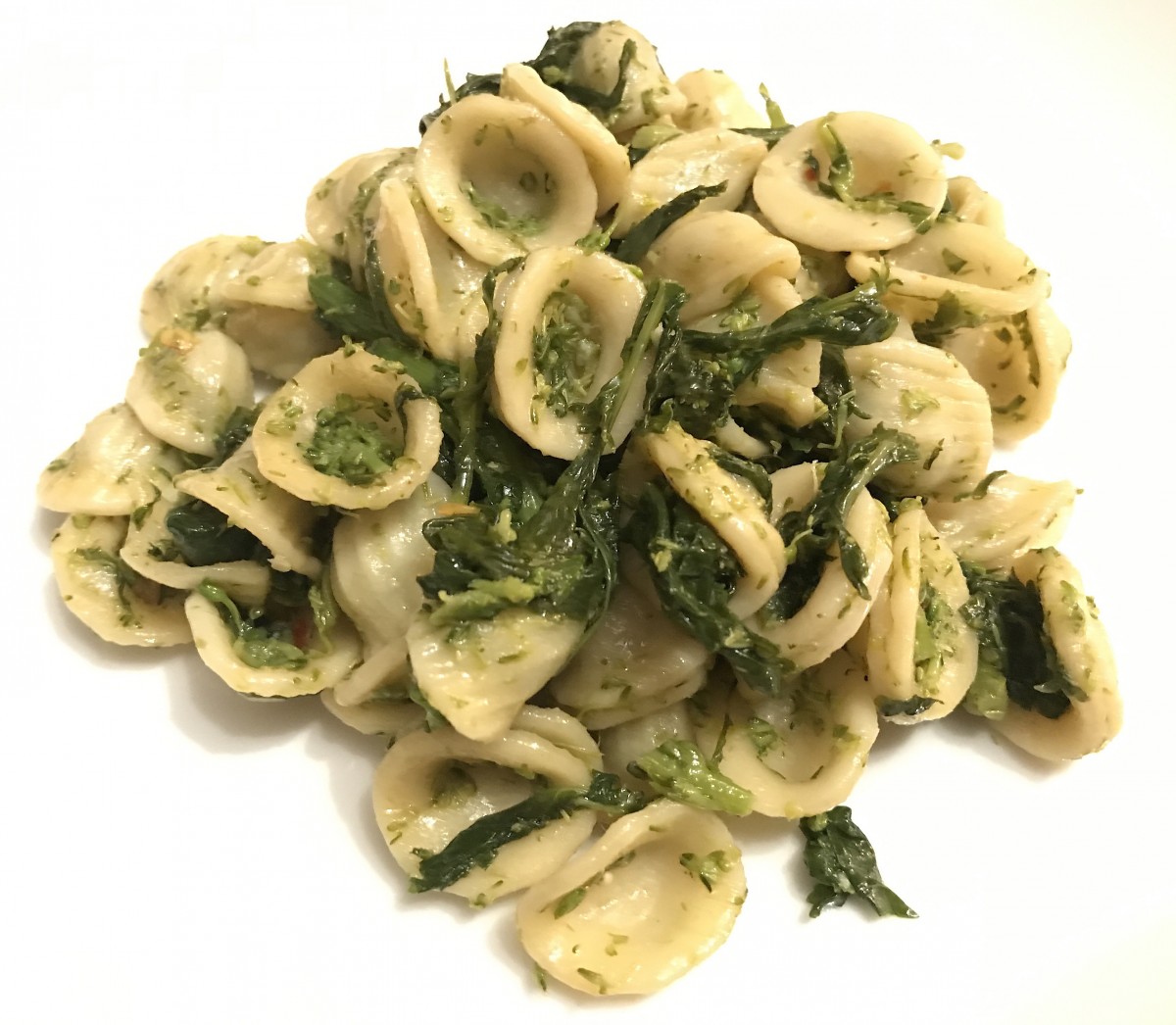 04/24/2017 by Cristiano Bonino 0 Comments
Orecchiette with Broccoli Rabe
Inspired by Chef Francesco at Ristorante La Cantina in Alberobello, Puglia.
 
You might enjoy this dish on one of our tours in Puglia or in one of our cooking classes and dinners in Massachusetts. This recipe comes to us from Chef Francesco at Ristorante La Cantina in Alberobello where we enjoy dinner with our groups. He makes this delicious typical dish right in front of us while he explains all the steps involved and cooks the meals for the guests of his restaurant.
Ingredients for 4 people:
454 gr (1 lb) of orecchiette pasta
1 gallon water
1.5 Tbsp salt
200 gr of broccoli rabe (usually sold in 1 bunch)
2 garlic cloves
4 fillets of anchovies (best stored in olive oil.) For a vegan or vegetarian version you can omit this ingredient
1/4 cup EVOO
1/8 tsp of crushed red pepper flakes
Directions:
Wash the broccoli rabe and cut off the stems close to where they begin to branch out (I use the stems for soups)
Boil broccoli rabe in water for 5 minutes. When done, drain (saving the water!) 
Peel and sauté the garlic (finely minced or whole, your choice) in a pan over medium flame in 2 Tsp of EVOO until light brown
Add the anchovies and melt them over low flame 
Then add the brocoli rabe, red pepper flakes and cook for 5 minutes
Take the water you have been saving, bring it to a boil and add salt
Add the pasta (the water should taste slightly salty. If not, add more salt)
Cook the pasta for one minute less than is suggested on the package
Taste the pasta before draining it to confirm "al dente."
Sauté the drained pasta with the sauce for a minute, and add the remaining EVOO
Buon appetito!