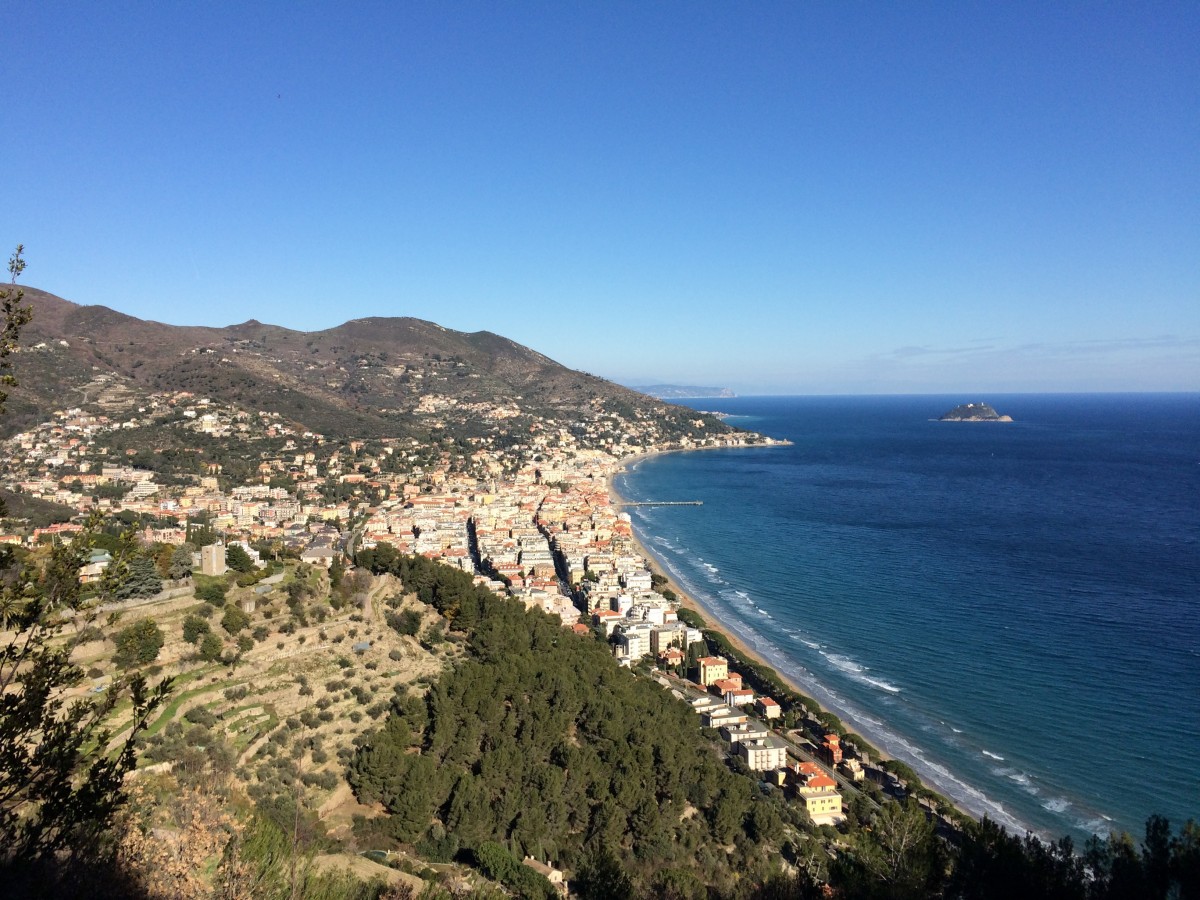 02/08/2017 by foodstoriestravel 0 Comments
Our Top Ten Reasons to Visit Liguria
Hiking in the hills above Finale Ligure, three friends and colleagues— native Ligurian Andrea, Food.Stories.Travel. founder Cristiano, and American traveler Rachel– set out to pinpoint what makes the Italian Riviera so special.
Extending from the coastal border with France to the Tuscan coast, it is far less known to Americans (with the exception of the Cinque Terre) than Tuscany, Venice, the Lakes, the Amalfi Coast and of course Rome. But this hidden gem has charms all its own.
Here are our Top Ten Reasons to Visit Liguria:
The weather.  Tucked between the Apennines and the Mediterranean, Liguria enjoys a wonderful microclimate. In winter, temperatures hover between 45 and 60F, which for two people who live in Boston is pure heaven! 
The food.  Arguably most famous is focaccia, a pillowy finger food that originated as a staple of the handheld lunch that coastal fishermen's and inland farmers' wives would pack for their husbands before a day out on the job. It remains a much-loved treat among locals and tourists alike. And focaccia is just the beginning: Ligurian cuisine delectably expresses the Mediterranean diet with noteworthy offerings including lemons, olive oil, pesto, seafood, unique cheeses, farinata, and an array of veggies, herbs and fruits that grow here all year round.
Real local farmers.  Of all twenty regions of Italy, Liguria boasts the highest concentration of small family farms, which are often located on terraced lands that date hundreds of years back. Gentle winters contribute to the cornucopia of fruits and vegetables that smallholder farmers and gardeners cultivate and bring to market all the weeks of the year.
Two worlds in one.  Liguria is comprised of the costiera (coast) and entroterra (interior). Historically, fishing villagers relocated inland when pirates attacked. Their watchtowers still punctuate the coastal cliffs. Originally, these lands were home to 40 Ligurian tribes, which the Romans had an arduous time conquering. (Both in terms of topography and tribal roots, Liguria history resembles that of Sardinia.) The two dramatic landscapes endure and for modern beach lovers, swimmers, sailors, hikers and bikers (mountain and road) offer something for everyone.
Two cuisines in one.  Accordingly, Liguria has two regional cuisines—for its coast and its interior. The latter is more traditional, given the amount of time that Ligurians of yore spent in the hills, hiding from invaders and malevolent seafaring groups. These days, sadly, traditional fishing villages like Noli and Camogli see far fewer fishermen, their beaches now "conquered" by tourists. Inland, many of the old food ways endure in the old terraced olive orchards, lemon groves, gardens and farms that accent the mountainsides.
Undiscovered villages.  At the end of a winding trail, the hiker may find a small medieval village perched on the clifftop. (Italy is unique in that many Italians still live in small, traditional communities.) At twilight, a handful of houses may appear abandoned, but warm light emanating from a cozy window or two—along with the smells of dinner on the stove—promise that a seeming ghost town is still very much alive.
Pristine trails that connect them.  Liguria is ideal for hikers and mountain bikers.  Ancient footpaths were the principal mode of transportation back in the day. And local laws continue to protect these picturesque routes: private landholders may not bar public access to them. Some allow mountain bike use. Others are carefully preserved as footpaths only, with their original bricks or cobblestones. You can travel all over Liguria this way (as you can by train!), popping into and out of towns and villages, guided by discreet but clear markers (a yellow arrow, a red diamond, three red dots) painted onto rocks and tree trucks. 
Healing air.  Famous writers, philosophers, artists and affluent wanderers all traditionally traveled to Liguria to recuperate from various ailments. The air and sea breeze here truly are healing. And with such dramatic cliff- and mountain-scapes, the region has not become overrun by major road and infrastructure congestion. In fact in many places, the highway is situated far inland, preserving the coast and many of the thickly forested mountains. 
A cyclist's paradise.  Although not for beginners (hill riding here can involve long climbs and exhilarating descents!), Liguria offers exceptional routes for bicycle enthusiasts. There seems to be a view around every bend and the invigoratingly refreshing sea air only adds to the experience. Don't forget to tuck a slice or two of focaccia in the back pocket.  
Genoa.  In addition to the distinction between coast and interior, Liguria is also divided into the Levante (Rising) side in the east and the Ponente (Setting) side in the west. At its center sits the Sun: Genoa. One of the oldest ports in Italy (Venice is older), in the Middle Ages Genoa was one of the most important maritime republics and trading hubs in all Europe. To this day, it reflects fascinating aspects of the multiple civilizations that thrived here. In the old district, ambling the narrow winding alleyways flanked by tightly clustered storefronts, you could be in Marrakesh. Among its famous residents, Genoa was birthplace to Christopher Columbus, architect Renzo Piano and Giuseppe Mazzini, a journalist and politician who greatly influenced Italian and European republican movements.