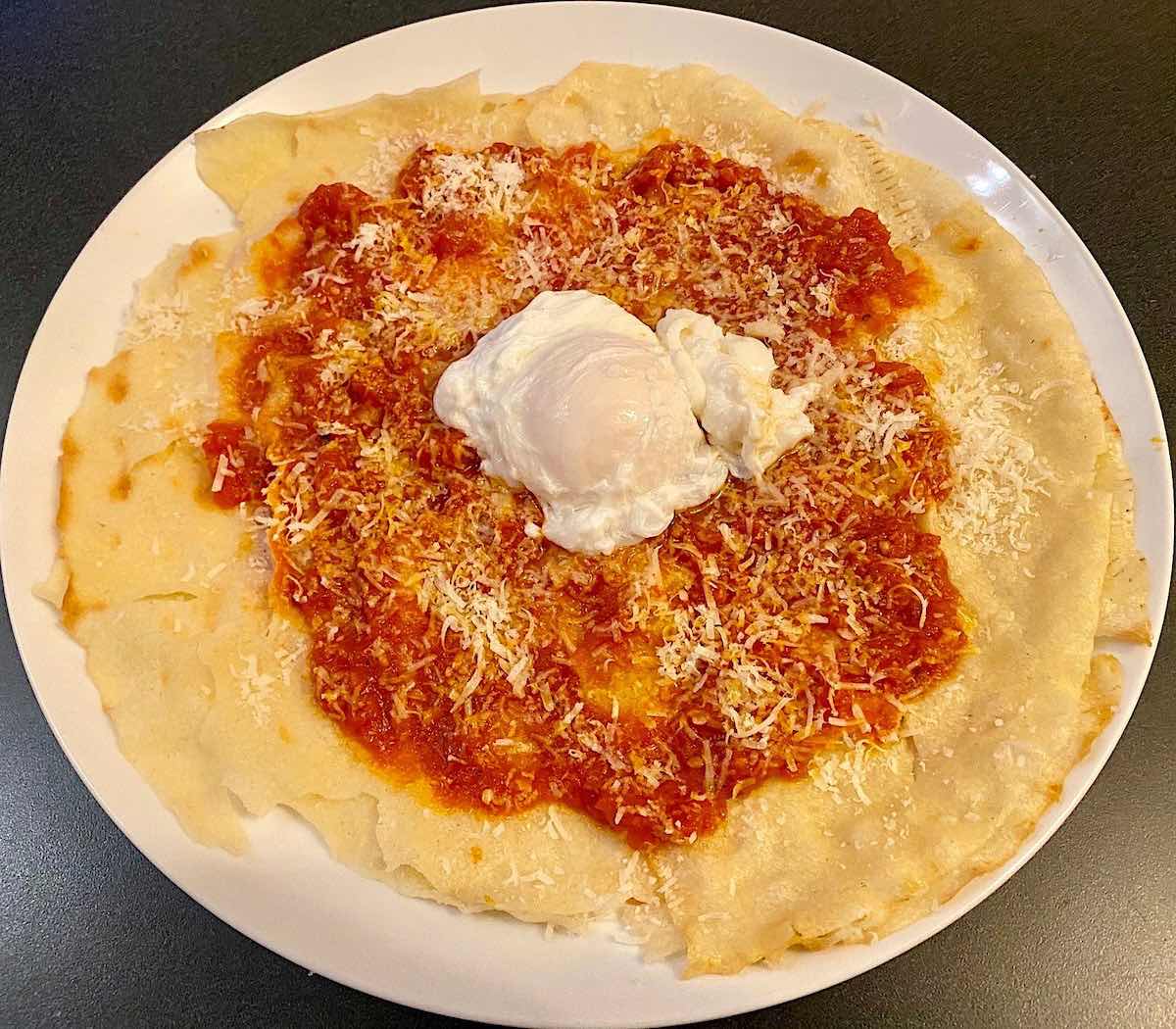 12/02/2015 by Cristiano Bonino 0 Comments
Pane Frattau (Sardinian Shepherd's Dish)
Inspired by the restaurant at Hotel su Gologone in Sardinia.

You might enjoy this recipe on our tours in Sardinia!
Ingredients for 4 people:
8 sheets of pane carasau (a typical Sardinian bread also called "paper music bread" for its width and crunch)
4 eggs
2 cups of tomato sauce*
1/4 cup of pecorino cheese (or parmigiano reggiano if pecorino is not available)
1/2 gallon water
1 Tbsp salt
Directions:
Bring the water with salt to a boil
Dip a sheet of pane carasau in the pot just for a second and then lay it on a plate (it will soften but should not fall apart)
Top this bottom layer with a few spoonfuls of tomato sauce
Repeat again for a second layer of bread and tomato sauce 
Place a poached egg on top of it and sprinkle with cheese (see picture)
Repeat the same process for each plate
Serve and explain to your guests to break the egg and spread it on top, then fold the layers of bread a few times
The dish is ready to be sliced and enjoyed!
*Ingredients for tomato sauce:
1 can of diced tomatoes
1 garlic clove
2 Tbsp of EVOO
1 sprig of Basil 
Directions:
Brown garlic clove in EVOO
Remove garlic and add the diced tomatoes
Add basil leaves
Cook down until your mixture becomes a thick sauce
Buon appetito! 
Download