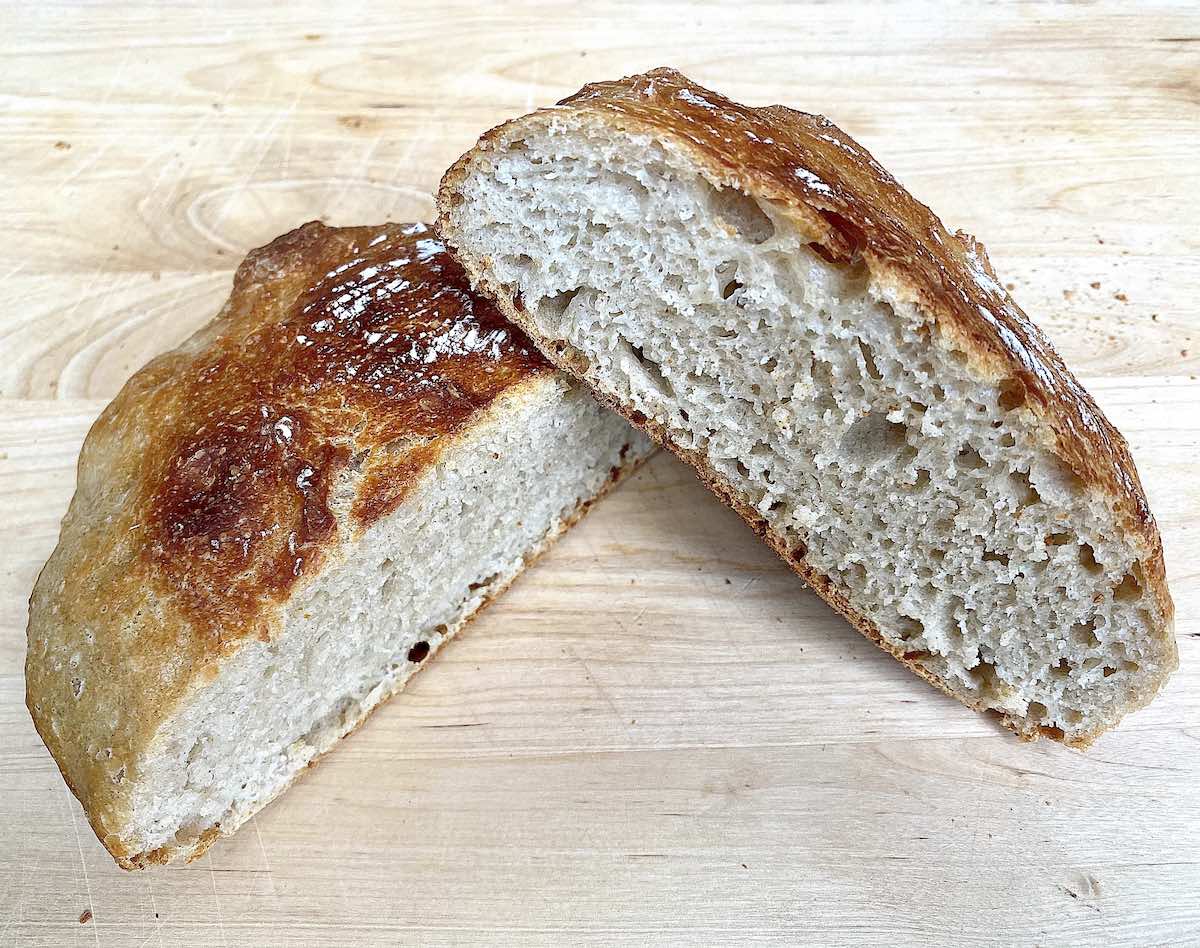 11/21/2020 by foodstoriestravel 0 Comments
Pane in Pentola (Bread in the Pot)
By Fulvio Marino at Mulino Marino in Piedmont.
 
This delicious recipe comes to us from Fulvio Marino, third-generation miller at Mulino Marino.
Enjoy this recipe at home, and feel like you're in Italy from your own kitchen!
Mulino Marino produces organic flour from locally-grown organic grains and loves to use their high-quality products in recipes that they share. If you like to practice some Italian or simply watch how this recipe is done, enjoy this video of Fulvio on Italian TV.
Ingredients for 8 people (makes 2 loaves)
500 grams (4 cups) all-purpose flour (Fulvio recommends Mulino Marino's type "Enkir" but we used a mix of 50% flour "00" and 50% "Buratto" that we are able to find here in the USA)
10 grams salt (2 tsp)
350 grams (1.5 cups) cold water (given the different type of flour, we added 6 Tbsp more)
10 grams EVOO (1 Tbsp)
3.5 grams dry yeast (1 tsp)
 
Directions:
Pour the flour into a large bowl and sprinkle the salt on one side
Add water and EVOO 
Add yeast on the other side, away from the salt
Mix with a spoon until everything is absorbed
The dough will be quite sticky, not dry at all, and you do not need to knead it
Cover with plastic wrap and let the dough rise for 12-24 hours in the fridge
Remove the dough from the bowl and slice it in two
Each half will be worked individually in the following steps
Put the dough onto a cutting board that has been first sprinkled with flour
Sprinkle more flour on top, working it by bending the dough a couple of times on itself (see on video at min 2:50)
Place it into a wicker basket (to give your loaf that shape) or bowl first sprinkled with flour
Let it rise for another 2-3 hours out of the fridge
Line an oven-safe pot with parchment paper and cover with its lid
Heat your oven to 480 F with the oven safe pot inside
Remove the (now hot) pot and place one of your two dough-halves into it and re-cover (you can save the other half for another day, or use a second pot)
Bake for approximately 30 minutes with lid on, then 10 minutes more with the lid off (this helps the formation of a nice crust)
When bread is cooked, take it out of the oven and place on a steel cooling rack
Slice and serve
 
Buon appetito!