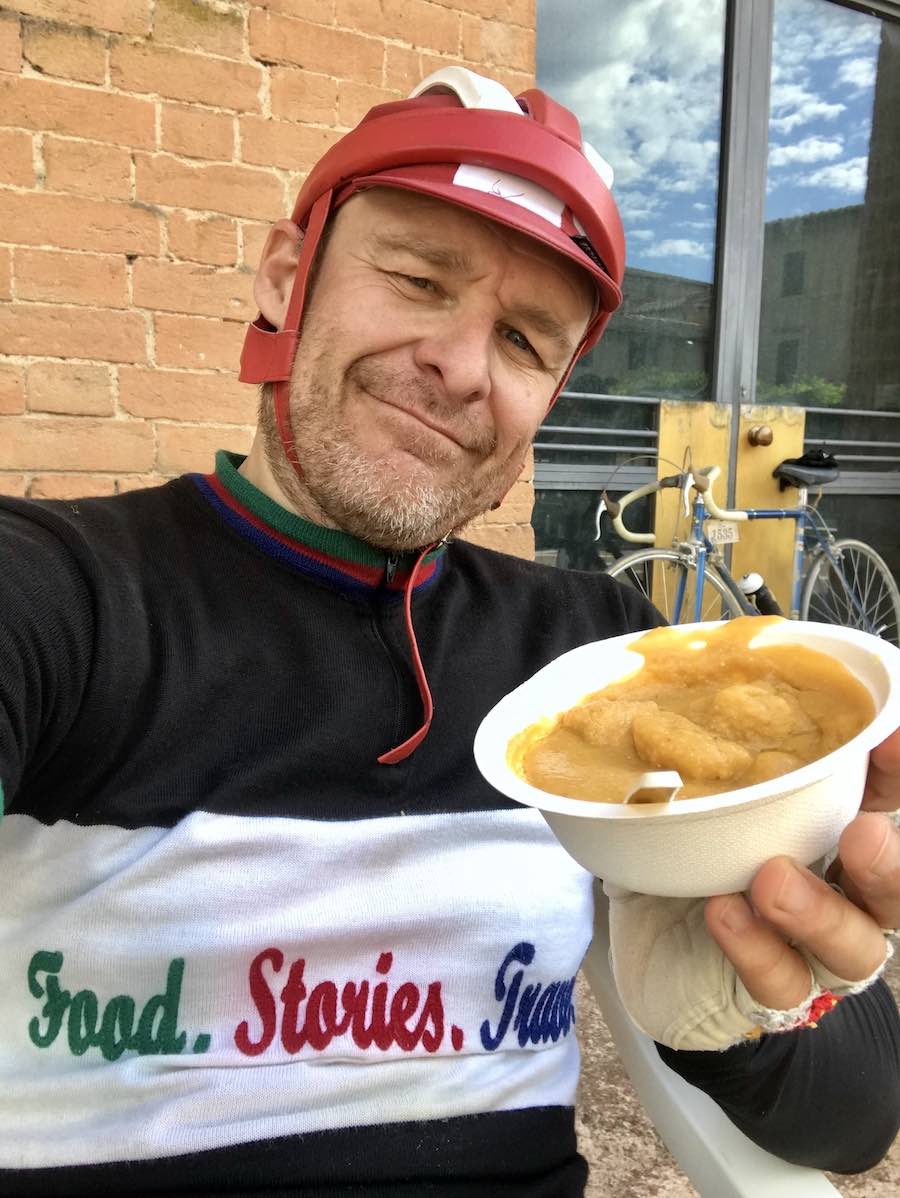 12/16/2020 by foodstoriestravel 0 Comments
Passata di Ceci (Chickpea Soup)
Inspired by a "feed zone" in Castelnuovo Berardenga, Tuscany during the "Eroica" vintage bicycle event.
You might enjoy a version of this dish on tour with us in central Italy where there is a strong culture and long history of cultivating legumes. Certainly, you'll taste it if you come with us Cycling in Tuscany and Eroica. 
We were inspired to make our own "passata di ceci" (chickpea soup) after tasting the version in Castelnuovo Berardenga during the Tuscan event called "Eroica", held each early October, which features cycling on vintage bicycles.


Eroica is famous not only for promoting the values of cycling from the past century, but also for preserving the "strade bianche" (white gravel roads) of Tuscany that are kept intentionally unpaved. These central Tuscan roads have been used for connecting towns since the Middle Ages!
Over 5,000 cyclists participate each year, and attend dressed in vintage cycling clothes. Together, we enjoy the pristine scenery from early morning (or late night if you choose the 209-kilometer course!) through the afternoon. Restorative breaks along the route include unforgettable "feed zones"...


The feed zone in Castelnuovo Berardenga features a chickpea soup to die for. (The ribollita in Asciano is amazing too, as is the Finocchiona sandwich with a glass of Chianti in Radi, and so much more...) We made our own version at home as a way to dream about the next Eroica!
Ingredients for 4 people:
2 cups dried chickpeas (or use canned ones, if you prefer)
1/4 gallon water (to cook chickpeas)
1 tsp salt
1 sprig rosemary
Directions:
Rinse dried chickpeas with water to remove any dirt
Soak dried chickpeas in freshwater overnight
Put water and chickpeas in a pot over medium heat and bring to a boil with the rosemary sprig
Remove the foam that forms at the top
Continue cooking until the chickpeas are well done
Blend the cooking water and the chickpeas
Adjust with salt to your taste
 
To this simple soup, you can add other ingredients. For instance, drain the chickpeas, conserving the water, and add them to a pot starting with a soffritto (as known as mirepoix) made of diced carrots, celery, and onion in EVOO, using this as the base of the dish. After sautéing the chickpeas, add back the water used for boiling them, and continue cooking until they are well done, before blending everything.
Personally, we feel that if you have very good chickpeas, you don't need much more - and we tend to love minimalist recipes.
Buon appetito!