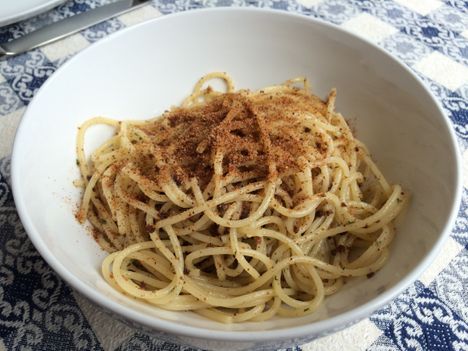 08/05/2016 by Cristiano Bonino 0 Comments
Pasta Ca Muddica
By the Sicilian Giuseppe Taibi, organic olive oil producer

Enjoy this recipe on our tour of Sicily or try it at home as a delicious expression of the simplicity of Mediterranean cuisine!
Ingredients for 4 people:
454 gr (1 lb) spaghetti or linguine (we recommend a brand that notes "pasta di gragnano" – or the method of extruding with bronze dies and slowly drying… for a superior texture and sauce pairing!)
1 gallon water
1.5 Tbsp salt
2 Tbsp chopped up parsley
1/2 cup bread crumbs (we love to use our own toasted bread finely grounded)
2 garlic cloves
6 Tbsp EVOO (we used the Olio Taibi Biancolilla single variety from Agrigento, Sicily)
12 anchovies fillets (best stored in olive oil)
1 fresh chili pepper (or dried and crushed)
Directions: 
Peel and crush the garlic and cook it in a pan with 3 Tbsp of EVOO until light brown
Remove the garlic, add the anchovies fillets and cook at medium/low heat until melted, then add chili pepper and finally parsley. Stir to combine and set aside
In a separate pan toast 3/4 of the bread crumbs for a few minutes (or not if already toasted) and then cook with 3 Tbsp of EVOO until golden and crunchy. Then set aside
Bring water to a boil adding salt (the water should taste slightly salty. If not, add salt)
Cook the pasta for 1 minute less than is suggested on the package. Taste the pasta before draining it to confirm "al dente" (save a few Tbsp of water)
Sauté the drained pasta with the two already-prepared concoctions with melted anchovies, garlic flavor and EVOO and bread crumbs and EVOO, to let all the ingredients combine smoothly
Adjust to your taste adding more EVOO and/or some hot water from the drained pasta
Serve in individual plates sprinkling the remaining toasted bread crumbs on top 
Buon appetito!