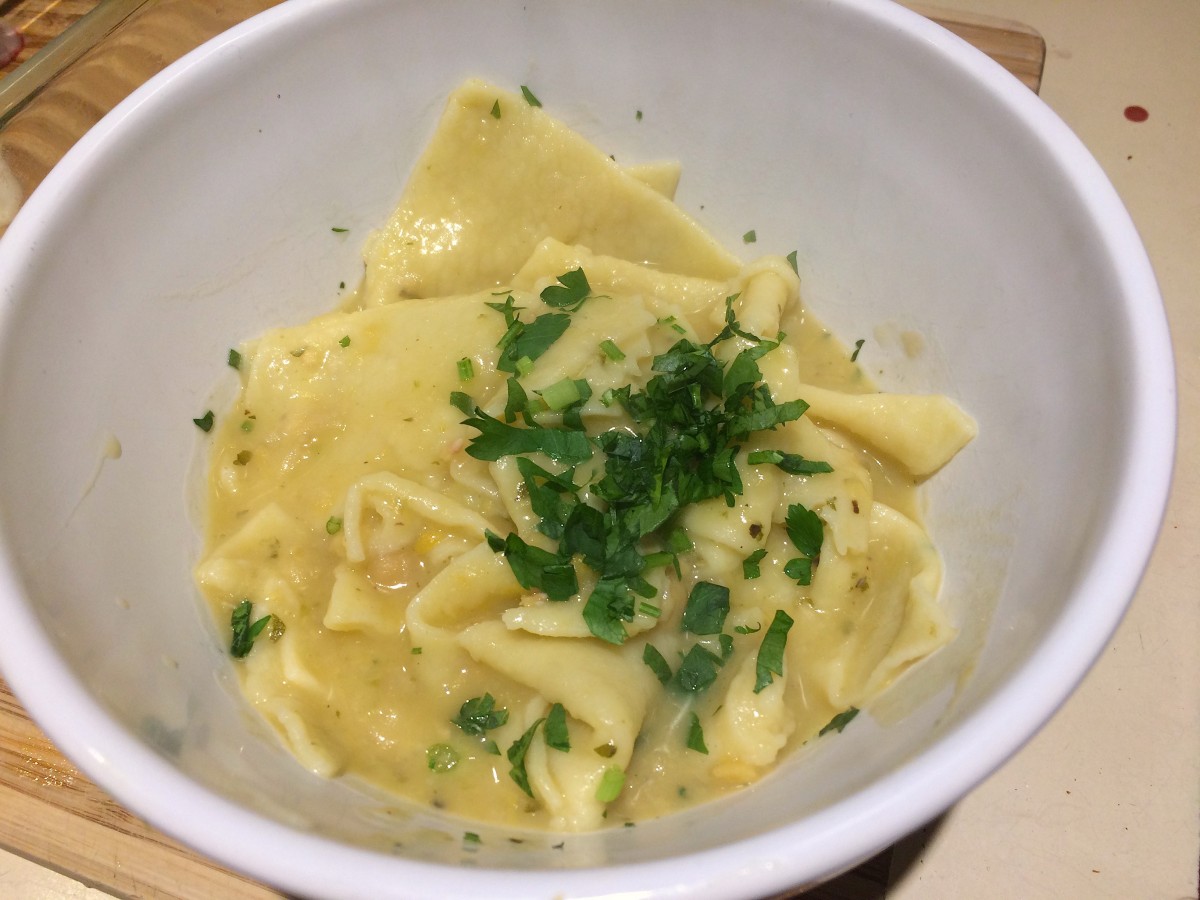 11/15/2016 by Cristiano Bonino 0 Comments
Pettole (Pasta) with Chickpeas
By Neapolitan Chef Angelo Guida.

Enjoy this traditional and hard-to-find recipe in restaurants, possibly on our tour in Campania region, or on one of our cooking classes in Massachusetts, or try it at home using only a few ingredients!
Ingredients for Pettole (homemade pasta) for 4 people:
120 gr (1 cup) of all purpose flour
40 gr (1/3 cup) of semolina 
2 whole eggs
1 gallon water
1 Tbsp salt 
Directions: 
Make a small "mountain" with 2 types of flour mixed together, then a "little crater" in the middle where you beat the eggs
Knead to get your dough smooth and homogeneous. Adjust consistency as necessary–I.E. add one more egg if too dry or more flour if too moist
Make thin sheet of pasta dough with a rolling pin, and cut it in irregular shapes no more than 1.5 inches long
Bring water to a boil and then add salt (the water should taste slightly salty)
Cook the pasta for 3-4 minutes
Drain it and add the pasta in the chickpea sauce to cook for 1-2 minutes (make sure that is not too dry, add regular water if needed) 
See instructions below for the sauce and for plating
Ingredients for sauce with chickpeas:
3 cups of chickpeas (or Garbanzo beans) from a can or soak dried chickpeas overnight and then cook them in advance
3 garlic cloves
1/4 cup of EVOO
4 cups of water
1/4 cup of chopped Italian parsley
salt and pepper as you like (this is Chef Angelo's style…..taste your food and you decide what you prefer!)
Directions: 
In a large pot cook the minced garlic with EVOO until is golden-brown
Add the chickpeas and 4 cups of water
Let it simmer for 30/40 mins and make sure that the water doesn't evaporate too much. Add more if needed  
Adjust to your taste for salt and pepper  
Serve on individual plates, sprinkling some parsley, some of the remaining black pepper and drizzling some EVOO on top
Buon appetito!