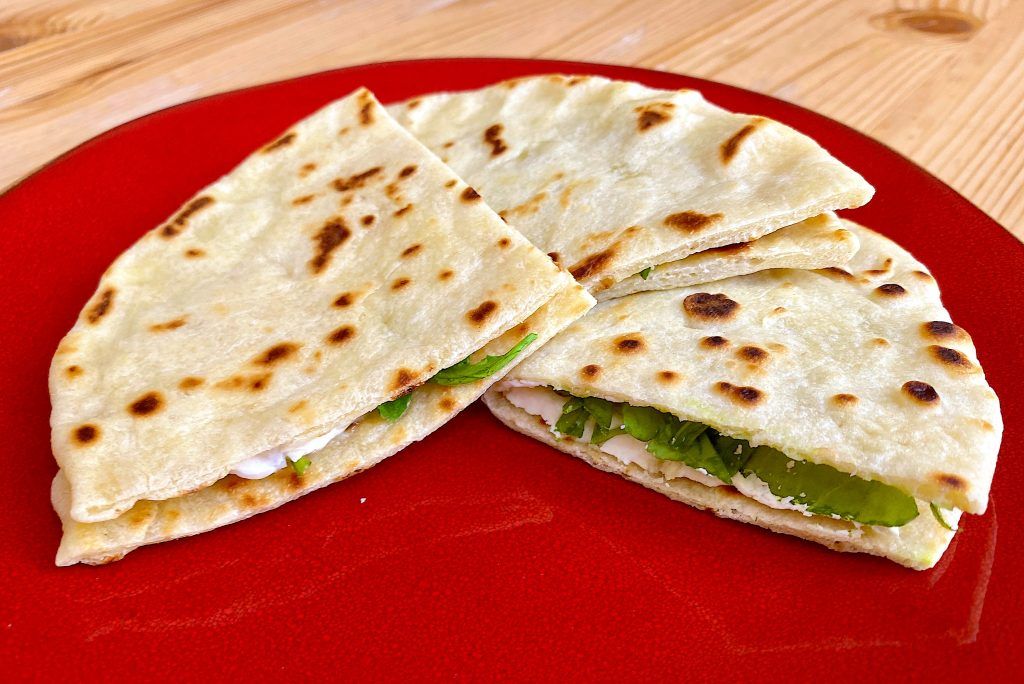 05/24/2020 by foodstoriestravel 0 Comments
Piada or Piadina Romagnola (Flatbread from Romagna)
By Luca Antonioli from Emilia-Romagna.
 
This delicious recipe originally hails from the Emilia-Romagna region. (Italy is divided in twenty regions such as Sicily and Tuscany). Luca here runs his hotel in Rimini with his family and they love to prepare and share typical recipes such as this one with their guests.
More precisely, it comes from the southeast of Romagna, and the provinces of Rimini, Forli-Cesena and Ravenna. (Italy is currently divided in 103 provinces such as Florence and Rome.) 
Luca Antonioli is the manager and owner of Hotel Lalla in Rimini, the famous seaside town made so by one of its most famous citizens: Oscar-winning filmmaker Federico Fellini. Luca is passionate about this recipe, and loves to take part in its preparation and service to customers.
A type of flatbread, it can be cooked on a griddle or a pan, and be rolled thinner or thicker. In Rimini, it is made thinner and wider and called "piada". Further north, in Forli-Cesena and Ravenna it is made thicker and smaller and called "piadina". After being cooked, the bread can be stuffed with different ingredients for a delicious sandwich. Other variations of the recipe are called cassoni, crescie, or crescioni, when folded, stuffed, and then cooked.
There is some evidence of fourteenth-century consumption of piada. But it wasn't until the Romagna-born Italian poet Giovanni Pascoli used the word "piada" in one of his nineteenth-century poems (instead of the dialect "pié") that the term entered Italian culinary consciousness.
Enjoy this recipe in Romagna (where the real version comes from!) or make it at home and feel like you're in Italy in your own kitchen!
Ingredients for 8 people (makes 9 piade, each in a 10-inch pan)
550 grams (4 and 1/4 cups) all-purpose flour 
80 grams lard (1/3 cup) or replace with EVOO
150 grams (2/3 cup) water
100 grams (1/3 cup + 1 Tbsp) milk or replace with water
20 grams (4 tsp) salt (we used 3 tsp)
2 tsp baking powder
Directions:
Pour the flour into a large bowl and mix it with baking powder and salt
Make a small "mountain" and then a "little crater" in the middle of the "mountain" and add lard (or EVOO) in the center, slowly combining these ingredients with a fork
Add milk and water and continue to knead until it is absorbed
Cover with a dish towel and let the dough rise for at least 30 minutes
Slice the dough into small balls (around 110 grams or 1/4 pound each) and let them rise again for another 30 minutes
On a cutting board, mold each ball of dough by simply pushing it down with your fingers and then stretching it out, doing your best to maintain a generally round shape
After molding, flatten your dough with the rolling pin, continually rotating it, each time by 90 degrees, in order to stretch it evenly and keep a round shape, until you reach a thickness of ~2 mm (the local expert women called "atzore" recommend not flipping the dough, but to just roll on one side only)
Prick the piada or piadina with a fork in a few spots and place on a griddle or pan over medium flame (or top it with your preferred ingredients, fold it, seal it and cook it to make a cassone **)
Continue to rotate every 10-15 seconds and, after a minute, flip it to cook the other side. Don't cook for more than 2 minutes per side. Typical piada has some brown spots [see picture]
Remove from the stove and set aside to cool.
Top each piada or piadina with your preferred ingredients * Fold in half and serve or cut in half for smaller portions.
After cooling, you can freeze un-stuffed extra piade or store in the fridge for a few days 

* Ingredients for filling a piada/piadina:
Cheese, rucola and prosciutto (traditional)
2-3 Tbsp squacquerone cheese (fresh, rind-less, spreadable cheese, typical of Romagna)
Handful of arugula
2 slices of prosciutto crudo (omit for vegetarians)
Ham and cheese
2 slices of ham 
3-4 slices of mozzarella or fontina cheese or others you like
Cheese and veggies
3-4 slices of cheese such as mozzarella, scamorza or others you like
grilled or sautéed veggies such as zucchini, eggplants, fresh tomatoes or others
Dolce!
a chocolate spread such as Nutella or other similar products for a nice dessert
** Ingredients for filling a cassone verde (see picture below):
1 pound of spinach or chard
1 garlic clove
2 Tbsp EVOO
Salt to taste
Directions:
Sauté all the ingredients and when done set aside to cool
Squeeze the spinach to remove the excess water and place on half of the piada disc
Fold in two (it will look like a half moon) and seal the edges with your fingers
Use the fork to seal down the edges (like a pie crust) and prick the sealed pocket in a few spots
Turn the cassone over, and repeat the above step on the other side  
Cook as explained for the piada. Continue to rotate every 10-15 seconds and, after a minute, flip it to cook the other side until done
** Ingredients for filling a cassone rosso:
2 Tbsp tomato sauce
¼ cup of diced mozzarella
Directions:
Follow the instructions above (replacing spinach with tomato and mozzarella)
Buon appetito!