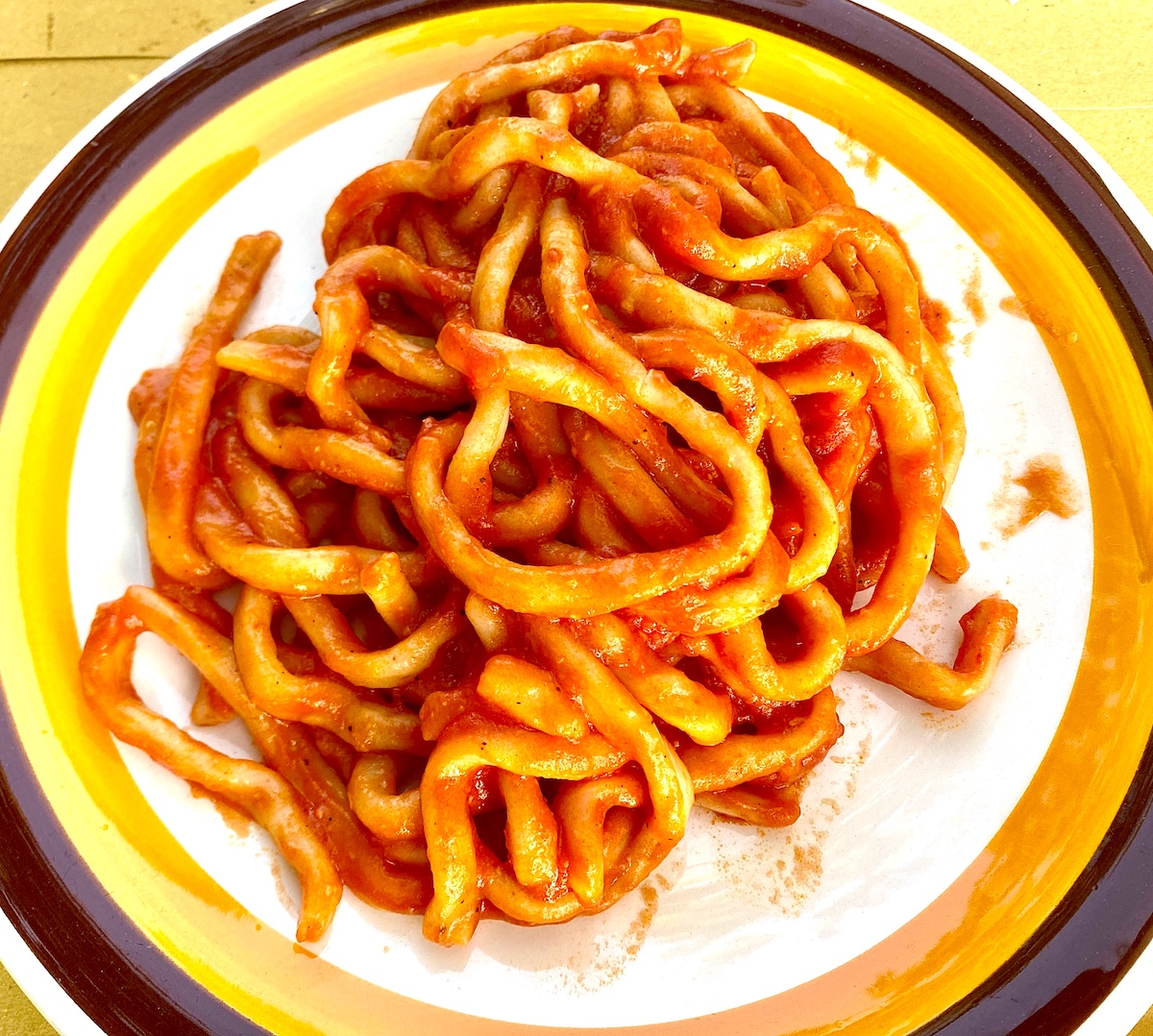 07/26/2022 by foodstoriestravel 0 Comments
Pici all'Aglione
By Wiebke at Agriturismo Casanova in Asciano, Tuscany
This simple and delicious recipe celebrates a unique ingredient called "aglione," which is mostly grown in the Chiana Valley area of Tuscany and harvested between June and August. Its name means "big garlic" to reflect the much larger size of this specific variety. Aglione is way milder and easier to digest than regular, smaller garlic.
Another main ingredient of this dish is pici pasta. Pici is a kind of solid spaghetti typical in the provinces of Siena and Arezzo as well as in nearby Umbria, where the Umbrians call it "umbrichelli." Pici is handrolled, and made of only flour and water. The name "pici" is a shortening of "appiciato," in local dialect meaning "rolled by hand."
This recipe comes to us from Wiebke who runs an agriturismo with her hubby Bartolo in the heart of Tuscany. Enjoy it on one of our tours in Tuscany or try making it at home as a delicious expression of the Mediterranean cuisine!
Ingredients for 4 people:
454 grams (1 pound) pici, a type of solid spaghetti typical of southern Tuscany
1 gallon water (for the pasta)
1.5 Tbsp salt (for the pasta) 
2/3 pound ~1 head of aglione
1/2 glass water or white wine
4 Tbsp EVOO
2 pounds tomato sauce (canned or make your own from fresh tomatoes)
salt and pepper to taste
Directions:
Peel the aglione cloves and coarsely chop
Pour EVOO in a pan and add the chopped aglione to cook over low flame
Very Important: Do not let the garlic change color--only to slowly melt in the pan. To aid this process, add 1/2 glass water or white wine
After 10-15 minutes, you can start to mash the garlic with a fork, forming a garlic paste
Add tomato sauce and cook for at least 30 minutes, or until a dense consistency is achieved
Adjust with salt and pepper, then set aside to cool
With an immersion blender, make the sauce even smoother
Put a pot of water over high flame and bring to a boil

before

salting it (the water should taste slightly salty)
Cook the pasta for at least 2 minutes

less

than whatever suggested cooking time is printed on the package
Drain, conserving at least one cup of the pasta water, which is starchy and can be used to adjust your sauce, if it is too dry
Sauté the drained pasta in a large pan with your sauce until all ingredients combine smoothly
Finally, taste the pasta to confirm "al dente"
Serve and allow your guests to adjust to their taste, adding a drizzle of fresh EVOO, perhaps
Buon appetito!