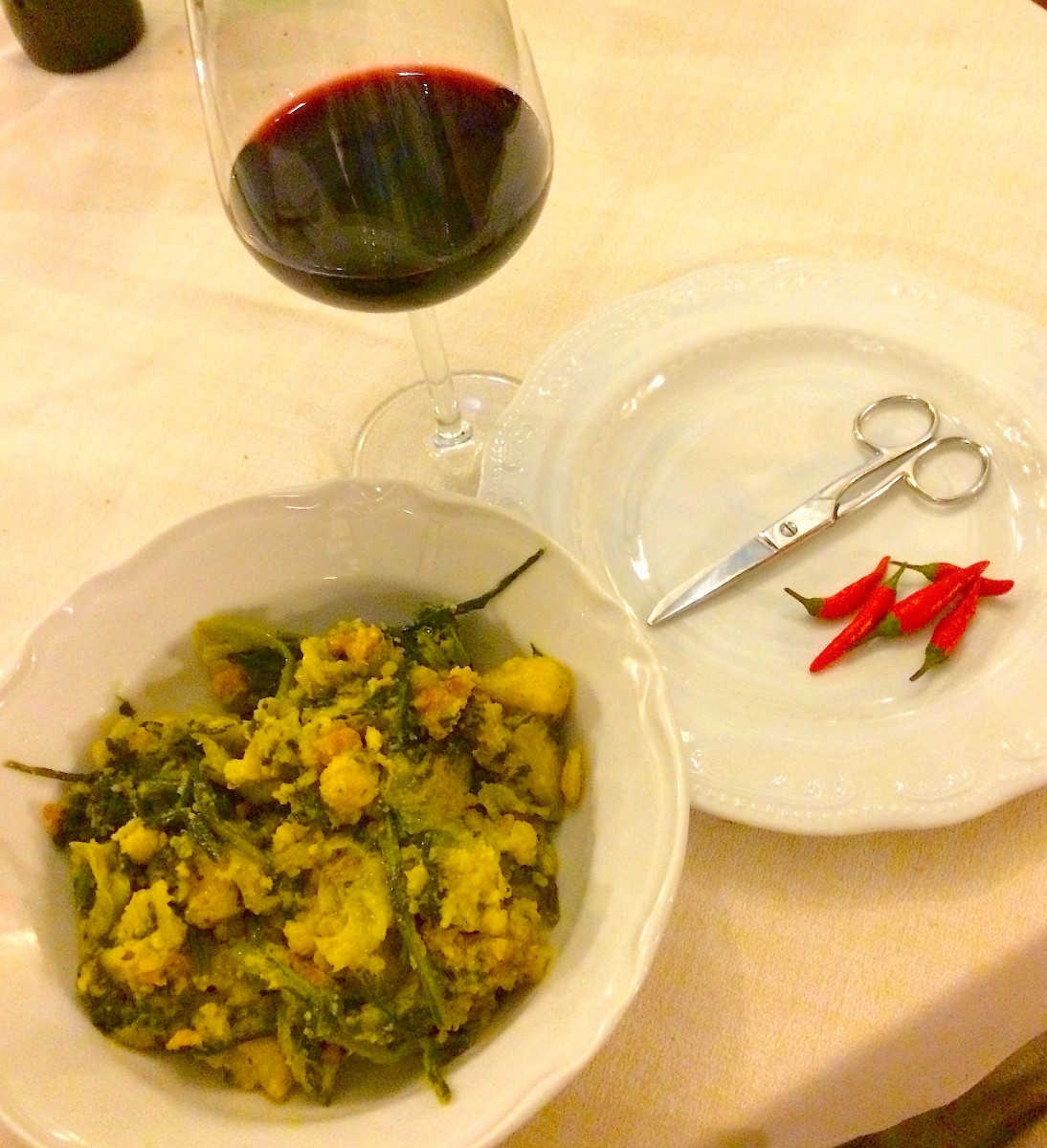 06/03/2016 by Cristiano Bonino 0 Comments
Pizza e Minestra (Cornmeal and Greens from Molise)
By Simona De Castro, a Molisana Chef at Restaurant Monticelli in Campobasso.

You might enjoy this simple, healthy and traditional recipe on our tours in Molise or try by yourself at home! 
Ingredients for 8 people:
2.2 lb of chicory
2.2 lb of broccoli rabe (aka rapini or turnip tops)
2.2 lb of Swiss chard
2.2 lb of savoy cabbage
1 tsp of wild fennel seeds
2 garlic cloves
1/2 cup + 2 Tbsp of EVOO
2.2 lb of cornmeal (polenta)
1 gallon of water
1.5 Tbsp of salt
1 lb of sausage
Chili pepper (better if fresh, otherwise dried in powder or flakes)
Directions:
Wash all the greens. Bring the water with salt to a boil and add the greens to be cooked separately 
When done drain the greens and set them aside, keeping the water to cook the polenta
Peel and sauté the garlic (either finely minced or whole, your choice) in a pot with 2 Tbsp of EVOO and the chili pepper, over medium heat until it lightly browns
Add half of the sausages, mashing them with a fork until almost done. Then add the greens and sauté for a few minutes. Set aside 
Bring the salted water to a boil (I used the same water used for greens) with 1/4 cup of EVOO, fennel seeds and the other half of the sausages
Pour cornmeal and keep stirring until you obtain a smooth consistency. Then pour it into a previously-greased tray and drizzle with 2 Tbsp of EVOO. Cook in the oven at 360F for 1 hour (it is ready when dry inside and crunchy on top)
In the pot with the greens add the polenta broken into chunks. Then sauté and mix all the ingredients for 10 mins over medium heat
Serve this dish in a bowl drizzled with more EVOO. It is also very traditional to bring a plate to the table holding fresh chili pepper and scissors to help yourself adjusting the spiciness to your taste (see the picture)
Buon appetito!