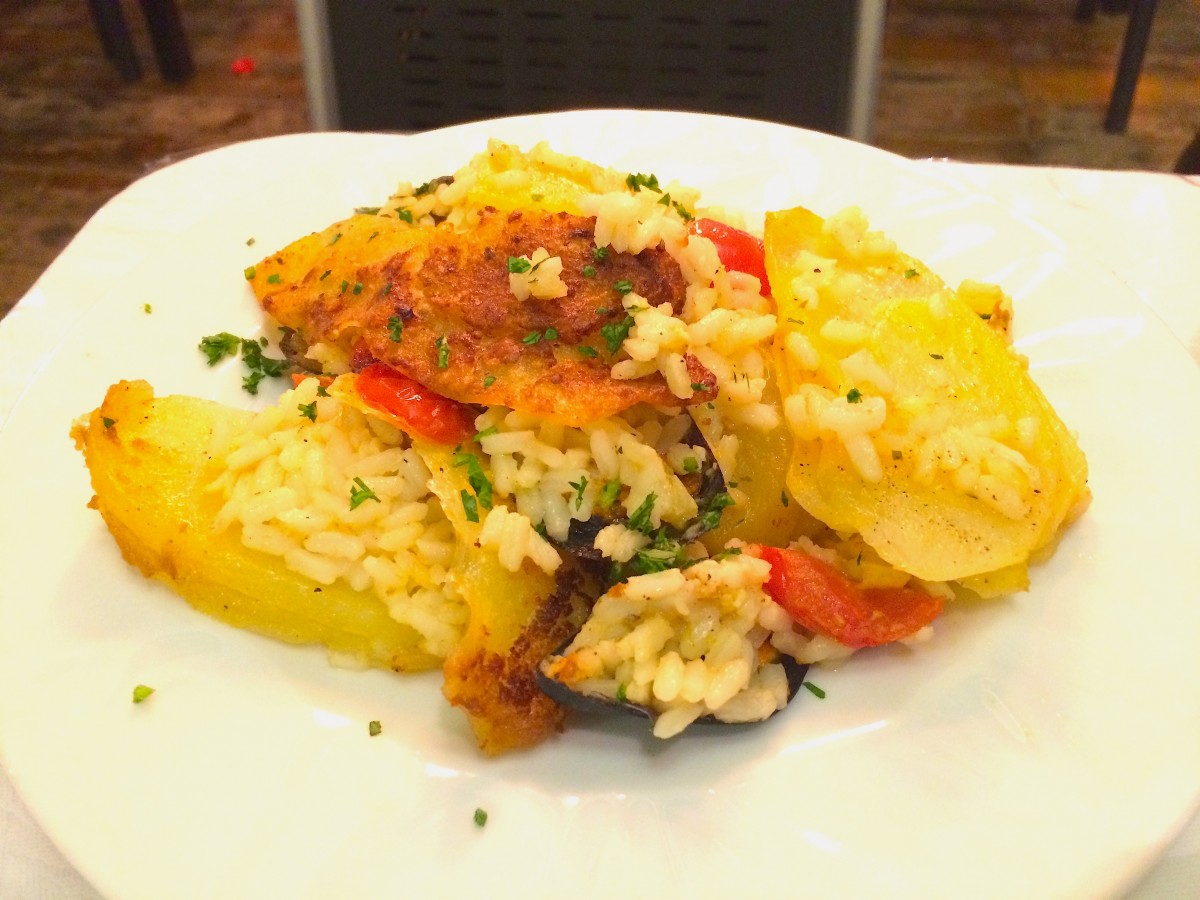 02/20/2017 by Cristiano Bonino 0 Comments
Rice, Potatoes and Mussels
By our friend Debora's Pugliese aunt.

You might enjoy this recipe on our tours in Puglia or, try it at home, using just a few fresh ingredients as our friend Debora's aunt does!
Ingredients for 4 people:
600 grams (~1.5 pounds) of mussels
¼ cup of washed and chopped up onion
400 grams ( ~1 pound) of white rice
4 to 5 medium potatoes
½ cup of grated Pecorino cheese
¼ cup of washed and chopped up parsley
½ cup of EVOO
Water (see recipe for quantity)
A pinch of salt
Directions:
Wash the mussels (if needed, pull the "beard" off each one. Also, remember to discard any that are already open)
Put the mussels in a pot over medium heat and cook for 5 minutes or until they have all opened and released the water trapped inside (this is your mussel broth)
Remove immediately from the stove and drain the mussels keeping the mussel broth (if you like, taste it and dream of the sea!)
Wash, peel and slice the potatoes (approx. ¼ of inch thick)
In a pot start to drizzle some EVOO, then add a layer of sliced potatoes. Then sparsely add the mussels (with shells or not, it is up to you)
Sprinkle with parsley, then chopped onion, then grated pecorino cheese  
Finally, sprinkle with some rice and drizzle some more EVOO
Add a second layer, starting again from the potatoes and after all the other ingredients, finish with more EVOO drizzled on top
Now add water, with a glass of mussel broth, to cover all of the ingredients with at least an inch over the top
Cook on the stove over medium flame for at least 30 minutes or until the water has cooked down 
Serve this stew-like dish, which should have the consistency like a lasagna, in a shallow dish or small plate. Buon appetito!
ps the picture taken in a restaurant in Puglia features a version of this recipe made also with cherry tomatoes