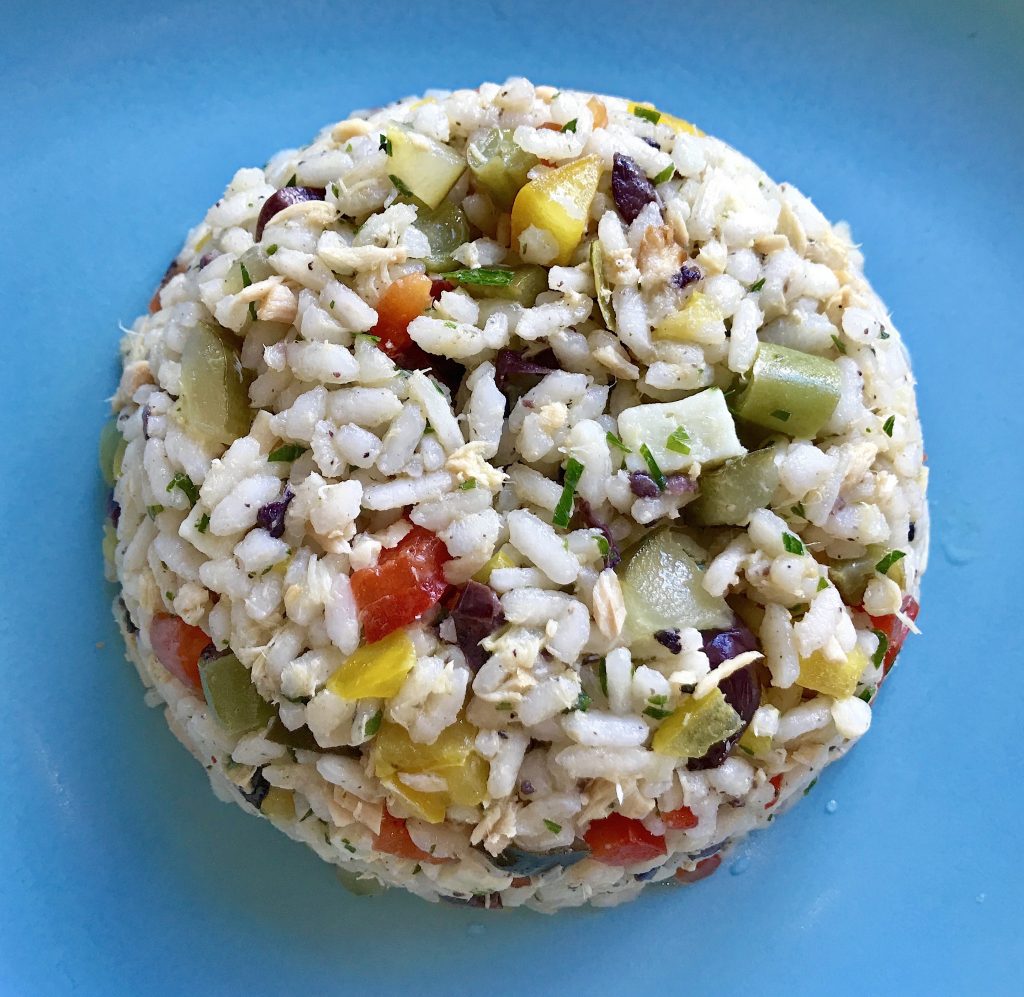 08/16/2018 by Cristiano Bonino 0 Comments
Rice Salad
By Paola Pedergnana (Cristiano's mamma).
 
You might enjoy this recipe in many regions of Italy, mostly in the summer, or at one of our cooking classes in the Boston area. This recipe is quite popular also among Italian families and is more typical in the summer when a cold meal is pleasantly enjoyed on a hot day.
This dish can be made vegan and vegetarian but for sure in some regions of Italy you can find it with diced ham and/or cheese and/or canned tuna.
Ingredients for 4 people:
400 grams (2 cups) arborio rice
1/2 gallon water
1/2 tsp salt
1/2 a lemon
3 Tbsp EVOO
1 yellow bell pepper
1 red bell pepper
1 stalk celery
2 Tbsp washed and finely minced parsley
100 grams (1/4 pound) aged cheese such as manchego, parmigiano and piave
140 grams can tuna 
1/4 cup black olives 
2 pickles 
1/4 cup capers
salt and pepper to taste
Directions:
Put the water in a pot and bring to a boil
Add salt (the water should taste slightly salty. If you don't taste the salt, add more)
Add the rice and cook it for a few minutes less than what is indicated on the package
Taste the rice before draining it to confirm that it is "al dente."
Wash and mince the yellow and red peppers, celery, olives and pickles
Remove the rind and dice the cheese
Drain the excess liquid from the canned tuna and mince it 
Drain the capers, rinse them and coarsely chop them (we suggest capers stored in vinegar, not salt)
Mix the drained rice with all the ingredients
Adjust to your taste with more EVOO, salt, and lemon  
The rice salad will taste even better the next day and can be stored in the fridge for a few days. This recipe can feature many different ingredients and the best result really depends on what you have in the fridge, the colors you like to feature, and your taste! 
Buon appetito!