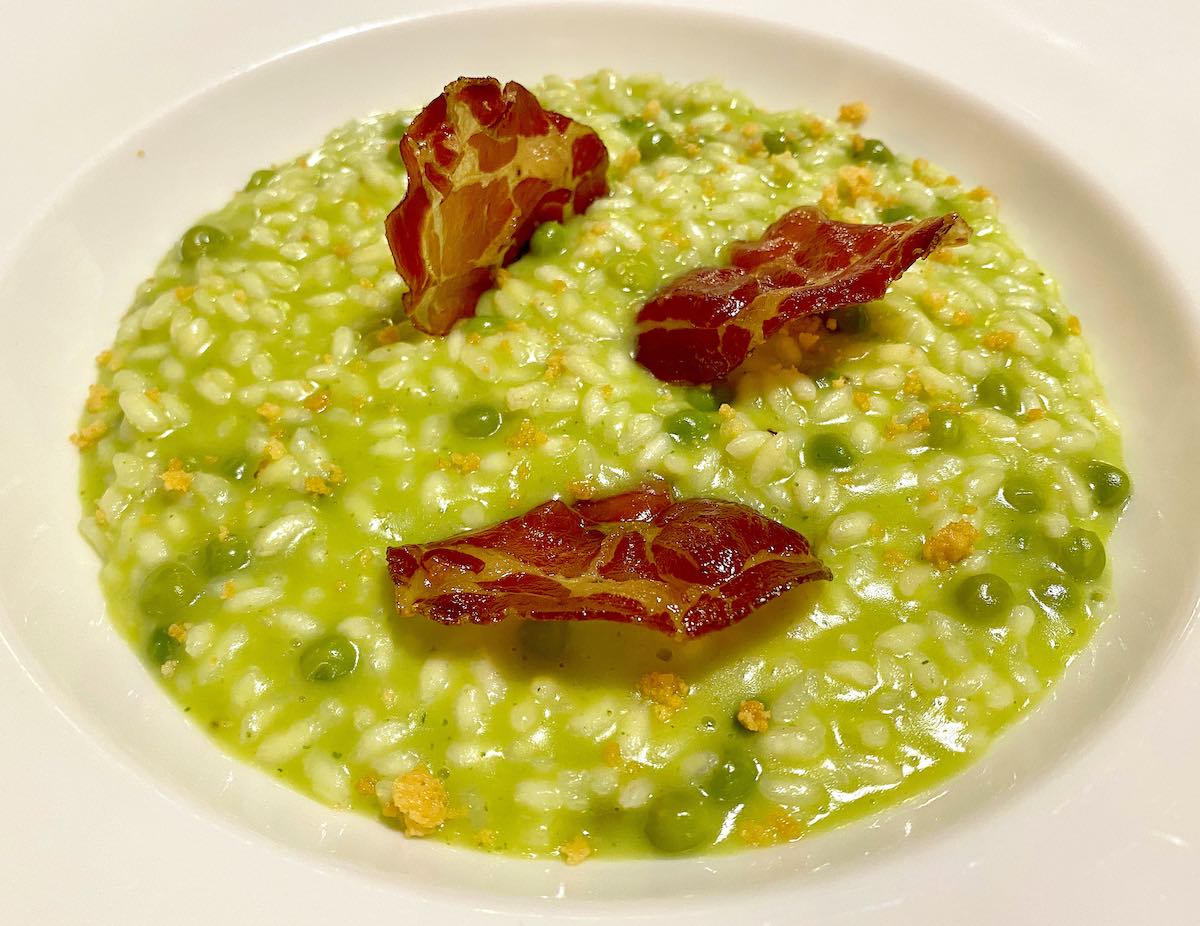 12/15/2020 by foodstoriestravel 0 Comments
Risi e Bisi (Rice and Peas)
A celebrated dish from the Veneto region, this version comes to us from Bistrot La Cantinetta in Follina.

You might enjoy this recipe on one of our tours in Veneto at the Bistrot La Cantinetta! There, the chef uses the local Slow Food Presidium rice variety called "Grumolo delle Abbadesse." This specific variety of Vialone Nano rice is named for the village where the nuns at the abbey of San Pietro di Vicenza have been growing it since the 16th century. 
Risi e bisi (rice and peas) is a traditional dish from Veneto typically served in the spring when peas are in season. In our case, at the restaurant Bistrot La Cantinetta in September 2020, we savored a plate of this delicacy made with flash frozen fresh peas, straight from the owners' own garden!
The recipe was born of medieval trade exchanges between the Venetian Republic and parts of Asia where rice was commonly mixed with veggies. Risi e bisi became the signature meal of the Doge of Venice on April 25th for the celebration of Saint Mark (Venice's patron saint).
Ingredients for 5 people:
500 grams (2 and 1/4 cup) Vialone Nano variety Grumolo delle Abbadesse rice or another Vialone Nano variety (or, if you cannot find it, then Arborio rice)
100 grams (1/4 cup + 3 Tbsp) butter
900 grams (2 pounds) fresh peas in the pod (or 1 pound canned or frozen peas)
1 onion
2 liters (~1/2 gallon) vegetable broth**
1/2 cup grated cheese, either Grana Padano or Parmigiano Reggiano 
salt and pepper to taste 
30 grams (1 ounce) bacon (optional)
 
Directions: 
Heat the vegetable broth (**we made our own, boiling water with 1 big carrot, 1 big onion, 1 sprig rosemary, 2 garlic cloves, 1 big potato, 1 celery stalk, and salt to taste)
Separate the peas from the pods and wash them (if you use canned or frozen peas, skip this and the next two steps, advancing straight to "Chop the onion....")
Cook the pods in the vegetable broth for half an hour or until done
Blend the cooked pods, then strain the mixture through a sieve, and set aside
Chop the onion and sauté in half the butter in a pan for a few minutes
Add the fresh or frozen peas (if you use canned peas add them later and cook them with rice for the last 10 mins) and continue cooking for 5 minutes
Add the rice and stir until it is well coated (a few minutes)
Add 1 ladle of hot broth to the rice and stir. Continue stirring, adding more broth each time the rice begins to dry – i.e. absorbs all the liquid. Total cooking time for rice is about 20 minutes, over medium flame 
When the risotto is nearly "al dente", turn off the heat, and add remaining butter plus cheese
Stir well to create a smooth concoction
Adjust to taste with salt and pepper and cheese, and serve on individual plates with a few slices of just-fried bacon on top (optional)
 
The yummy result is the great compromise between soup and risotto and is traditionally served "all' onda" (which refers to the texture achieving the consistency of ocean waves).
Buon appetito!