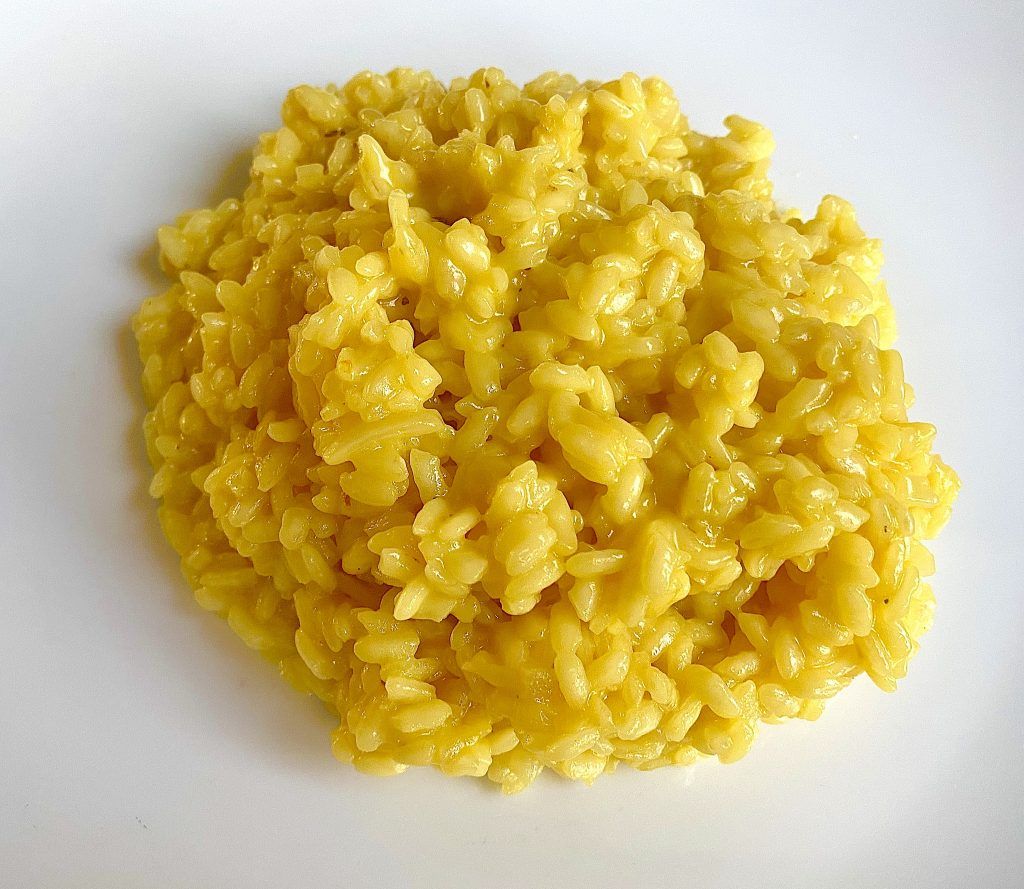 03/28/2020 by foodstoriestravel 0 Comments
Risotto alla Milanese (Saffron Risotto)
From the recipe book La Cucina Lombarda Tradizionale.

We found this recipe in La Cucina Lombarda Tradizionale, which focuses on the traditional dishes of the Lombardy region. The use of beef bone marrow is the heritage way of making it, but you can surely create a vegetarian version. Just don't tell a Milanese about it!
You might enjoy this recipe in the region of Lombardy on one of our tours. 
Ingredients for 5 people:
500 grams (2 and 1/4 cup) of Arborio or Carnaroli rice
200 gr (3/4 cup) of butter
300 gr (2/3 lb) of beef bone marrow (optional)
2/3 cup of white wine
1 onion
2 (1/2 tsp or 0.25 grams) saffron sachets
2 liters (~1/2 gallon) of vegetable broth**
Grana Padano (similar to Parmigiano Reggiano), grated to taste
salt and pepper to taste 
Directions: 
Heat the vegetable broth (**we made ours from scratch, simply boiling water with 1 big carrot, 1 big onion, 1 sprig of rosemary, 2 garlic cloves, 1 big potato, 1 celery stalk and salt to taste)
Finely chop the onion. Sauté it in half of the butter in a pan for a few minutes
Optional: Add the beef bone marrow and cook for a few more minutes
Add some black or white pepper, and the wine
When the wine has evaporated, add the rice to the cooked bone marrow and onions and stir until it is well coated (a few minutes)
Add 1 ladle of hot broth to the rice and stir. Continue stirring, adding more broth each time the rice begins to dry – i.e. has absorbed all the liquid. This usually takes around 20 minutes, total, over medium flame
Add the saffron along with the last ladles of broth, making sure it is well mixed in
When the risotto is nearly done "al dente", turn off the heat and add the remaining butter and Grana Padano (we used half a cup of freshly grated cheese)
Stir well to create a smooth concoction
Adjust with salt and pepper and cheese to your taste and serve on individual plates
Buon appetito!