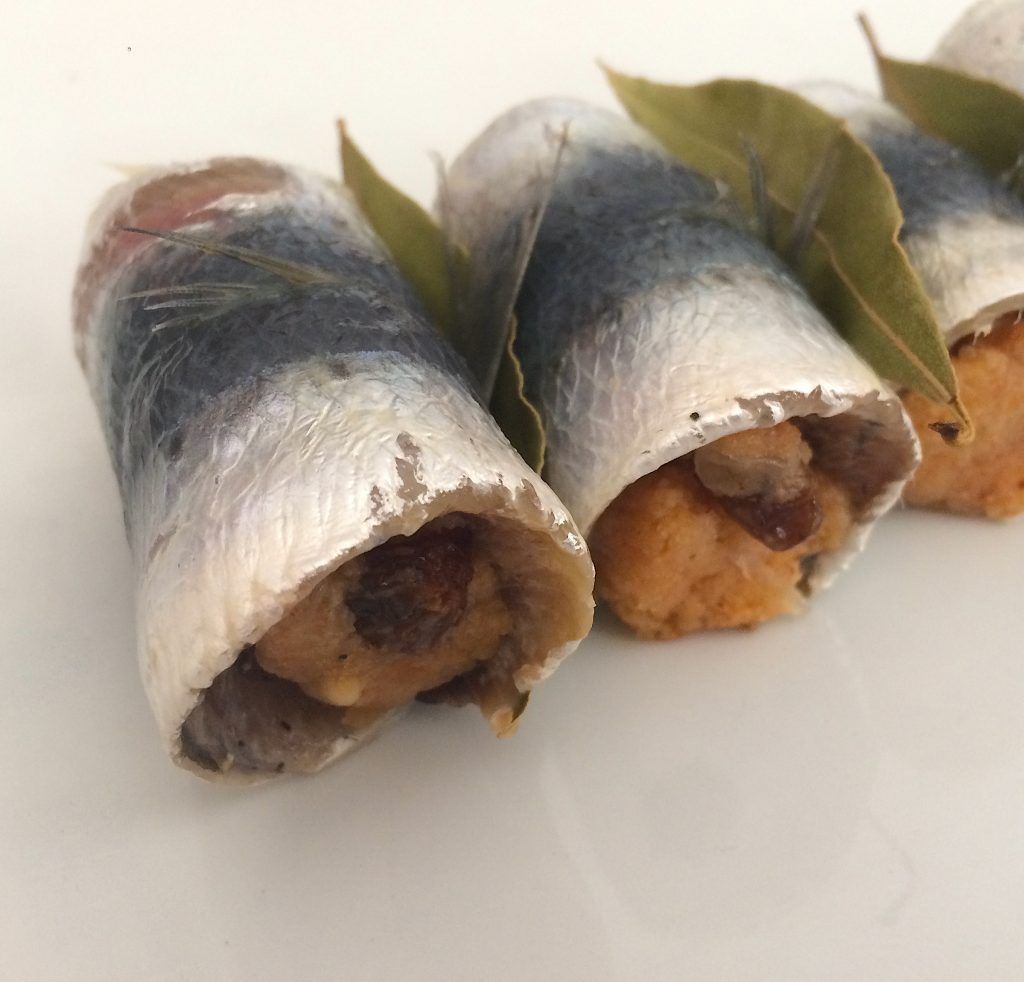 03/28/2020 by foodstoriestravel 0 Comments
Sarde a Beccafico (Stuffed Sardines)
By Roberta Corradin at Restaurant Il Consiglio di Sicilia in Donnalucata.
 
This delicious recipe comes to us from Roberta Corradin, food writer and co-owner of Restaurant Il Consiglio di Sicilia in Donnalucata, alongside her husband, chef Antonio Cicero. We visit them on tour in Sicily and enjoy a cooking demonstration of this dish, before dining at Il Consiglio.
The story of Sarde a beccafico: We don't often enclose a food story with the recipe, but what Roberta tells us during the cooking demonstration we found worth sharing!
In the nineteenth century, noble Sicilian families would eat as a delicacy the bird known as the Garden warbler (beccafico in Italian). Its diet of fruits, most notably figs, led it to be quite chubby, which made it a savory treat. The Sicilian poor could not afford beccafico, so they created their own version, using a more readily available base ingredient: blue fish. To this day in Italy, blue fish is defined as small fish with bluish dorsal coloring and silver bellies, harvested in large quantities. Sardines (sarde), mackerel, anchovies and herrings are the most common blue fish. Known to be rich in Omega 3s, Vitamin D, iron and other nutrients, they have long been staples of Italian cuisine. As in much Italian cuisine, it is the poor person's version that endures. The recipe for Sarde a beccafico (Sardines "in the style of beccafico") celebrates this ancient, dual, tradition.
Ingredients for 6 people:
100 gr of breadcrumbs 
1/2 onion
1 Tbsp of pinenuts
1 Tbsp of raisins 
1 lemon
1 orange (optional)
24 fresh sardines (***replace them with 4 zucchini for a vegetarian version of this recipe)
EVOO
24 bay leaves (not to be used if you are making the zucchini version)
Directions for Sarde a Beccafico:
Soak raisins in water for a few minutes and then squeeze them dry
Slice onion finely and sauté it in 2 Tbsp EVOO in a pan on the stove over medium flame
Grate the lemon (or orange) for zest and then squeeze it for juice 
Knead together breadcrumbs, braised sautéd onion, pinenuts, raisins, lemon zest and lemon juice with enough evoo to bind it into a soft stuffing
Wash, gut, and descale the sardines (or you can buy them with these steps already done), and remove the head and tail
Cut each one carefully along the belly and then open it (as you would open a book) so that the result is a clean "sheet" of fish
Spread each sardine "sheet" with a spoonful of stuffing, and roll it
Line up your stuffed sardines on a tray, with a bay leaf between each one
Bake for 6 minutes at 360F. Sprinkle with grated orange zest before serving (optional)
***Directions for Zucchini a Beccafico:
Follow the above Directions until you reach the soft stuffing step
Cut zucchini into blocks of length and width similar to that of a sardine (you can use your zucchini extras for a soup!)
With a peeler, cut lengthwise to form long, wide strips of zucchini
Sauté these in 2 Tbsp EVOO over medium flame for just a few minutes to make them tender but not fully cooked
Spread each strip with a spoonful of stuffing, and roll it
Line them up on a tray and bake for 6 minutes at 360F. Sprinkle with grated orange zest before serving (optional)
If you like other veggies, try with eggplants (as previously, quickly sautéed to tenderize them) or cabbage (in this case, parboiled, for just a few minutes to tenderize the leaves). Buon appetito!