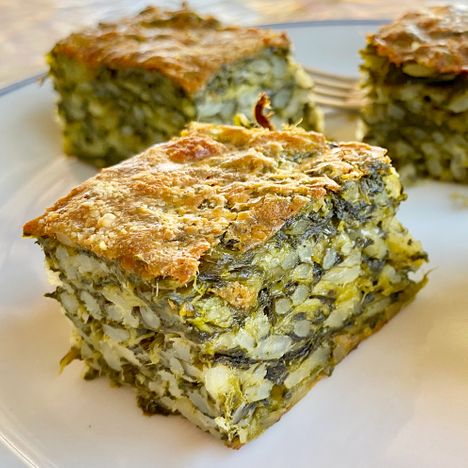 02/29/2016 by Cristiano Bonino 0 Comments
Savory Torte
By Diliana at the Winery Erede di Chiappone Armando
 
This recipe comes from Diliana's mother in law and she usually prepares it for us during our wine tasting and visit to the Winery Erede di Chiappone Armando near Nizza Monferrato.
Diliana runs the winery with Franco, Michela and Daniele, her wonderful family. You might enjoy this recipe on our tours in Piedmont!
Ingredients for 6 people:
1/4 cup of chopped onions
2 Tbsp of EVOO
500gr (1.1 pounds) of boiled and squeezed spinach
300gr (2/3 pound) of rice
2 cups of vegetable or chicken broth
4 eggs
4 Tbsp of Parmigiano Reggiano
Butter (or EVOO) to grease the pan
4 Tbsp of breadcrumbs
Directions:
Over medium heat, brown the chopped onions in a pan with EVOO
Boil enough spinach to get at least a "squeezed weight" of 500gr (1.1 pounds) 
To the onions, add the spinach, rice and broth, and then cook for 10 mins to keep it "al dente" 
If you need more broth just add enough to make sure rice does not get stuck in the pan
Beat the eggs and mix them together with 2 Tbsp of Parmigiano Reggiano
Add the eggs and Parmigiano mixture to the rice and spinach
Grease a 1-2 inch-high baking pan with butter or EVOO, then sprinkle it 2 Tbsp of breadcrumbs
Pour the mixture into the pan and top it off with the remaining Parmigiano Reggiano and breadcrumbs
Cook in the oven for 10 mins at 250F
You can prepare this dish in advance and serve it at room temperature or pop in the oven for 5 minutes for a quick warm up. Buon appetito!