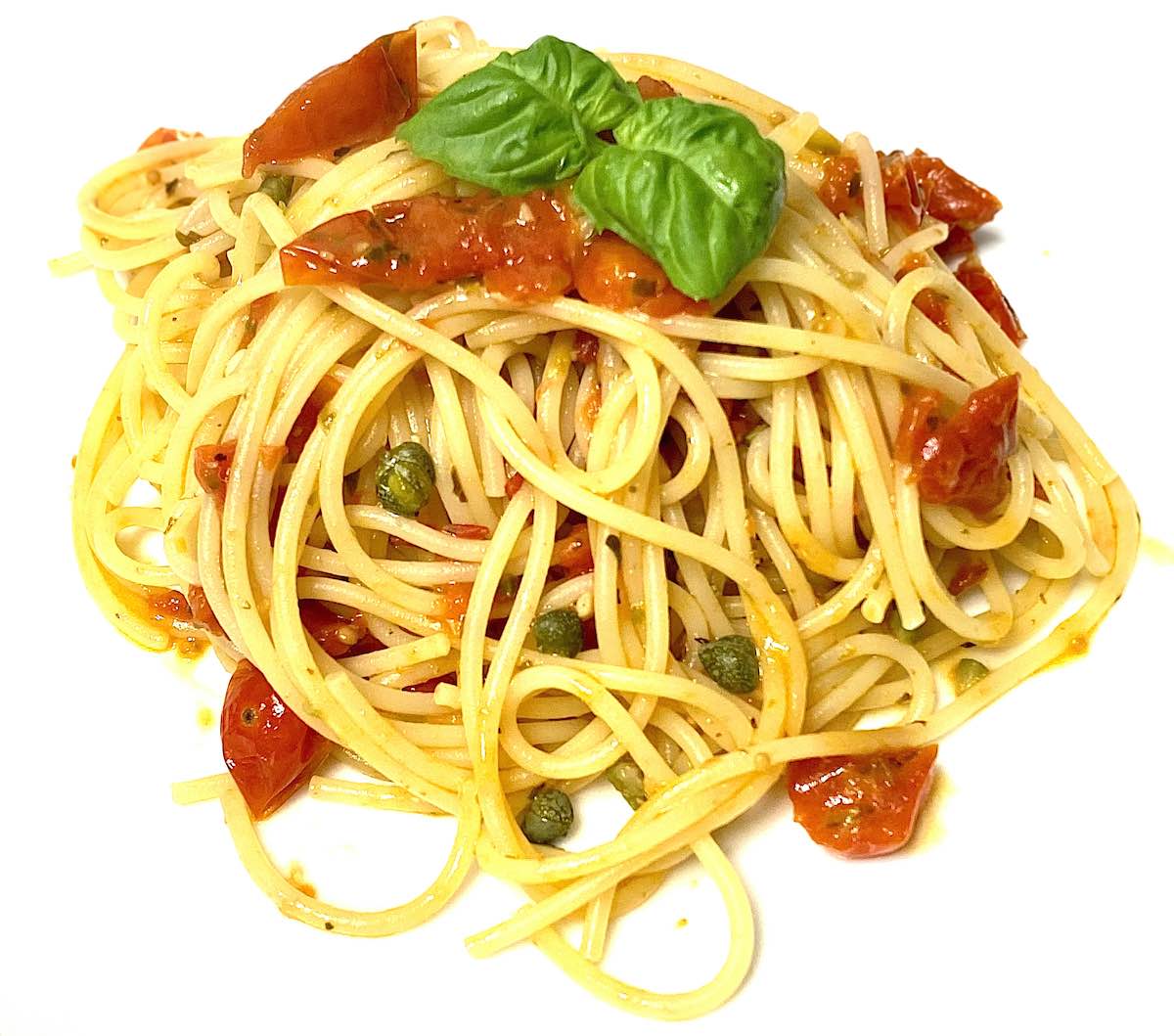 11/10/2015 by Cristiano Bonino 0 Comments
Spaghetti alla Eoliana (Aeolian Style Spaghetti)
By Daniela Virgona, capers and wine producer in Salina, Aeolian Island in Sicily.
 
Try this recipe at home or you might enjoy this recipe on tour in Sicily with us when we visit Lipari islands and enjoy the local delicacies such as capers, wine, oregano, tomatoes and much more!
Ingredients for 4 people:
454 gr (1 lb) of spaghetti or fusilli (we recommend a brand that notes "pasta di gragnano" – or the method of extruding with bronze dies and slowly drying… the superior texture and sauce pairing!)
1 gallon water
1.5 Tbsp salt
10 cherry tomatoes
1 garlic clove
3.5 ounces of small capers
2 ounces of pitted green olives
2 ounces of pitted black olives
a few leaves of basil
a pinch of oregano
a pinch of crushed chili pepper
a pinch of salt and pepper
Directions:
Rinse the capers to remove salt and coarsely chopped them up with black and green olives
Sauté for a few minutes capers and olives with olive oil and garlic clove
Add basil, a pinch of oregano, chili pepper, salt and pepper, and coarsely chopped up cherry tomatoes
Cook until the sauce is done. Bring water to a boil, then add salt
Add the pasta when water is boiling again (the water should taste slightly salty. If not, add salt)
Cook the pasta for one minute less than is suggested on the package
Taste the pasta before draining it to confirm "al dente."
Sauté the drained pasta with the sauce for a minute
Buon appetito!