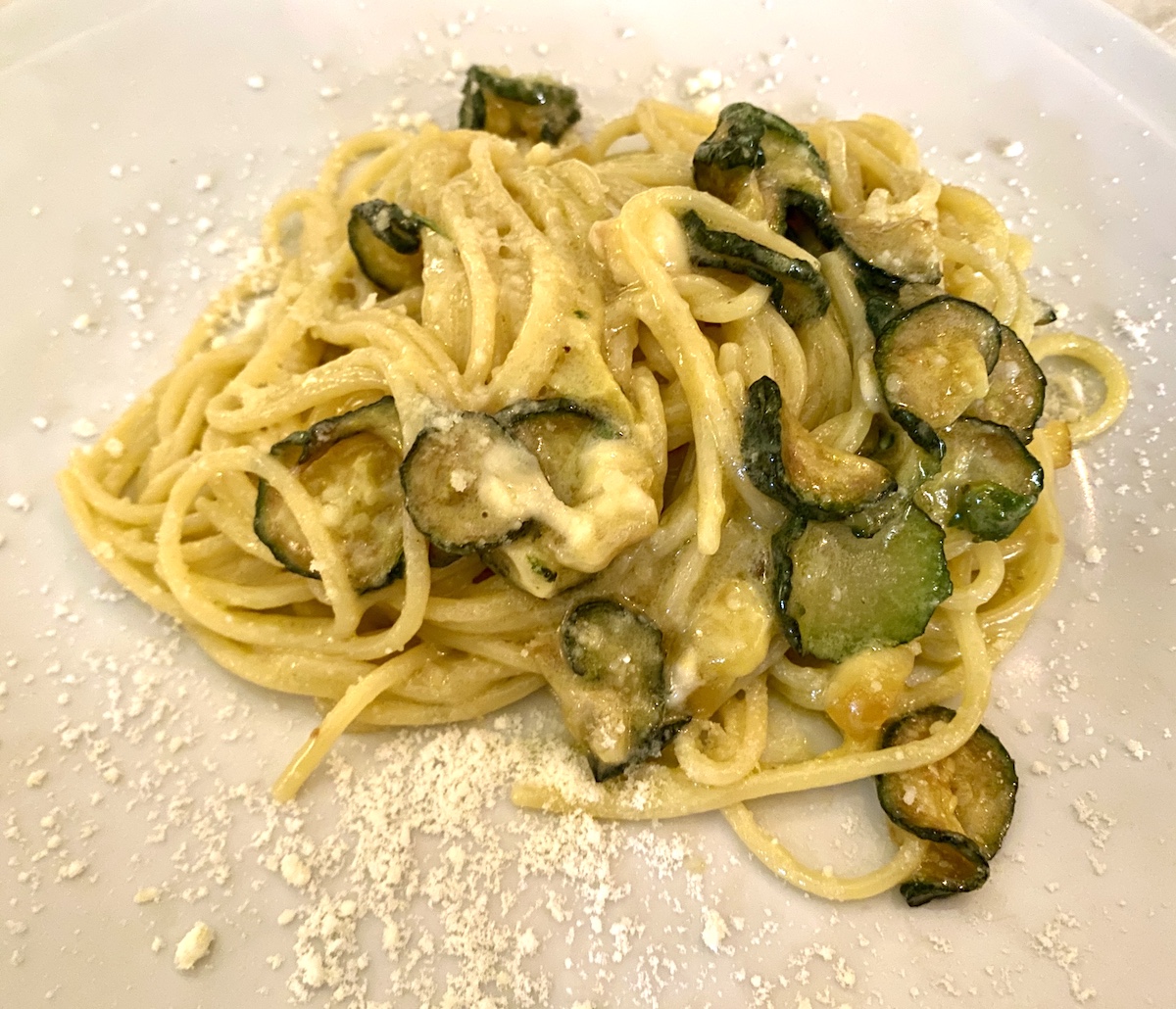 07/27/2023 by foodstoriestravel 0 Comments
Spaghetti alla Nerano
Inspired by Osteria da Carmela in Naples 
This simple and delicious dish comes from the little sea village of Nerano on the Sorrento peninsula, near the Amalfi Coast. Our group savored it on tour in Naples in a trattoria, where chef-owner Rosario continues the tradition of cooking the local recipes he learned from his mother Carmela.
Taste it on one of our tours of Campania, or follow the recipe below to try it at home!
This recipe is believed to have been invented by nonna Donna Rosa whose restaurant in Nerano, named Maria Grazia for its founder, has been continuously operating since 1901. Today, the fourth generation continues to cook this dish using Provolone del Monaco, a semi-aged cow milk cheese produced in the Monti Lattari area. (You can make it with Parmigiano Reggiano instead, which is not traditional, but is surely available in the U.S.)
Other variations employ butter to finish off the dish for the "mantecatura" (like in a risotto, adding butter to be stirred into the dish, for a creamier result, just before serving). Nerano sits near the Amalfi Coast and the Monti Lattari ("Milky Mountains") are so-named for the local production of dairy products.
Ingredients for 4 people:
454 grams (1 lb) spaghetti or linguine (we recommend a brand that notes "pasta di gragnano" – or the method of extruding with bronze dies and slowly drying… for a superior texture and sauce pairing!)
1 gallon water
1 Tbsp salt 
6 small zucchini 600 grams (1.5 lb)
a few sprigs basil 
3 garlic cloves
1 cup EVOO or seed oil for frying 
90 grams Parmigiano Reggiano (the traditional version uses Provolone del Monaco, but this is hard to find in the U.S.)
black pepper (freshly ground, adjust to your taste)
Directions: 
Wash and cut zucchini crosswise into discs about less than 1/4 inch. Use a mandoline to cut them evenly and then pat them dry
In a frying pan, heat 1 cup EVOO to cook a handful of zucchini at the time (avoid browning)
Remove to an absorbent paper towel to drain the excess oil, then set aside as you fry all the zucchine
Collect EVOO in a bowl and discard any particles remained after frying zucchine
Finely grate the cheese and set aside
Bring water to a boil, then salt it (the water should taste slightly salty)
Add pasta to boiling water
In the meantime, pour 6 Tbsp EVOO (previously used for frying) in a flat pan over medium heat
Add squashed garlic and basil stems (to release flavor into the oil) and cook for a few minutes. Then remove garlic and basil stems and set aside
Cook the pasta for a few minutes

less

than suggested on the package. Drain and set aside--saving a few ladle-fulls of the starchy water from boiling the pasta
Sauté the drained pasta in the pan with EVOO over medium heat and start to add basil leaves, coarsely torn by hand, fried zucchine, and some of the starchy water (1/4 ladle) to help the ingredients combine smoothly (another variation directs to blend 1/3 of fried zucchine with starchy water and add this concoction to make sauce creamier)
Turn off the heat while you continue to sauté the pasta, then start to sprinkle in the grated cheese, while alternatively adding more starchy water
Make sure the sauce remains smooth while sautéing and alternate starchy water (if necessary) and cheese (this is the really tricky part-- to avoid the cheese curdling!)
Adjust to your taste with black pepper and serve on individual plates, sprinkling some of the remaining black pepper and more grated cheese on top 
Buon appetito (below you can see our version of this dish made with linguine)