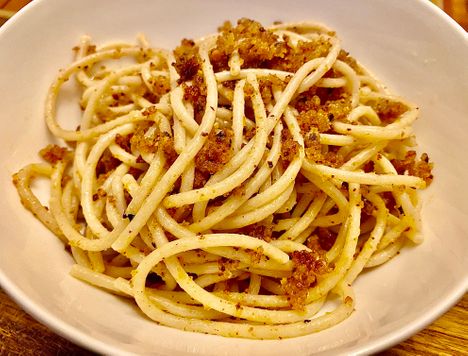 11/19/2019 by foodstoriestravel 0 Comments
Spaghetti alle Briciole (Bread crumbs)
By Cristiano Bonino

I can't remember a specific person who gave me this recipe. It's the result of many trips to Tuscany and many conversations with housewives, sommeliers, chefs and food lovers—not to mention plenty of tastings in homes and restaurants all across the beautiful Tuscany!
Enjoy this recipe on our tours of Tuscany or try it at home as a delicious expression of the simplicity of Mediterranean cuisine!
Ingredients for 4 people:
454 gr (1 lb) spaghetti or linguine (we recommend a brand that notes "pasta di gragnano" – or the method of extruding with bronze dies and slowly drying… for a superior texture and sauce pairing!) or pici (the hand-made solid spaghetti typical of Tuscany)
1 gallon water
1.5 Tbsp salt
1/2 cup bread crumbs (we love to use our own toasted bread finely grounded)
4 garlic cloves
8 Tbsp EVOO (or more if needed)
1 fresh chili pepper (or 1/8 tsp dried and crushed)
Directions: 
Peel and crush the garlic and cook it in a pan over medium flame with 6 Tbsp of EVOO until light brown
Remove the garlic, then add chili pepper and stir to combine 
Add the bread crumbs until golden and crunchy. Then set aside
Bring water to a boil adding salt (the water should taste slightly salty. If not, add salt)
Cook the pasta for 1 minute less than is suggested on the package. Taste the pasta before draining it to confirm "al dente" 
Sauté the drained pasta with the bread crumbs sauce and add 2 Tbsp of EVOO (or more if needed), to let all the ingredients combine smoothly
Serve in individual plates  with some of the bread crumbs on top 
Buon appetito!