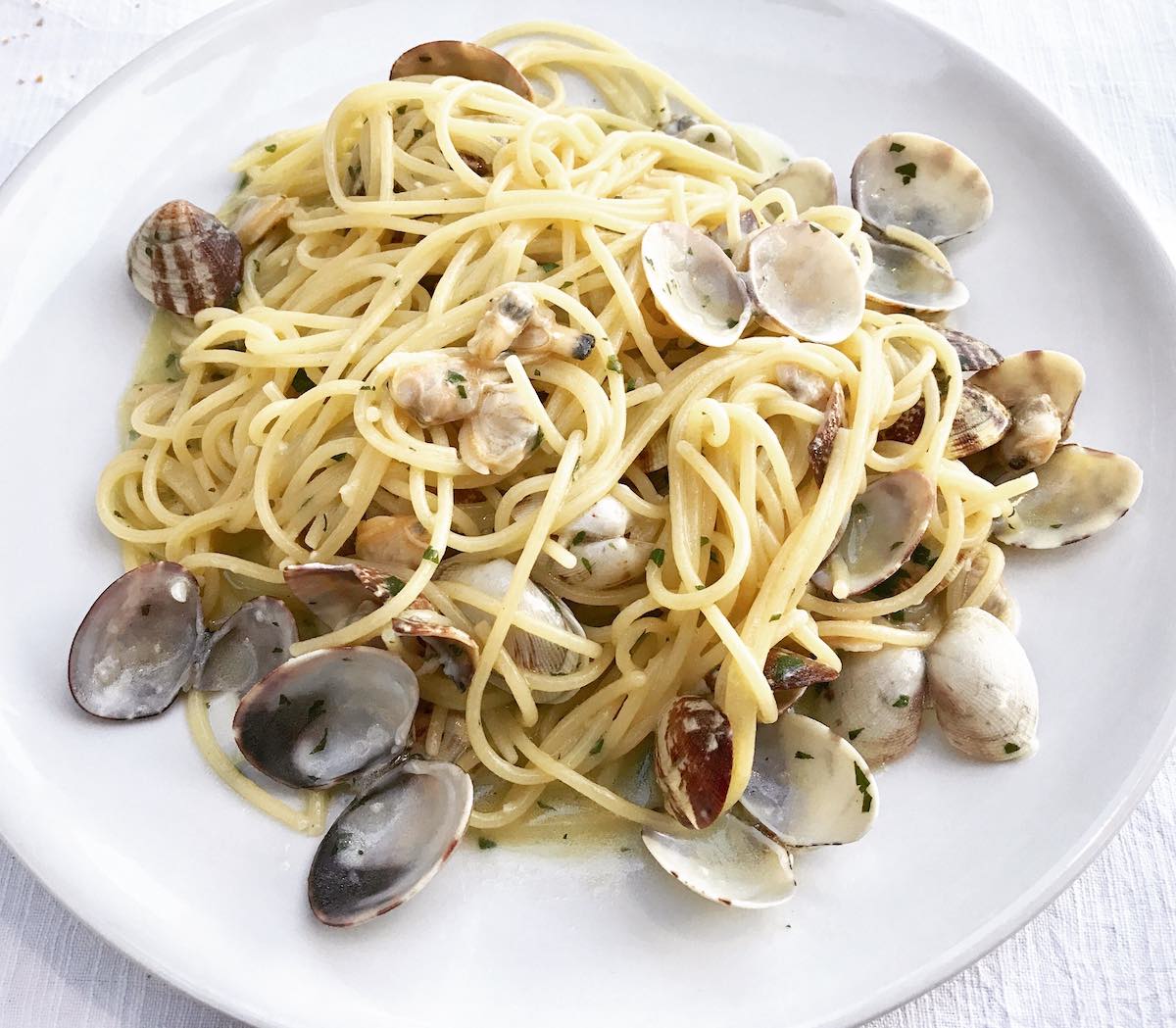 12/15/2020 by foodstoriestravel 0 Comments
Spaghetti alle Vongole (with Clams)
Inspired by Restaurant Le Due Isole in Bosa Marina, Sardinia.

You may find and enjoy this recipe in many regions of Italy, above all, when you are by the sea. We usually enjoy it for lunch along the Sardinian shore, after our coastal ride from Alghero to Bosa.  
Ingredients for 4 people:
454 grams (1 pound) spaghetti or linguine (we recommend choosing a brand that notes "pasta di gragnano" – the method of extruding with bronze dies and slowly drying – for superior texture and sauce pairing!)
1 gallon water (for the pasta)
1.5 Tbsp salt (for the pasta) 
1/4 gallon water (to purge the clams)
1 Tbsp salt (to purge the clams)
600 grams (1.5 pound) clams
1 sprig parsley
2 garlic cloves
3 Tbsp EVOO
1 pinch black pepper
 
Directions:
Wash the clams under running water and discard any that have already opened
Put the clams in a bowl with water and salt and leave them for a couple of hours to purge. Doing so, they release the sand they may have inside
Peel and sauté the garlic (finely minced or whole, your choice) in a pan with parsley stems (this part is very flavorful) and EVOO, over medium heat, until it lightly browns 
Add the clams and, with the lid on, cook over medium heat for 5 minutes or until the clams have all opened and released the water trapped inside (this released water is your clam broth)
Remove immediately from the stove and drain the clams, conserving the broth (taste it, if you like, and dream of the sea!)
Filter the broth using a cheese cloth or simply pour it into a bowl (discarding the sediment)
Put the water on for the pasta and while you are waiting for it to boil, wash the clam broth pan, which you will need again
Once the water for the pasta is at a boil, add salt (the water should taste slightly salty)
Cook the pasta for at least 4 minutes

less

than whatever is suggested on the package
Drain, conserving at least one cup of the water, which is starchy from the pasta
Sauté the drained pasta, some leaves of parsley broken off by hand, and the clam broth all together in the pan to let all the ingredients combine smoothly
If the mixture is too dry, add some starchy pasta water, and continue to sauté. This combination of starchy water and clam broth is your secret to obtaining a flavorful final result (the pasta is abosrbing this precious mixture)!
When the pasta is almost ready, add the clams, sprinkle some black pepper, and sauté for another minute 
Finally, taste the pasta to confirm "al dente."
Serve and adjust to your taste, adding more EVOO, black pepper, and/or parsley
Buon appetito!