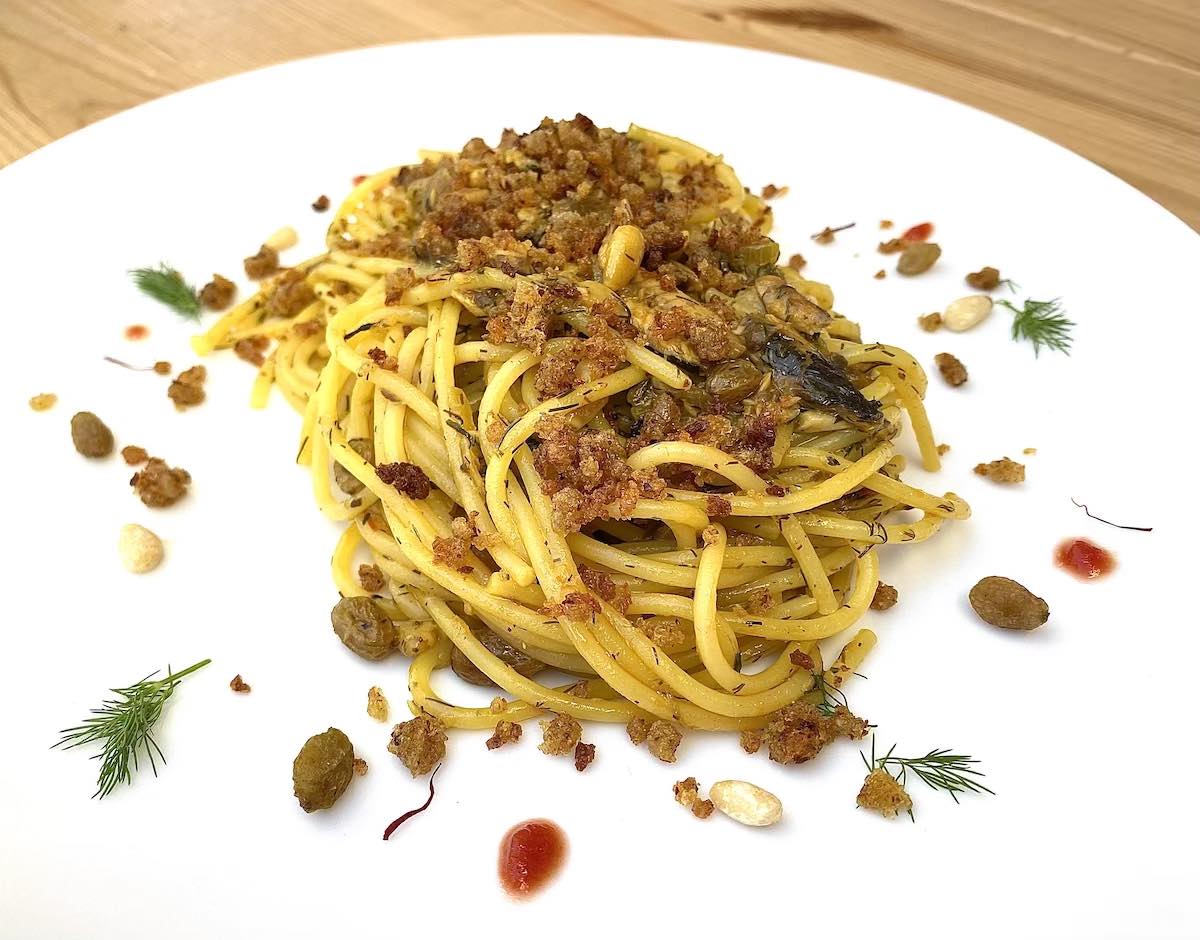 12/16/2020 by foodstoriestravel 0 Comments
Spaghetti con le Sarde (with Sardines)
Inspired by Restaurant Antica Focacceria San Francesco in Palermo, Sicily.

You might enjoy this recipe on tour with us in Sicily. It is most typical in the province of Palermo, but you can find it very much appreciated all over the island. We first tasted this incredible dish at lunch time in Palermo in November 2018 while exploring the heart of the Mediterranean with our group.
A quintessential expression of Sicilian cuisine, this dish is rich in Arab influence. Muslim domination in Sicily began in the early 9th century and lasted for over 250 years. Saffron, pinenuts, and raisins are all used in this "Spaghetti con le Sarde" recipe, but Sicilian cuisine features many other gifts of nature and culture attributable to the Arabs, such as lemons, oranges, almonds, pistachios, eggplant, rice, marzipan, semolina, and couscous.
A forkful of this spaghetti in your mouth is an explosion of flavors with all the contrasts: Sweet and savory; soft and crunchy; hot and colorful!
Plating and presentation (pictured) was inspired by Chef Pino Cuttaia at the restaurant La Madia in Licata, Sicily. You can see here his video about it (with English subtitles).
Ingredients for 4 people:
454 grams (1 pound) spaghetti or bucatini (we recommend a brand that notes "pasta di gragnano" – the method of extruding with bronze dies and slow drying for superior texture and sauce pairing!)
1 gallon water  
1.5 Tbsp salt 
60 grams (2 ounces) fresh dill
8 fresh and gutted sardines (we could not find them, so we used canned sardines in water instead... please forgive us, Sicilians friends!)
1/4 cup + 1 Tbsp (45 grams) pinenuts
3 Tbsp (30 grams) raisins
1 small onion
1/2 tsp (0.5 grams) saffron
3 Tbsp tomato paste 
6 Tbsp EVOO
2 slices of dried bread 
salt to taste
Directions:
Wash dill and trim off the tops. Finely chop the tops (at least 3-4 Tbsp worth) and set aside. Keep the rest of the dill
Wash the sardines and split them, removing the bones. Make sure you remove the dorsal fin as well. Set aside
Put dried bread (if using fresh, just toast it first for a few minutes) in a food processor and coarsely grind it to make bread crumbs
In a pan over medium heat, sauté the bread crumbs with 2 Tbsp EVOO until they become crunchy. Set aside
Finely chop onion and sauté in a pan with 4 Tbsp EVOO over medium heat for a few minutes
Add pine nuts, raisins, and chopped dill, and continue to cook for 2-3 minutes
Dissolve the saffron in 2 Tbsp hot water and add to the sauce
Continue to stir, then add the fillets of sardines and the tomato paste
In a pot, bring water to a boil for the pasta, tossing in the remaining dill and stems. Add salt (the water should taste slightly salty)
In the pan, continue cooking the sauce for 5 more minutes or until the sardines start to fall apart. If needed, add a few Tbsp of your boiling, salty pasta water 
Cook spaghetti in the water for at least 3 minutes less than what is suggested on the package
Drain the pasta, saving at least a cup of the starchy water
Finish cooking the drained pasta right in the pan with the sauce, letting all the ingredients combine smoothly
If it seems too dry, add some starchy pasta water that you saved, and continue to sauté
Finally, taste the pasta to confirm "al dente" and then remove from stove
Sprinkle each plated dish with bread crumbs and serve
Buon appetito!