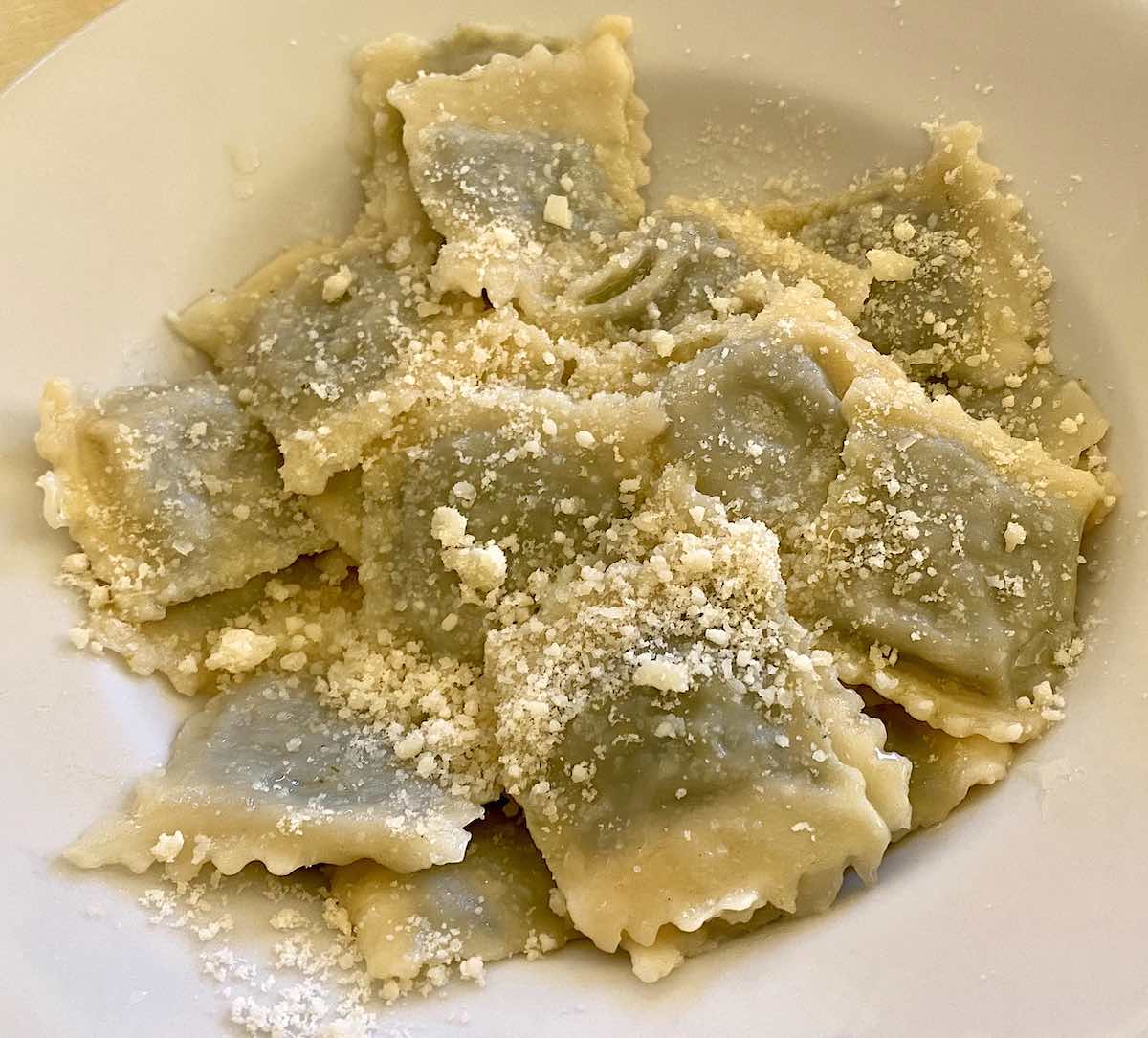 11/10/2015 by Cristiano Bonino 0 Comments
Spinach Ravioli with Walnut Sauce
By Rosanna Baggetta at Agriturismo I Cianelli in Liguria.
 
You might enjoy this recipe on our tour in Liguria and other regions!
Ingredients for the filling for 6 people:
1000 grams spinach (2.2 pounds)
1 Tbsp EVOO
1 onion, chopped
500 grams (18 ounces) fresh ricotta
2 Tbsp grated Parmigiano Reggiano (or similar such as Grana Padano)
1 sprig finely chopped marjoram
1 egg
Ingredients for the ravioli dough (shell): 
300 grams (2 and 1/3 cups) all-purpose flour
300 grams (2 and 1/3 cups) whole-wheat flour
3 eggs
150 grams (1 cup and 3 Tbsp) water
1 gallon water for boiling the ravioli
1 and 1/2 Tbsp salt for the boiling water
Ingredients for the walnut sauce: 
100 grams (4 ounces) walnuts
half clove garlic
1/4 cup milk
1 Tbsp Parmigiano Reggiano
salt to taste
Making the filling:
Thoroughly wash and chop the spinach
Cook in a tablespoon of EVOO along with the chopped up onion. Once cooked, allow the spinach and onion to cool
Press/squeeze out the excess water and mix with ricotta, Parmigiano Reggiano, marjoram and egg
Making the dough (shell):
Combine the flours and make a pile with a "crater" in the middle
Beat the eggs and pour into the crater, gradually incorporating. Add water to reach an even concoction (not too wet, not too dry)
Roll the dough (thinner is better but it's up to you). Place a small mound (one tablespoon) of filling every two inches
Cover with a second piece of dough and press to seal. Cut the dough to obtain squares of approximately 2×2-inch ravioli
Making the sauce:
Blend the walnuts and garlic into a paste
Cook two tablespoons of this paste in a pan with the milk
Add Parmigiano Reggiano and salt to taste
Final preparation:
Boil the water for the ravioli and then add salt
Toss in the ravioli and watch carefully: in a few minutes, when they are floating, promptly drain them
Sauté the ravioli for one minute with the walnut sauce
Top with grated Parmigiano Reggiano 
Buon appetito!