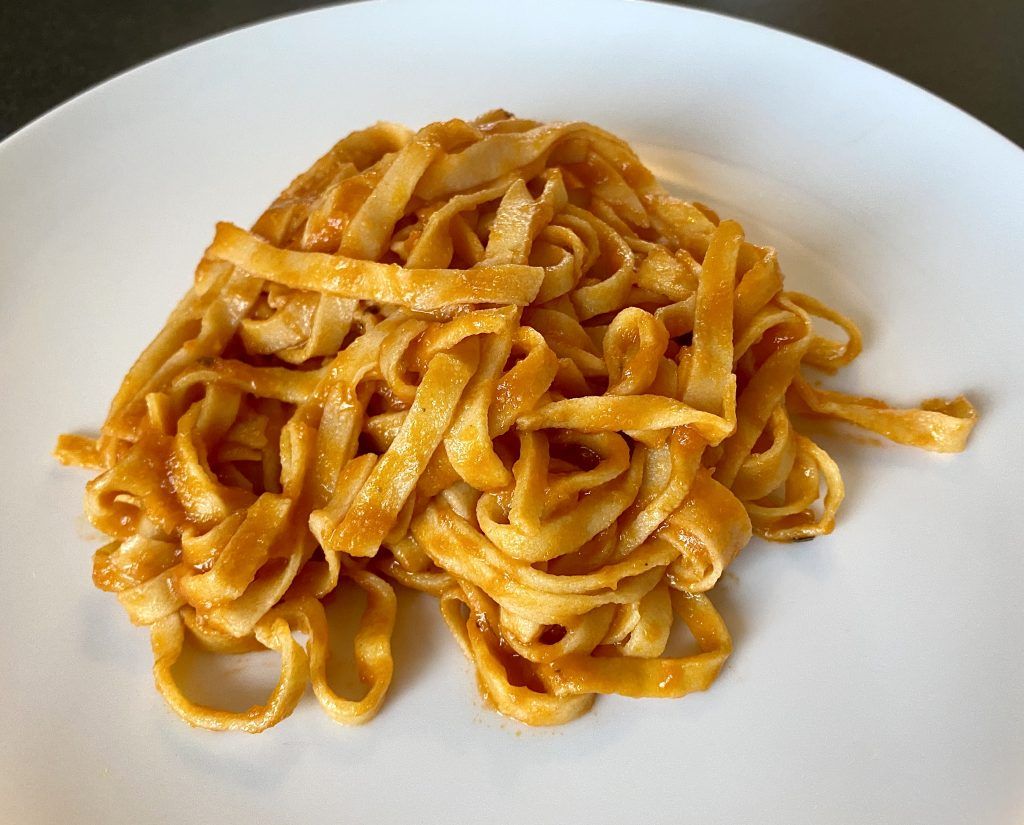 05/05/2020 by foodstoriestravel 0 Comments
Tagliatelle with Tomato Sauce
Inspired by Agriturismo Casa Scaparone near Alba, in Piedmont region.

This recipe is the result of watching many pasta-making demonstrations on our tours such as the one we enjoy at Agriturismo Casa Scaparone near Alba, on one of our tours of the Piedmont region. Here we learn how to make tajarin (egg noodles) from the traditional recipe that requires 18 egg yolks for each pound of flour! On this specific recipe published here instead we love to share our own and lighter version of home-made pasta.
We used a mix of semolina and all-purpose flour, but feel free to experiment in creating your preferred concoction. It is a matter of fact that semolina has been, and remains today, more used in the south of Italy where it is combined with water instead of eggs to make short pastas such as cavatelli and orecchiette or longer pastas like scialatielli (similar to tagliatelle). Using all-purpose flour only is a custom mostly in the north of Italy where it is combined with eggs to make tagliatelle (or tagliolini which are thinner or pappardelle that are wider) and other pasta (often with a filling) that require a very thin dough.
Enjoy this recipe on our tours in Italy or try it at home as a delicious expression of the simplicity of Mediterranean cuisine!
Ingredients for homemade pasta for 4 people:
125 gr (3/4 cup) semolina aka durum wheat flour
275 gr (2 cups + 2 Tbsp) all-purpose flour 
4 eggs
2 Tbsp all-purpose flour
1 gallon water
1.5 Tbsp salt
Directions:
Mix the two flours and make a small "mountain" then a "little crater" in the middle
Beat the eggs and then pour them into the crater. Add a pinch of salt
Mix with a fork and then knead to get your dough. Adjust consistency as needed–i.e. add another egg if it is too dry or more flour if it is too moist
Let the dough rest for 30 minutes, wrapped in a cloth
Cut the dough into 4 pieces and start to roll each one with a rolling pin on a wooden board. (Using wood helps to obtain a rougher pasta that can better hold the sauce)
Unless you use a kneader you will surely realize how tiring it is to obtain a very thin layer of dough using a rolling pin! This is a special expertise that women in Emilia Romagna (and not only) have perfected to the point that they consider it perfectly executed when you can see through the dough (adding semolina to your dough makes the work even tougher because of the hardness of this type of grain)
When rolling, if needed, keep dusting with all-purpose flour to keep the dough from sticking 
When dough is thin enough (knowing this comes with experience; if done by hand, ~1mm is a good result), cover your 

dough with flour once again and then roll it up into a log. Once rolled up, press down gently to create a flat surface and then cut into "slices" for your tagliatelle (thinn

er strips make tagliolini; wider strips make pappardelle)
With your hands, unbundle the tagliatelle and let them dry on a tray with more flour dusted over the noodles (see picture below)
Bring water to a boil, then add salt (the water should taste slightly salty. If not, add salt)
Throw in the pasta and watch carefully—drain them as soon as they start to float
If you have extra tagliatelle, you can freeze in a bag for your next meal
Pour your boiled pasta into a bowl and mix with your sauce
Feel free to adjust with EVOO and/or Parmigiano Reggiano, or an equivalent such as Grana Padano or Grana Trentino
Ingredients for sauce with tomatoes:
4 fresh tomatoes or 1 can crushed tomatoes

2 Tbsp EVOO

1 garlic clove or 1 small onion

salt to taste
Directions:
Blend tomatoes in a food processor
Sautée garlic (finely minced or whole, your choice), finely chopped onion, and EVOO in a pan until lightly browned
Add blended tomatoes and cook it down until the sauce is thick
Adjust with salt 
Buon appetito!