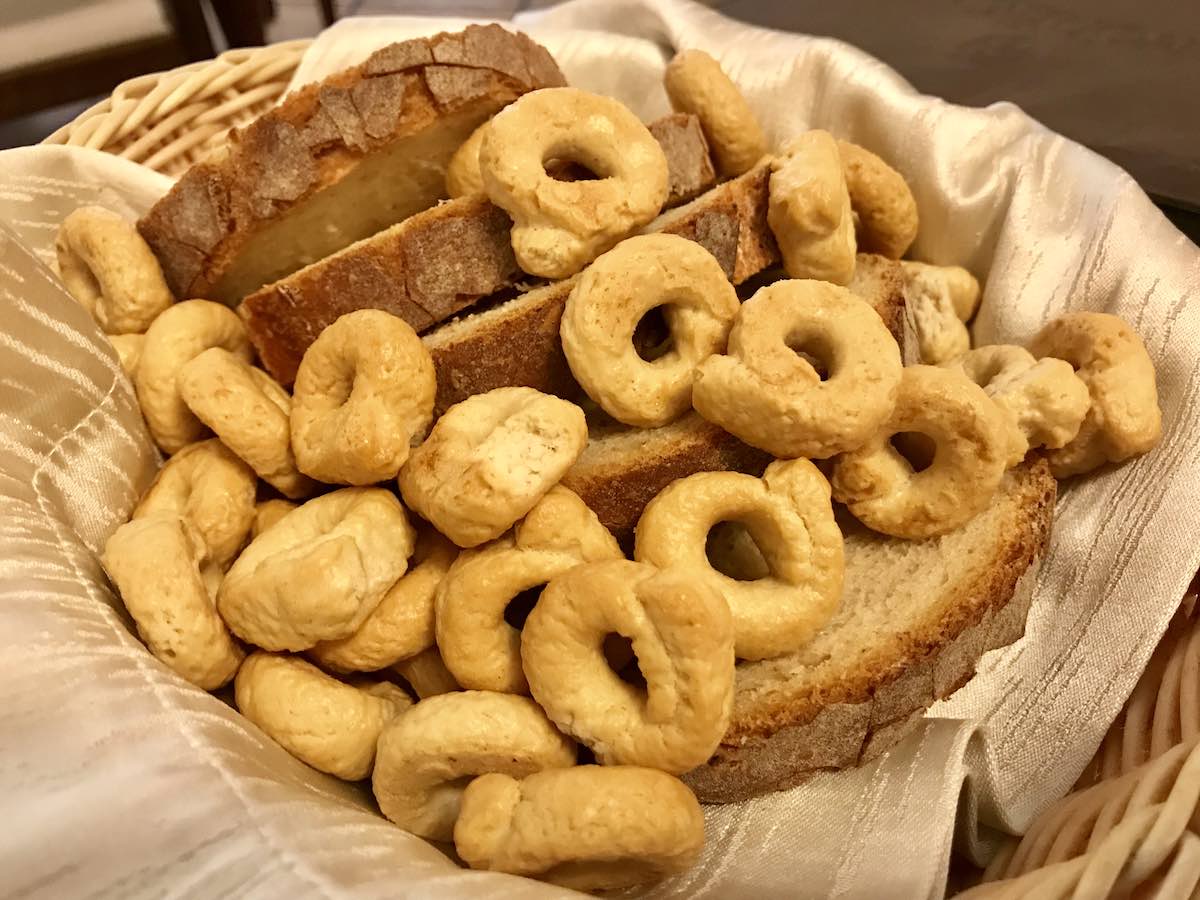 01/05/2021 by foodstoriestravel 0 Comments
Taralli Pugliesi (Crackers from Puglia)
Inspired by Restaurant La Cantina in Alberobello, Puglia.
 
These addictive crackers are typical of the southern Italian region of Puglia where you can find them in restaurants, bars and local homes served as a delicious and crunchy snack or as a meal accompaniment, instead of bread. We visit Restaurant La Cantina in Alberobello on our tours in Puglia.
Ingredients for 8 people (~80 small taralli)
275 grams (2 cups and 2 Tbsp) of all-purpose flour
100 grams (1/3 cup + 2 Tbsp) of dry white wine 
5 grams (1 tsp) salt
60 grams (1/4 cup + 2 Tbsp) EVOO  
1/2 gallon water 
Directions:
Mix flour and salt in a bowl
Add EVOO little by little, stirring well to combine it 
Continue to stir and add the white wine, combining until it is all absorbed
Put dough on a cutting board and knead for at least 5 minutes  
Let the dough rest in the fridge in a bowl for 30 minutes covered with a dish towel
Now be patient... One by one, take a piece of dough (the size of a big olive!) and start to roll it
When you reach about ~3 inches in length, slice it in two
Continue to roll each sliced section until you obtain a string ~1/4 inch thick and ~5 inches long
Overlap the two ends for about 1 inch and pinch gently to seal them to form a ring (see picture)
It is up to you to make your taralli bigger or smaller... it just depends on preference and patience!
Bring water to a boil and drop in the taralli, no more than 10-15 at a time
Like gnocchi, when they start to float (about 30 seconds), remove them to a dry dish towel
Preheat the oven to 390F
After parboling your full batch, line them up on a baking sheet covered with parchment paper
Bake for about 35 minutes or until the taralli become golden brown
Remove and let cool
You can keep them at room temperature for a few days in a paper bag 
 
If you feel like a twist, mix fennel seeds, red pepper flakes, or oregano into your dough. Dips might include tomato sauce or olive tapenade.
Buon appetito!