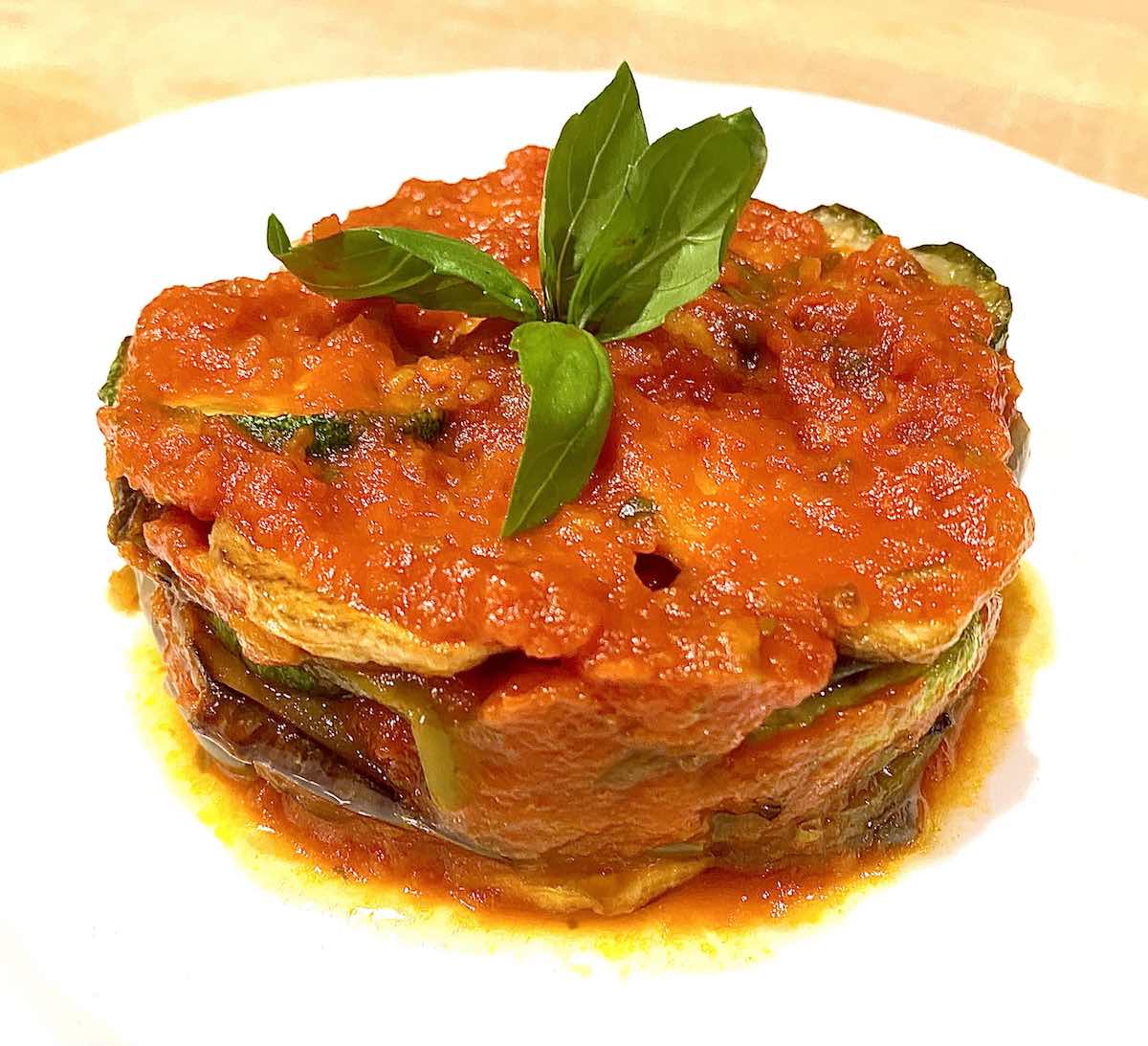 07/25/2021 by foodstoriestravel 0 Comments
Tumbet Mallorquin (Mallorcan Ratatouille)
By Chef Roberto Díez from Son Julia Country House in Llucmajor, Mallorca, Spain
Everywhere we go, not only in Italy, we love to collect recipes from chefs and home cooks who are keeping their regional traditions alive for the tasting.
This Tumbet Mallorquin or Mallorcan vegetable bake is reminiscent of Provençal ratatouille or a version of eggplant Parmigiana (minus the cheese) and comes to us from Chef Roberto at Son Julia near Llucmajor on the island of Mallorca. It is typically served as an appetizer or a side dish.
Enjoy it with us on Mallorca or try making it at home. Bon profit (bon appetit in Mallorquin).
Ingredients for 4 people:
4 small potatoes (or 1 big potato)
1 eggplant
1 zucchini
1 green bell pepper
1 red bell pepper
1 garlic clove
1 small onion
1 pound canned crushed tomatoes
EVOO
Salt to taste           
Directions:
Slice the potato(es) into quarter-inch discs and fry them over high heat for about three minutes on each side
Drain the excess oil (conserving it), pat the potatoes down with a paper towel, sprinkle with salt, and set off to the side 
Repeat the above process (quarter-inch discs, three minutes per side over high heat--reusing the same cooking oil from the potatoes and adding more if necessarily--draining and conserving the oil, patting down the pieces, and salting) for the eggplant and the zucchini, reusing the cooking oil each time, and conserving it each time 
Slice the green and red peppers into quarter-inch strips and sauté them in a pan over medium heat with the cooking oil as well as one garlic clove EVOO for at least 5 or more minutes, tossing and turning to cook on all sides
Once cooked, strain the peppers and give them a pat down with a paper towel as well
Like with the other vegetables, sprinkle with salt, and set the peppers aside
Once all of the vegetables have been prepared individually, you can make the sauce
Tomato sauce:
Finely slice the small onion into paper-thin slices or pieces
Sauté over medium heat in EVOO until translucent and soft
Add your crushed tomatoes and cook them down in the onion over medium heat to concentrate the flavor and thicken your sauce (evaporate the water from the tomatoes)
Now, you are ready to assemble the dish:
In assembling and presenting your Tumbet Mallorquin, you may wish to use a mold to achieve something more polished and uniform or go for a more natural, rougher look by simply building the dish right in an earthenware or ceramic bowl. Which way is up to you! And of course, use more or fewer of certain ingredients to your taste.
Following the version that we enjoyed at Son Julia…
Start with 2 Tbsp of tomato sauce, and add a layer of fried potatoes, then cover it with more tomato sauce
Add a layer of eggplant, and cover with tomato sauce
Add a layer of zucchini and cover with tomato sauce again
Cover with red and green pepper strips and apply a final top layer of tomato sauce
Feel free to add more layers of veggies based on your preferences
If you used a mold, remove it carefully and serve the Tumbet on a plate. Or, if you built it in a bowl, simply serve it where it sits.
As with everything, the better quality the ingredients, the more exceptional your dish will be. Enjoy below different versions and presentations for this delicious dish.
Bon profit!