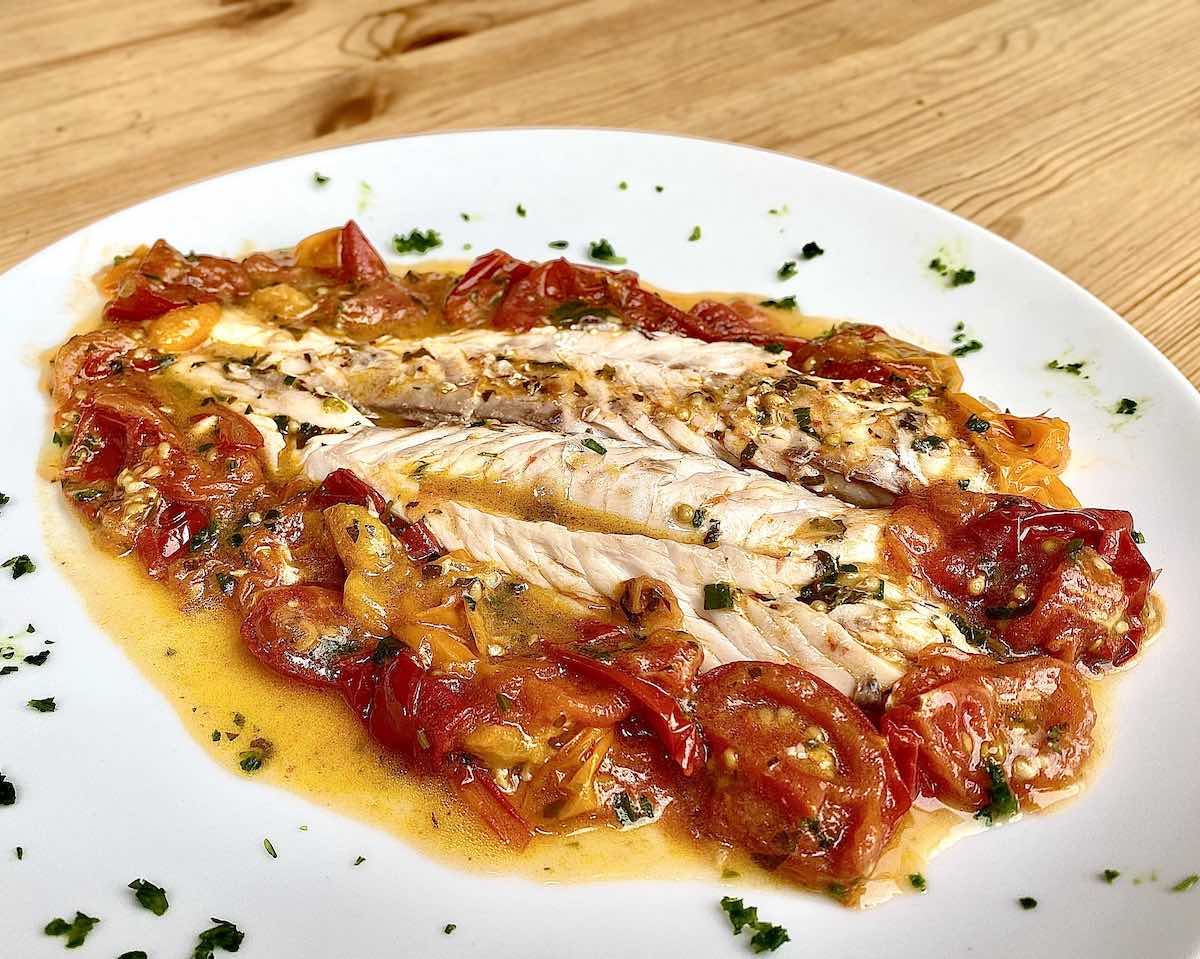 11/26/2020 by foodstoriestravel 0 Comments
Branzino all'Acqua Pazza (Sea Bass Crazy Water Style)
Inspired by Mimmo Corcione.
 
You might enjoy this recipe on our tours in Italy by the sea where this dish is quite popular. A delicious "secondo" ("main course" in Italian), it is typical in the south and usually enjoyed with a nice glass of local white wine.
 
Mimmo Corcione is a retired Neapolitan man who does not define himself a "chef" but is surely a "buongustaio" ("gourmet" in French and English). In 2020, we enjoyed watching his videos while "traveling" from our kitchen, following his traditional recipes.
The unusual translation "crazy water" does not have a clear origin. The story that makes the most sense to us involves sailors from days of yore. When traveling for days far out to sea, these scrappy chefs used to cook their fish using a combination of sea water and wine: Surely a crazy water mixture!
Sea water was both abundant and free, a far better option than "wasting" precious freshwater and adding salt that in the past would have been heavily taxed.
Ingredients for 2 people
650 grams (1.5 pounds) fresh and gutted whole fish such as orata (sea bream), branzino (sea bass), or red snapper (the fish we found fresh for this recipe)
450 grams (1 pound) cherry tomatoes
2 garlic cloves
1/4 cup white wine
1/4 cup water 
1 bunch parsley
3 Tbsp EVOO
salt and pepper to taste
 
Directions:
Quarter the cherry tomatoes 
Mince some of the parsley, leaving a few sprigs aside
Halve the garlic cloves
Put 2 garlic halves inside the fish in addition to a few sprigs of parsley and a pinch of salt
Pour the EVOO into a pan and add the other 2 garlic halves
Sauté for a few minutes over medium heat until slightly golden
Add the tomatoes and some of the minced parsley
Sprinkle with salt, add the wine, and cook for a few minutes
Add the whole fish in the pan, moving the tomatoes around it
Cook for 2 minutes, sprinkling some salt on top, then flip the fish over to cook the other side for 2 more minutes, sprinkling it with some salt as well
Add water and cook for approximately 15 minutes with a lid on, occasionally basting the fish by spooning the sauce over it
When the fish is done (stick a fork in the thickest section to check for doneness), remove it from the pan
Keep cooking the sauce, uncovered and at high heat, for a few more minutes until it thickens  
Clean the fish and serve the fillets on a plate dressed with the sauce and sprinkled with some fresh minced parsley (if you are not a "fast fillet-er", we suggest putting the cleaned fillets back into the pan for a few minutes over medium heat, to reheat them)
Adjust with salt, pepper, and EVOO to your personal taste
If you have excess sauce and fish, we strongly suggest not to waste it: consider using it for Spaghetti all'Acqua Pazza!
You can also prepare this dish baked with all the ingredients assembled into a tray beforehand. Preheat your oven to 400F. Cook for 15 minutes covered, then uncover for the remaining 5 minutes or until done. (Peronally, we prefer using the pan because it is faster and the resulting sauce is smoother.)
Buon appetito!