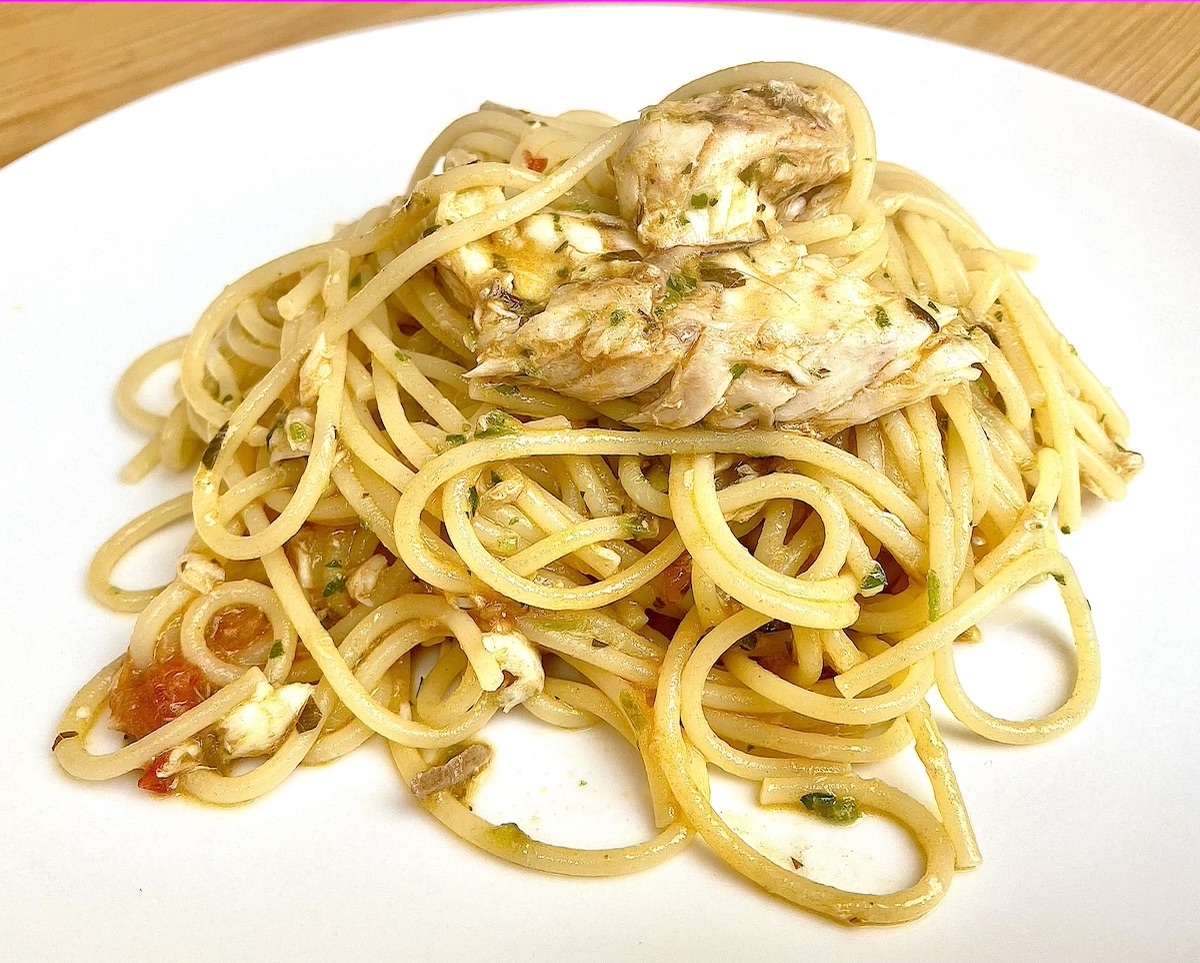 12/07/2020 by foodstoriestravel 0 Comments
Spaghetti all'Acqua Pazza (Crazy Water Style)
Inspired by Mimmo Corcione.

You might enjoy this recipe on one of our tours in southern Italy, although this is not so popular in restaurants. Rather, it is another Italian dish inspired by the urge not to waste anything in the kitchen!
Mimmo Corcione is a retired Neapolitan man who does not define himself a "chef" but is surely a "buongustaio" ("gourmet" in French and English). In 2020, we enjoyed watching his videos while "traveling" from our kitchen, following his traditional recipes.
Ingredients for 4 people:
454 grams (1 pound) of spaghetti or linguine (we recommend choosing a brand that notes "pasta di gragnano" – the method of extruding with bronze dies and slow drying – for a superior texture and sauce pairing!)
1 gallon water
1.5 Tbsp salt 
sauce and fish from recipe Branzino all'Acqua Pazza (Sea Bass Crazy Water Style)  


Directions: (this is our version of the recipe inspired by Mimmo Corcione, adjusted to our taste) 
Bring water to a boil and add salt
Put the "acqua pazza" sauce in a pan over medium heat, leaving the fish on a side (from the recipe Branzino all'Acqua Pazza)
Add the pasta to the boiling salted water and cook it 4-5 minutes

less

than what is suggested on the pasta package
Drain the pasta, conserving at least one cup of water, and continue to cook it in the sauce in the pan for a few minutes
Add some of the conserved water, as needed, and add the fish
Continue to mix pasta, fish, and sauce to combine all ingredients well
When ready (test the pasta for doneness), serve on individual plates
Adjust to taste with salt, pepper, EVOO 
 
Buon appetito!